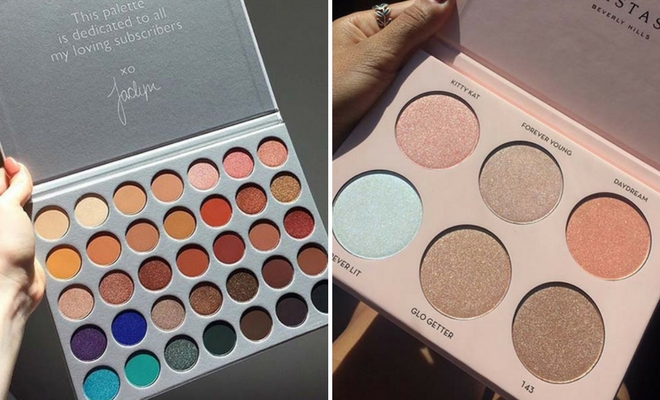 Instagram
Beauty
15 Hot Makeup Products You Need This Summer
By
|
11. Story Book Cosmetics Wizardy and Witchcraft Palette
Add some magic to your summer look with the Story Book Cosmetics Wizardry and Witchcraft Palette. These stunning colors have been inspired by a famous wizarding world and can be used to create some gorgeous makeup looks. There is a great variety of colors and there is something for everyone.
12. L'Oreal Infallible Foundation
Looking for a new foundation? Then check out the L'Oreal Infallible Foundation. This covers blemishes, redness and even tattoos! It will last up to 24 hours and will give you a matte finish. The L'Oreal foundation is a great choice to achieve flawless skin for summer and beyond.
13. Magic Wands Makeup Brush Set by Tarte
Like magical and mystical unicorns? Then you'll love this Magic Wands Brush Set by Tarte. These gold brushes were inspired by unicorns and look like their horn.  The horns are finished off with gorgeous rainbow shade brushes. These are a must have for anyone who loves unicorns!
14. Nars Satin Lip Pencil
Now for some lip color! These Nars Satin Lip Pencils come in a variety of shades. The pencils a long wearing and won't dry out your lips. There are so many shades available from bright pinks to soft neutrals. There is something for everyone. We recommend a bright pink like "Yu" for a vibrant summer look.
15. Kylie Cosmetics Matte Liquid Lipsticks
Last on our list is the Kylie Cosmetics Send Me More Nudes Matte Liquid Lipstick kit. This kit features 4 stunning neutral colors. The lip colors included are: Naked, Birthday Suit, Commando and Bare. Any of these shades would be a beautiful finishing touch to all you summer make up looks.
We hope you have been inspired by our hot makeup products that you need this summer.