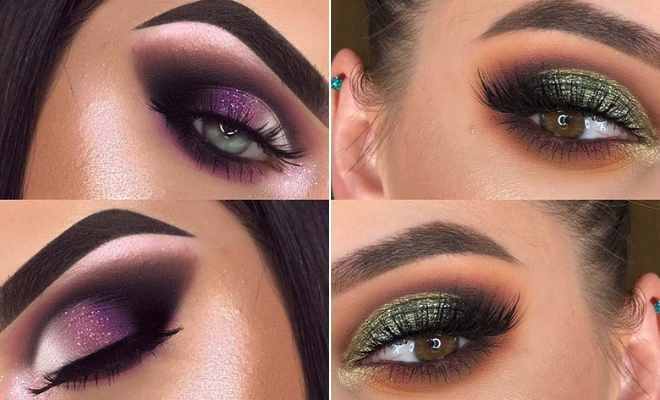 Instagram
Beauty
23 Stunning Makeup Ideas for Fall and Winter
By
|
Fall is here and winter is not far behind! The change of the seasons has brought new makeup looks and trends to try. Makeup during these months changes from bright pinks and other vibrant tones to darker shades. We love this time of year so would like to share 23 of the best makeup ideas for the fall and winter. You will find dark purple makeup, icy silver ideas, eye makeup with drama and more. Take a look, there is something to suit everyone!
1. Bold, Blue Glitter Eye Makeup
First up we have this beautiful blue eye makeup to show you. The eyes are dark with a flash of bold, shimmery blue. Eye makeup like this will look stunning throughout the fall and winter. It will look especially gorgeous for the holiday season.
Products used: Anastasia Beverly Hilly eyeshadows in shades: Soft Peach, Morocco, Fudge, Noir, and Azure and  Huda Beauty lashes in style 'Farah'.
2. Burgundy Fall Makeup Idea
One of the must-have colors of the fall is burgundy. Here is a stunning example of how to wear the color in your makeup. The eyes are a glittery burgundy with an eyeliner flick and the lips are a similar shade too. Makeup like this will look amazing for a night out. You can wear this color for the winter also, it will look great at Christmas.
YouTube tutorial for the look is down below!
3. Gold Eye Makeup
Next, we have a gold eye makeup idea. The eyes are dark grey in the outer corners and then gradually blend to a shimmery gold at the inner corners of the eyes. Gold eyes like this are a beautiful choice for the winter, it will give you a glam look to suit any occasion.
Products used: Sam Marcel eyeshadow palette 'Paris', Sample Beauty palette, Pixi Beauty liquid fairy lights in 'Sunray' and 'Bare Brilliance'.
4. Warm, Orange Glitter Makeup for Blue Eyes
Warm up your look this fall and winter with orange eye makeup like this. The eye makeup has a pretty blend of dark and light orange with brown tones. There is also a little flash of glitter too. You can create makeup like this with similar shades or try the orange blend without the glitter for a subtler look.
Products used: Inglot Cosmetics 12 & 16 brow gel; 108, 103, 300, 299, 63 eyeshadows , 49 body sparkle, and 77 gel liner.
5. Shimmering Eye Makeup with Dark Lips
When the seasons change to fall and winter, makeup generally becomes a little darker. Here is a beautiful example of this. The eye makeup is grey and shimmery with an eyeliner flick and the lips are a dark purple tone. You can create both the eyes and the lips or try them separately for two different looks. All the tones featured will go with other lip and eyeshadow colors.
Products used for the eyes: Jouer Cosmetics Essential Jet-Set Eyeshadow Palette (crease), and Midnight Swim from Skinny Dip Ultra Foil Shimmer Shadows palette (lid), and NYX Cosmetics gel liner.
Lips: Jouer Cosmetics Long Wear Lip Creme in 'Aubergine'.
6. Pretty Eyes with Gold Glitter Liner
If you love to wear eyeliner, this next pick is for you. The eyes have a smokey look with a beautiful black eyeliner flick. What makes this idea different though is the gold glitter liner above. The artist has created a double liner design. You can recreate the look or you can use any two different liner colors you like! The possible looks are endless.
Products used: Tarte Cosmetics Tartelette in Bloom palette (Funny Girl, Activist, Leader, Rebel, Sweetheart, and Smarty Pants), Eye Kandy Cosmetics glitter in 'Mythical Maia', Morphe slate gel liner.
7. Pretty Pink Eye Makeup Idea
Just because it is the fall and winter seasons, it does not mean you can't wear bright colors like pink. Here we have a gorgeous pink makeup idea. The eyes feature a light pink with a purple tone, gold glitter and black liner. This is a dramatic and stylish look that will suit anyone.
Products used: ABH 'Sultry' Palette – Fresh (brow bone), Bloom (crease), Dystopian (dark crease), Noir (faded into the center shade), Bloom (center), Birch (inner 3rd of the lid), Pearl (inner corner highlight), and ABH Loose Cosmetic glitter in 'Star Power'.
8. Brown and Dark Green Eye Makeup Idea
During the fall and winter, earthy shades become a must-have. Next, we have a makeup idea that shows you how to wear these tones in style! The eyes have a blend of brown, shimmery green with a subtle hint of gold. We love this makeup idea! You can recreate this look or use a similar color palette with eyeshadows that are not sparkly.
Products used: Morphe & Jaclyn Hill Armed & Gorgeous Palette in shades Access, Agent, Prowl and Coin (use it with wet brush), Morphe Dark Magic Palette in shades Poof and Trickery (use it with wet brush).
9. Classic Eyeliner with Bold Lips
Our next idea is just stunning. For this look the eyes feature a neutral eyeshadow with a classic black eyeliner flick and the lips are a dark, matte purple tone. The combination of the chic liner and dark lips looks amazing. This is an easy but stylish idea that you can wear for both seasons and any occasion.
10. Purple and Gold Shimmery Eyes
Next, we have a shimmery makeup idea that will wow! The eyes have a pink and purple blend that then turns into purple and gold shimmer. This sparkly look will be perfect for nights out, parties and the holiday season. Create your own version of the whole look or maybe just try the shimmering eyelids without the blend above.
Products used: ABH Dipbrow in medium (brows), Violet Voss Hashtag Palette and Rainbow Palette, Stila Cosmetics Magnificent Metal & Glitter Eyeshadow in Gold Goddess.