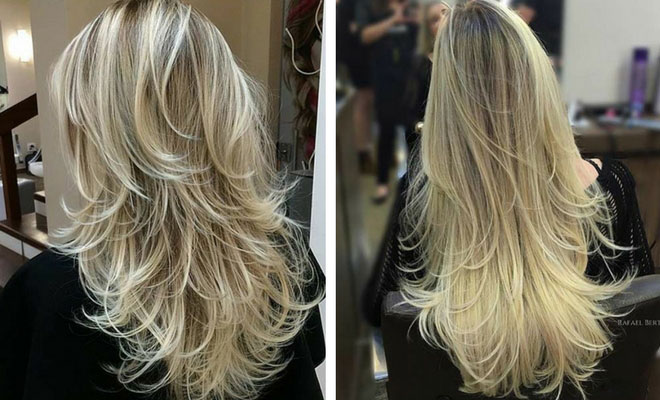 Instagram
Beauty
51 Beautiful Long Layered Haircuts
By
|
20. Layered Haircut with a Touch of Balayage
Balayage highlights are the best way to add natural looking highlights to your hair. They are applied by free hand and your hairdresser will create a natural and gorgeous look.  Adding layers to the sections that are highlighted is also a great way to show off your style and colour.  Think of it as showing off your cut and colour in one hairstyle!
21. Feathered Layers
If you have always had the standard layers put into your hair, try something different. These layers are heavier than the traditional layers but create something special and girly.  They are feathered layers and your hair will flow so naturally when moving.
22. Layered Haircut with Lowlights
If you are a brunette and are thinking of adding colour to your hair, take a look at this. This layered style with added lowlights, look stunning.  They make your hair look silky and smooth.
23. Super Long, layered Haircut
Super long hair looks timeless and classy. Having long layers in super long hair, looks great.  You can see the length is still there but the layers add a sexy style.
24. Textured Layers
Textured layers will lift your lifeless hair. Your hair will become movable and it will have a lovely textured, layer style which looks great for any occasion.
25. Layered Haircut with Babylights
Having baby highlights will set off your haircut whilst showing a delicate and girly side. This type of highlights will enhance your hair.
26. Layered Haircut with Long Side Bangs
This is the perfect solution if you want long bangs. We all the know the feeling of wanting to change our hair but are too afraid to change it.  Whether this be due to not wanting to lose the length or are afraid of the change, longer side bangs will ease your nerves, we promise.  If you want to change your long hair but want to keep the length and want to add a fringe, go for this.  You will still have the security of the length and you will be able to tie you hair back if you wish to do so.  Taking the first step to having longer bangs, will be a great feeling.  The layers will give your hair a natural bounce when you walk and you will look in the mirror and wish you had done this sooner!  Don't wait any longer, call your hair salon and book that appointment in time for the lovely summer days!
27. Shoulder-Length Layers
Our next look is a style within a style. This may sound weird but we can see two styles in this hairstyle.  It has the long hair style and the shoulder length hair style.  With shoulder-length layers, you are creating a gorgeous two-style haircut.
28. Blonde Layers + Side Bangs
If you want layers and bangs, why not have both? This is a sexy hairstyle with blonde layers and side bangs.  The side bangs will frame your face and the blonde will show off your hairstyle.
29. Short Layers on Top
Are you looking for a short layers style for long hair? This is perfect.  You can see the short layers at the top of the hair will added longer layers.
30. Soft Layers
Softer layers look delicate and are the perfect style for long, thin or thick hair. It is a fresh style and will bring the life back to your long hair which will make you feel super sexy and amazing.