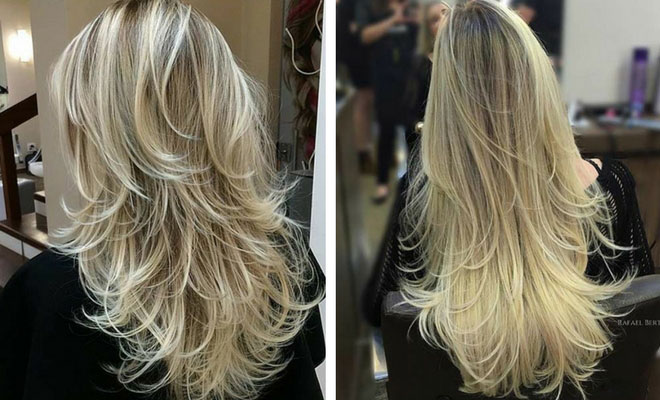 Instagram
Beauty
51 Beautiful Long Layered Haircuts
By
|
11. Front Layers + Balayage Highlights
If you want a hairstyle that will show off your face, this is a good style to have.  It has long front layers and balayage highlights.  People will be instantly drawn to your hair and it will look amazing.
12. Simple and Subtle Layered Haircut
To add volume and a little life, have a few simple and subtle layers. Just add a few here and there and you will notice the difference straightaway.  Your hair will get a new lease of life which will keep you and your hair happy.
13. Long Layers + Balayage Ombre
If you have long hair, and when we say long, we mean long, maybe think about adding longer layers. Long layers will make your hair look even longer and mixed with balayage ombre highlights, you will be trending with all of your friends.  This is for a fashion forward girl with fashion on the brain.  You cannot beat this style for fashion trends and style.
14. Chin-Length Layers
Chin length layers will show off your hairstyle and make your hair look bouncy and healthy. It is a style of its own and looks great up and down.  If you ever get bored of your chin-length layers, which we think you won't, you can always have a half up, half down hair do which will still show off your longer layers.
15. Sleek and Straight
Thin hair can benefit from having a few wispy layers but try not to go overboard and have a lot of layers, because we think less is more. Wispy layers can add style and show off your creative side. Keep the style quite simple and easy to maintain, you have the length and the style so there is no need to add anything else to the mix.
16. Classy Style
This style is elegant and classy. Adding layers to your long hair will show your classy side and it's timeless!
17. Bronde, Chin-Length Layers
Bronde hair looks great. For all of you that don't know, bronde colour is a cross between blonde and brunette. It is the new term people are now using to describe this colour. Bronde is a lovely, natural looking hair colour and is perfect to team with chin-length layers.  It will add your style and character and is suitable for any occasion.
18. Multi-Toned Layers
Multi-tones that are natural looking like the photo below, look stunning. If you want to show off your layered haircut, add a few strands of colours to finish the look.  Your hair will look stunning when the light hits your tones, it will shine and stand out.
19. Long Layers
Long layers are perfect for people who want to keep the length. This type of layers is great if you are nervous about cutting your hair.  Many people like to keep the length and you can have the best of both worlds with this style.  The layers can come into effect quite far down, so you still have the length around your face and you can still tie your hair back.  You can always have longer layers cut into your hair first and once you have gotten used to them, go back after a month or two and have shorter ones.  I guess you have to experience the longer layers before you go for the shorter ones.