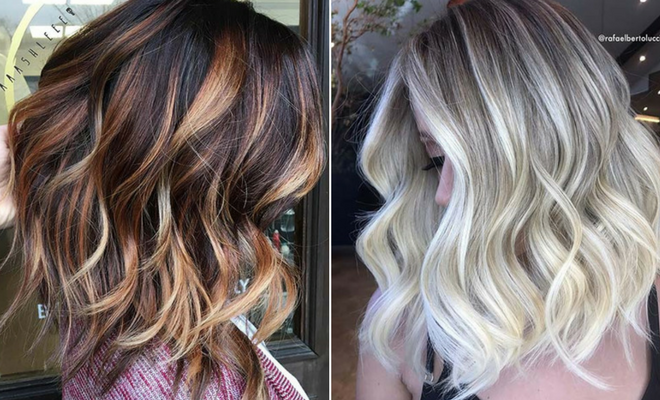 23 Stylish Lob Hairstyles for Fall and Winter
11. Balayage Lob
Ladies with dark hair may want to give their hair a lift for the autumn and winter. This next pick features hair that has been cut into a lob with warm caramel blonde highlights. The warm blonde will transform your hair and will brighten it up for the colder seasons.
12. Brunette Long Bob
Want trendy lob hairstyle ideas? Then this next pick could be for you. This lady has got a long choppy bob with subtle blonde highlights throughout. Hair like this is simple and stylish and will suit everyone. A haircut like this will never go out of fashion.
13. Trendy Touch of Pink Lob
Our next lob hair idea is perfect for the ladies who want to make a statement. It is a straight cut lob with a subtle pink tone on the bottom with a dark tone that has a purple look to it on the top. This hair is sleek and very stylish. It is great for anyone who wants to have a dramatic change.
14. Fall Balayage Long Bob
If you are looking to update your hair for the fall then this could be the way to do it. This curled lob features a mix of autumnal colors. Shades like this will warm up your look through the colder seasons. We love this gorgeous hairstyle, it will suit anyone across all ages.
15. Silver Lob
Looking for lob hairstyles that will wow? Then this could be what you are looking for. This lob features a super stylish silver tone throughout with darker root color. These colors are a trendy combination. You could recreate this look with just the silver and no dark roots. It would look beautiful curled or straightened to.
16. Light Blonde Lob
Sometimes less is more. This next pick features a light blonde lob that hasn't got trendy layers or bold dyes it is just a simple cut with a pretty color. Hair like this is a great way to update your look and it will look gorgeous season after season.
17. Light Blonde Balayage Lob
Next, we have a brown lob with light blonde balayage. Balayage allows you to have an ombre style that looks more natural and blended. This brunette beauty has had a warm blonde added that turns to a lighter blonde on the ends. This coloring technique will give your hair a trendy lift.
18. Vibrant Autumnal Red Lob
Like the red lob hairstyles from earlier in the post? Then you may like this next pick to. This hairstyle features a vibrant and bold red. It does not look as natural as the ginger tone but it looks beautiful. Your color doesn't have to look natural especially if you want to make a statement. Hair like this will look amazing through fall and beyond.
19. Stylish Long Bob
Just because it is fall doesn't mean you must give up your beach waves. Transform your sun kissed waves for the new season by chopping them into a lob. The long bob will transform your hair so you can have the trendy light blonde waves for autumn and winter.
20. Platinum Blonde
Platinum blonde will brighten up your look for the fall and winter. This next haircut features a simple lob with an ice blonde color. Hair like this is very stylish and will look gorgeous for any occasion. Lob hairstyles like this one will require some upkeep but it will be worth it!
21. Trendy Autumn Lob Hairstyle
This next pick shows how a lob can transform your hair. It features a before and after image. The after haircut is a warm autumnal lob with funky layers. It is a stylish hairstyle that will suit anyone. We love this fall hairdo. Hair like this is perfect for anyone wanting a trendy new look.
22. Pastel Hair
Want lob hairstyles that make a statement? Then this next pick is for you. This lob features a gorgeous pastel hair color. Pastel colors are light and will brighten up your look. It will make a dramatic difference to your hair but it is the perfect way to have a new look for the new season.
23. Ice Blonde Lob
Last on our best lob hairstyles pick list is this icey blonde hair. Ice blonde is perfect for the colder seasons as it suits the wintery weather. It is a trendy color choice that is perfect for the women who want a bold look. A very light lob like this will give you one super stylish hairdo.
We hope you have been inspired by our lob hairstyles. Take any of these images to your next hair salon appointment!
Last modified on November 3, 2017