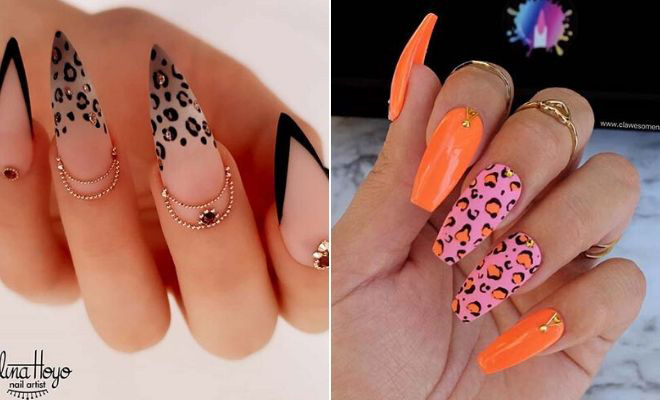 Instagram
Beauty
23 New Ways to Wear Leopard Nails in 2020
By
|
11. Sparkly Leopard Nails
This next mani is another one of our favorites! Here we have longer nails and each one is different. The thumb is a lighter color, the other two nails feature black or gold glitter while the last two nails have sparkly leopard print. We love the color palette of this mani. The black, gold and grey look stunning together!
12. Matte Leopard Tips
Love the chic nails that are nude with leopard tips? If so, take a look at this. This mani features stylish coffin nails with a simple and gorgeous leopard print pattern. Nails like these are pretty and simpler leopard print is very easy to wear. Recreate this or you could even have all nude nails with one leopard tip nail for an even more low-key look.
13. Nude and Leopard Nails
Many of the leopard print designs feature lots of leopard spots in a more ditsy pattern. But, this next one is a little different. Here we have nude coffin nails. Some are decorated with rhinestones and some have larger leopard print spots. By using larger spots, you make more of a statement and it just creates a different look to the smaller pattern.
14. Cute Leopard Mani
Next, we have a cute and easy to wear mani. Here we have short nails. One nail is black, the next silver and the others feature sparkly leopard print. It is a pretty and glitzy look that looks amazing on shorter nails. This mani was created with IsaDora 191 Gothic Black, L'Óreal Color Riche 864 Peach Neglige and China Glaze Glistening Snow. There is also a tutorial on the nail artist's page.
15. Stylish Stiletto Nails
If you like the stylish stiletto nail shape, then this look is for you. This mani features sharp stiletto nails that are nude with leopard tips. We love this version because the tips are not clearly separated between the nude color, it is more of a blend. These press on nails are available to buy on the page below so keep checking back for when they are taking new orders.
16. Glitzy Leopard Nails
Love the glitzy nails? Then check out this mani! Here we have shorter coffin nails. Some are covered in rhinestones or glitter, one nail is nude and the other is covered in leopard print. It is a stunning look and the glitter and crystals are so dazzling. This is a fun mani that is perfect for a party.
17. Trendy and Wild Leopard Design
This next nail idea is trendy with wild leopard print. For this look, the nails are again a sharp shape and each one is nude with statement making tips. The tips are different tones of brown with black leopard print over the top. We love this mani because the tips have a stunning amber look. The whole design is just gorgeous.
18. Minnie Mouse Mani
Are you a Disney fan? If so, this nail idea is perfect for you. This mani was inspired by Minnie Mouse. Most of the nails are different – some have red art, one has a cute cartoon Minnie and the rest are leopard print. This is a fun and unique mani that is a must-have for anyone who loves Disney. Recreate this or you could even add Mickey to the design too.
19. Leopard French Tips
French tips are a classic nail look and this version has had a wild makeover. Here we have shorter nude nails and instead of the traditional white tip these nails have leopard ones! It is such a fun and stylish idea. Not only that, but the design allows you to wear bold art like leopard in a more subtle way. This nail art will suit all nail lengths and shapes.
20. Cute Short Nail Design
Earlier in the post we shared leopard print nails with a bright coral color. If you loved that idea, then check out this mani. This one is similar. It features shorter nails and most have sparkly leopard print while the others are bright red. It just shows how you can use leopard print with any vivid and vibrant color.
21. Neon Leopard Nail Art
Neon colors are must-have and here is how to give them a wild look. Here we have stylish coffin nails. Most are neon orange and two nails feature black, neon pink and orange leopard print! We love the vibrant and bold version of leopard print, it is stunning. This mani is perfect for the summer and festivals. Recreate this yourself or you can buy press on nails with this design on the page below.
22. Glam Mani with Glitter and Rhinestones
Next, we have a glam nail idea with glitter and rhinestones. For this look, the nails are a coffin shape. Some are nude with a lighter nude tip, one nail on each hand is sparkly and two have leopard print art. It is a glitzy and fun look and this mani perfect for those who like statement making nails.
23. Nude Nails with Trendy Tips
The last leopard nail idea is trendy, cute and easy to wear. These nails are mid length with a square shape. They are all nude with classic leopard print and a matte texture. This is just a stylish and easy to wear mani. You can recreate this or try a longer or shorter version. Also, for a more low-key mani, you can have all nude nails with this design as an accent.
We hope you have found a trendy leopard print design to try!