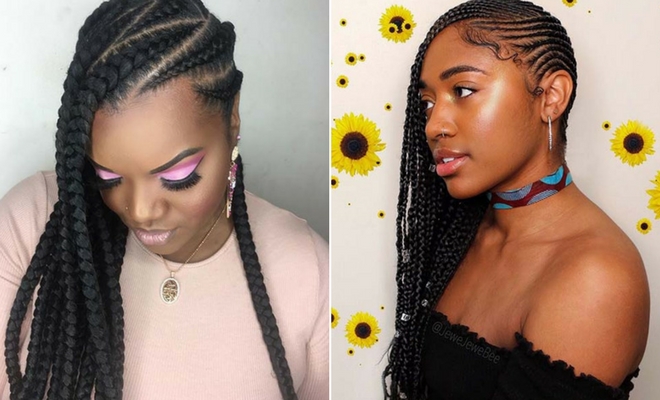 Instagram
Beauty
61 Best Lemonade Inspired Braids
By
|
11. Dark Red Braids
If you want a complete statement making change then this could be the Lemonade look for you. This braided look features thin cornrows in a beautiful dark red shade. This is a stunning color and would suit anyone. You could recreate a similar look in a different color too, caramel would be a trendy choice.
12. Zig Zag Jumbo Lemonade Braids
Earlier in the post we featured a braided look with a zig zag pattern. This next hairstyle has a bolder zig zag design. We love this more dramatic design because it makes the hairstyle look super trendy and fun. Braids like these are perfect for the ladies who want to make a statement with their hair.
13. Trendy Side Braids
Next, we have another braided style with a funky design. The braids wrap around at the bottom of the head and then have a subtle curve on the top. Then the braids meet on the side. Big Lemonade braids like these with a trendy pattern will look gorgeous on any woman.
Braider Location: East London
14. Thin Lemonade Braids with Cuffs
We mentioned how trendy cuffs look on braids and earlier we shown you a braided hairstyle with gold cuffs. Here are what braids look like with stylish silver cuffs! The silver cuffs just give the hair a different finished look and are easy ways to accessorize. You could even try gold and silver cuffs for an edgy mixed metal look.
15. Long Lemonade Braids
Our next Lemonade inspired hairstyle features thick side braids. If the vibrant colors and funky accessories aren't your thing you could go for braids that simple and beautiful like these. These long braids are gorgeous and will give any woman a stylish celebrity look.
Braider Location: Sacramento, California
16. Stylish Side Lemonade Braids
Braids can start anywhere on the head. These next braids start one side of the head and then are braided around to the other side. We love this funky hairstyle as it looks like a stylish and fresh take on crown braids. You could recreate a similar look and even add in some vibrant colors to make the hairstyle unique.
17. Lemonade Braids with Beads
Another way that you can accessorize your braids are with beads. Beads are super cute and there are so many different kinds of beads available so the looks you can create are endless. These Lemonade inspired braids were accessorized with natural looking beads. This hairstyle would look amazing for the spring and summer. Tutorial for this look by Kersti Pitre is here.
Hair used: Rastafri Braid Salon Professional "My Expert 24" color number 3.
18. Chunky, Burgundy Side Braids
Next, we have some large Lemonade inspired braids with a burgundy tone. This burgundy shade is so trendy and stylish. It would suit any braid design and thickness. If you want to change up your look then braids with color like these are the way to do it.
19. Stylish Thin Lemonade Braids
When you have smaller braids, you can have more of them which gives the hair a more intricate patterned look. This next hair idea features thin cornrows that are very neat and smooth. The design looks trendy, edgy and it would suit everyone.
20. Trendy Lemonade Inspired Braids
Our next hairstyle idea features side braids with a funky color running through them. These braids are very long, stylish and a perfect for anyone who wants a similar look to Beyoncé. Not only that but these are a trendy choice for spring and summer.