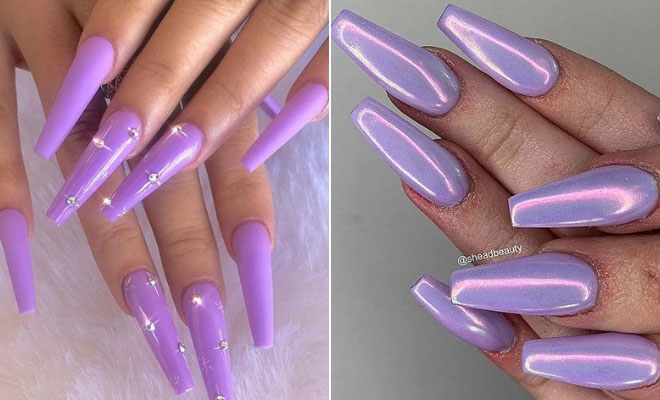 Instagram
Beauty
21 Lavender Coffin Nails That Are Perfect for Spring
By
|
11. Lavender Chrome On Short Coffin Nails
Not all coffin nails have to be long. You can opt for a shorter version too. This next design shows a stunning way to wear shorter coffin nails. Each nail is the same and they are all a lavender color with a chrome effect. As you can see, the nails look stunning and the shorter length means they are easy to wear. Recreate the chrome or have similar nails in either glossy or matte lavender.
12. Cute Lavender And Clear Nail Idea
Next, we have another clear nail idea. For this look, two nails are a lavender shade while the other two are clear. Most of the nails are decorated with gold foils and hearts. It is a fun, pretty and unique idea. These nails will be perfect for the spring and for occasions like Valentine's Day as well as weddings.
13. Glitzy Pastel Pink and Purple Mani
Earlier in the post we shared a purple and pink nail idea. If you loved that color combo, then you need to see this next design too. Most of the nails have different designs including block lavender color, glitter and glitzy rhinestone art. We love the colors and the sparkle, together they create a stunning mani.
14. Stiletto and Coffin Lavender Ombre Nails
This next design is another one of our favorites! Here we have super long nails and each one features nude and lavender ombre. What we really love is that most of the nails are that trendy coffin shape but the little finger nail is a stiletto shape. The different shapes used create such an edgy and unique mani. Recreate this look or simply paint the nails lavender with the different nail shapes.
15. Long Purple Nails with Rhinestones
If you like to wear sparkling rhinestones on your nails, you need to check out this next mani. The nails are all super long. Some are matte lavender and some are glossy purple with silver rhinestones. We love the different textures and the sparkle. It is such a pretty and glam mani that is perfect for parties and nights out.
16. Glam Lavender Nails
Next, we have another glam mani to show you. For this look, three nails are sparkly lavender and two nails are purple with added rhinestones. It is a statement making and sparkly nail design. Something like this is perfect for events like weddings, the prom, festivals and more. It will be a great way to update your mani for the spring and summer.
17. Rhinestone Accent Nail
The next nail idea is pretty and cute. Most of the nails are a soft lavender color with a matte finish. One nail is also matte nude and jazzed up with rhinestones in gold and silver shades. We really like the accent nail because it makes the lavender nails really pop. It is just a stylish and easy to wear look. You can easily recreate nail art like this at home.
18. Lavender Ombre with Rhinestones
Love the ombre art? If so, you need to take a look at this lavender nail idea. This version features beautiful lavender and nude ombre. Two nails on each hand are also decorated with rhinestones. The rhinestones really jazz up the mani but you can recreate the ombre with or without. This is another design that will be great for special occasions such as a spring wedding.
19. Lavender and Silver Glitter Nails
Silver glitter looks stunning on your nails. Even more so when paired with beautiful colors like lavender. This mani is a gorgeous example. Here we have long coffin nails that start with that soft purple shade and then blend to sparkly silver glitter. The glitter compliments the pastel purple perfectly. It is a very pretty nail design that will glam up your look for parties, nights out and more.
20. Chrome Mani
Next, we have another chrome mani. This one is a little different to the one that we featured earlier and it shows a different way to wear trendy chrome. The coffin nails are longer and the actual purple color is softer and subtler. This is a pretty and stylish mani. It is versatile, so it can be dressed up or down to suit any occasion.
21. Pretty Purple Nail Idea
The last lavender nail idea that we have to show you is pretty and glam. Some nails are nude with lavender tips and the others are sparky purple. One nail on each hand also features a gold letter. Letters are a great way to personalize your nails as you could have your initial or put a letter on each nail to spell out a word. It is just a fun and unique idea.
We hope you have found a pretty lavender nail idea to try!