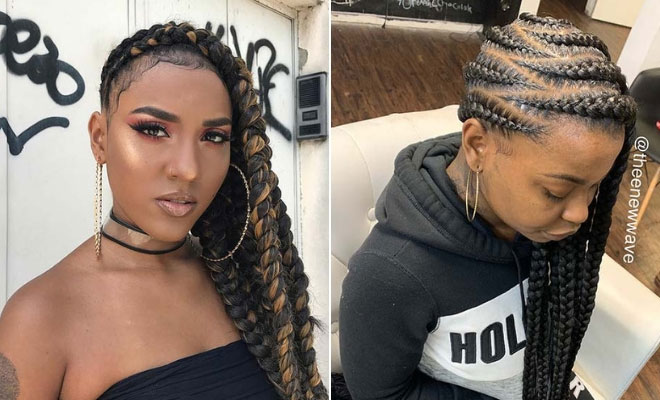 Instagram
Beauty
23 Gorgeous Jumbo Lemonade Braids to Copy ASAP
By
|
Lemonade braids have become one of the most popular hairstyles. This is not just because of the stunning side braid style, but also because they were worn by Beyonce, who was seen look amazing in them on her album Lemonade. So, if you are in need of hair inspiration, then look no further because we have 23 gorgeous jumbo lemonade braids to show you. This list features colorful hair ideas, trendy braided patterns and more. Read on to find your next hairstyle. The only problem you will have is deciding which one to try first.
1. Long Jumbo Lemonade Braids
We would like to begin by showing you this long braided hairstyle. The hair is braided onto one side in a simple and beautiful pattern. This is a trendy and easy to wear hairstyle that will look gorgeous on anyone. You can recreate this or you could try the style with a bolder hair color. Red would look amazing!
2. Multi Tone Braid Idea
Next, we have a trendy and unique version of lemonade braids. This time the hair is styled into chunky braids. Instead of just being one color, the braids are actually multi tone as a lighter shade has been added to the hair. We love the color combination and think the different shades compliment each other perfectly. Use similar colors to these or use two colors of your choice.
3. Accessorized Lemonade Braids
Make your braids unique by accessorizing them. You could try something like this. Here we have stunning jumbo lemonade braids that have been decorated with glam gold cords. As you can see, the cords really make a statement. You can use any color cords on your hair for a trendy look that shows off your personal style.
4. Jumbo Braids with a Thin Braided Pattern
Another way that you can make your lemonade braids look unique is by creating different patterns. This hairstyle features an amazing example. For this look, the hair has been styled into both jumbo and thin braids on the head. As you can see, this multi braid design is so stylish. This is a gorgeous hairstyle and it is perfect for the trendy ladies who like their hair to stand out from the crowd.
5. Dark Red Jumbo Lemonade Braids
The next hairstyle is bold and beautiful. Here we have jumbo lemonade braids that are a stunning dark red shade. We love this hairstyle because the braids are gorgeous and the color is so rich. A color like this will transform your hair. You can recreate this or choose a different shade of red. Either way, your hair will look fabulous.
6. Stylish and Easy to Wear Hair Idea
If the bold colors and accessorized hair are not your thing, then this hairstyle could be for you. This hair idea features stylish jumbo lemonade braids that are simple and easy to wear. The style features long braids that are worn to the side with a chic pattern. It is a gorgeous look and it will suit everyone.
7. Purple Lemonade Braids
Another gorgeous idea that you could try are purple braids and the braids featured below are a stylish example. Here we have jumbo braids that are stunning purple shade. The hair is quite dark at the beginning and then the hair transforms into a gorgeous purple tone. We love these braids, this is one of our favorite hairstyles. Braids like these will jazz up your look and it would be a great hairstyle for the summer.
8. Sleek Braids with a Red Cord
This next hairstyle is stunning! For this look, the hair is styled into sleek side braids complete with a red cord. We love this style because the braids are so neat and chic. The red cord finishes off the hair beautifully too. This is another style that will look amazing on everyone, you can recreate with any colored cord.
9. Trendy Jumbo Braid Hairstyle
Next, we have a trendy hairstyle to show you. This time the hair has been braided into very long lemonade braids. The hair on the head has also been braided into thick and thin braids too. We love the combination of the braided pattern and braid length. Together they create such and edgy and stylish look. Recreate these braids or try a different hair color. The braids would look amazing in a bright shade and ombre color would be stunning also.
10. Bold Blue Jumbo Lemonade Braids
The next hairstyle is another one of our favorites! For this look the hair on the head has been styled into thin and thick braids and there are double rows of thin braids also. This double pattern is so unique and trendy. The rest of the hair is styled into jumbo braids and there is also bold blue color weaved into the braids. This braided pattern and color combo is amazing. It is another hairstyle that is perfect for the trendsetters.