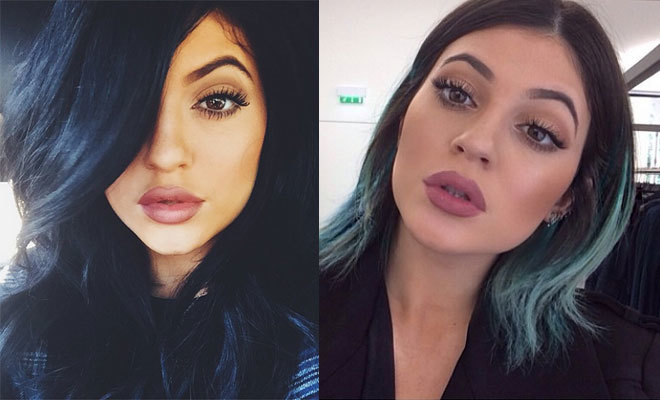 Instagram/Kylie Jenner
Beauty
How to Get Kylie Jenner's Overlined Lips?
By
|
Recently, everybody gone crazy for the next generation of Kardashians. The youngest, Kylie Jenner, started a new makeup trend – matte, plump, overlined lips in pinky brown colors. We can say she has become a beauty icon although she's only 17. At that age, most of us were still going overboard with the eyeliner and wearing mismatched foundation, right?
http://instagram.com/p/s58KCgHGq5
Kylie Jenner is clearly a fan of '90s makeup – clean, natural face; light contour; big eyelashes; and matte dark lips.
When it comes to beauty and fashion, Kardashian sisters are some of the biggest influencers in the world. Hair extensions, contouring, nude lipsticks and fake eyelashes are part of their signature Kardashian look. There are hundreds and hundreds tutorials on how to copy their makeup and hairstyle. Here's step by step tutorial on how to have Kylie Jenner's overlined lips without looking crazy-pants.
STEP 1: Lip Exfoliation
The key to a beautiful matte lips starts with soft, healthy lips. Lip exfoliation will help you to remove the dead, dry skin that's covering your lips. This process is pretty simple and all you need is an old toothbrush. In circular motions, gently rub the toothbrush on your lips to remove all that dead peeling skin.
STEP 2: Lip Moistuirizing
Leave on the lip balsam to re-hydrate your lips. These two steps are essential before applying lip pencil. If you don't have lip balsam, you can use petroleum jelly.
Step 3: Concealing
This step is optional. Blend the concealer around the outline of your lips. Concealer will help you to hide your lip's natural perimeter. Also, it will make your lipstick last longer.
Step 4: Lip Pencil
With your sharpened lip pencil, begin to line your lips starting from the outer corners. Line them slightly above the lip line to create the effect of a bigger, more plump lip just like Kylie's.  After your overlined upper and bottom lip line, fill the entire lip with the pencil. Line the edges with darker brown-ish pencil to add more dimension.
Step 5: Lipstick
Finish the look by adding lipstick in the same color as your lip pencil.
Her makeup artists, Rob Scheppy and Joyce Bonelli, revealed lipsticks and lip liners they use to make Kylie's lips thicker and bigger. Here's the list:
a) MAC 'Brave' ($16)
b) MAC 'Pink Plaid' ($16)
c) MAC 'Velvet Teddy' ($16)
d) MAC Lip Pencil 'Whirl' ($16)
e) NARS 'Bahama' ($25)
Drugstore dupes are:
– Maybelline ColorSenational 235 'Warm me Up' ($5.50 at Amazon)
– Maybelline ColorSensational 'Make me Pink' ($7.49 at Ulta)
– Revlon Super Lustrous 'Pink Pout' and 'Stay in Nude'
– Wet n Wild 'Bebot Love' ($3.49)
– NYX Mauve ($3.49)
Now that you have all the details on how to achieve Kylie's lips, go try it out for yourselves and let us know did you succeed!