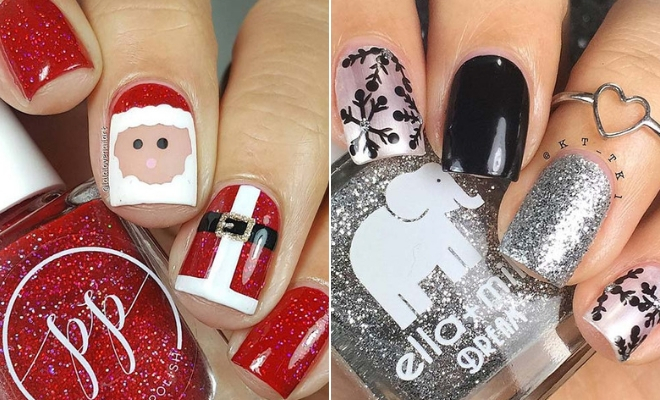 Instagram
Beauty
23 Pretty Holiday Nails to Get You Into the Christmas Spirit
By
|
11. Beautiful Snowflake Nails
Next, we have another snowflake idea. This one looks enchanting! The design features snowflakes, gems, stars and glitter. It is a beautiful nail idea that has been inspired by winter and it captures the magic of Christmas and the holiday season perfectly.
12. Cute Rudolph and Christmas Tree Nails
Our next idea is super cute! The nails feature a Christmas tree, a Rudolph design and sequins. This a vibrant and fun nail art idea that is perfect for anyone who loves Christmas. You can recreate the whole look or try one of the designs. Just sequins would look nice too.
13. Simple Holiday Nails
Are you are looking for simple festive nails? Then this design is for you! The first nail is green with white polka dots, the next is silver glitter, then a red and white snowflake design and then holly nail art. With the help of dotting tool, you could easily recreate these simple holiday nails at home.
14. Silver and Red Bauble Nails
Earlier in the post we featured bauble nail art, if you loved that idea you may like this one too. Here is another design based on Christmas baubles. Most of the nails are a shimmery silver with one red accent nail. On the accent nail, there is a silver bauble with gems. This is a cute and festive idea that will suit everyone.
15. Plaid and Glitter Holiday Nails
Next, we have a gorgeous holiday nail idea! The nails feature red and black plaid, gold glitter, matte red and a stag design. This is such a stylish nail look for the holiday season. Recreate this look or swap the stag for a reindeer instead. You'll end up with a unique Christmassy look.
16. Christmas Tree Nail Art Idea
Our next idea features a very festive nail art! Some of the nails are dark green, one is striped while the last one has a mini Christmas tree that is too cute for words. This is a creative look that is perfect for the holiday season. If you're in a hurry, you could recreate the design with only one accent nail.
17. Chic Blue Holiday Nails
Create a chic look for the holidays with nails like these! The nails are dark blue with two accent nails. One accent nail is a snowflake while the other is silver glitter. We love this design because of the matte blue shade that often gets forgotten in the holiday season. Nails like these are perfect if you like to stand out from the crowd.
18. Sparkly, Striped Christmas Nails
Holly is very festive and Christmassy. It has been featured on some nail ideas already but this next one had to be shared! The nails are all different colors and designs, these include: stripes, holly, glitter and red and green colors. It is a stunning idea that is perfect for anyone who loves Christmas and traditional holiday colors and patterns.
19. Simple Rudolph Inspired Nails
Rudolph is a famous reindeer and he has already made an appearance in our top picks. Here is another idea inspired by the iconic Christmas reindeer. The nails are a brown tone with a reindeer accent nail that features antlers and a red rhinestone that has been used in the place of Rudolph's nose. This is an easy, but super cute nail idea that everyone will love.
20. Holiday Polka Dot Nail Idea
Love sparkly nails? Then this idea is for you! Some of the nails are red glitter while others are silver glitter. There is also a polka dot accent nail. Designs like this use the festive colors and sparkle to create a stylish holiday look. You can recreate this on any nail length and shape.
21. Candy Cane Inspired Nails
Candy canes are a traditional Christmas treat that not only tastes good but looks good too! This next nail idea was inspired by the classic red and white stripe design. As you can see, this nail art is simple but super cute. All you will need is red and white nail polishes and some tape. If you have a steady hand, you can paint the stripes with a thin brush.
22. Elegant Snowflake Nails
Next, we have an elegant holiday nail idea. These nails feature black snowflakes with silver glitter in the middle, and black and silver glitter accent nails. This is such a chic and glam idea. Nails like these would be perfect for a party. You can recreate this look with gold also.
23. Holly Nail Art Design
Last on our list are these festive glitter nails! Most of the nails are a sparkly dark green, but there are two accent nails. One accent nail is red glitter and the other has a shimmering holly design. This nail art captures the enchanting fun of the holiday season. You can recreate the whole look or just use green and holly, or red and holly.
We hope you have found some beautiful holiday nails to try!