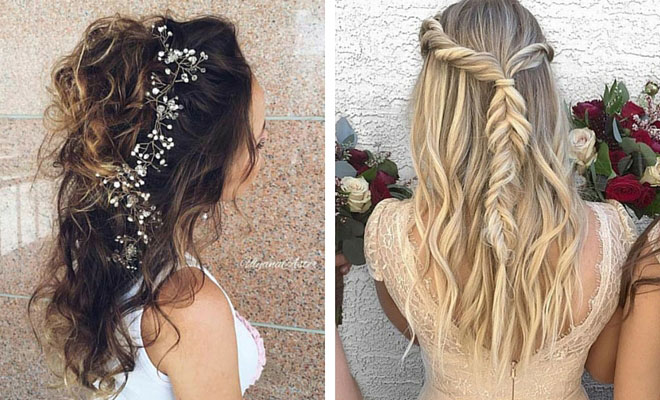 Instagram
Beauty
31 Half Up, Half Down Hairstyles for Bridesmaids
By
|
21. Messy Half up Style with a Hairpiece
Messy hair is trending. As you all probably know, messy hair is trending and has been for several seasons now.  Messy hair looks amazing if the wedding theme is shabby chic or vintage.  It will perfectly fit in.  When we say messy, we don't mean look like a scarecrow!  We like to call it, controlled messy so make sure you find the perfect balance.
22. Volume + Braids = Perfect Combo
Volume and braids are the flawless combination. Adding volume to your hair will make you feel special and it is the ideal look for bridesmaids.  It is a traditional look, going back many years and teamed with braids, the style will look fabulous.
23. Voluminous Half Up Style with Fake Side Bangs
Nowadays, clip-in hair is so easily accessible. If you want to add that extra lift or boost to your hair on the wedding day, you can always buy clip-in hair extensions from many online websites and they don't need to be expensive.  Adding a few bangs to your hair is small but the finished result looks incredible!  Take this hairstyle, you can always clip-in hair and nobody will realise.
24. Four Strand Braid
Are you bored of the standard braids? If you want something different but need some ideas and inspiration, take a look at this. Why don't you try this 4 strand braid?  It looks so beautiful and different.  Instead of using 2 or 3 strands, use 4 and you will finish with a pretty looking braid like this.  Soft ringlets added to the ends of the hair will plump up the hair which makes it look shorter than it really is, so be prepared for this.
25. Curls & Loose Braids Half Up
If you're used to always having your hair tied back in a tight bun, go for a loose hairstyle. This will take the strain of your head and release the pressure.  Many women wear their hair up every day for work, so by wearing your hair half up, half down will feel special.  You will still have the security of having your hair up but it's the best of both worlds!  Curl your hair to add the romantic feel and make a few loose braids with the hair up sections.  You can always intertwine different strands of hair in your hair up pieces, like the photo above.  Have fun experimenting with this style.
26. Glamorous Style
Add some Hollywood glamour to the wedding with this gorgeous braided half up, half down style. Every bridesmaid wants to look good and with this glam style, you will look amazing all day.  This is a neat, braided hairstyle, which looks absolutely stunning.  Whatever the wedding theme, this will add the glitz to your outfit and for the bride.  I know the bride will think this is a spectacular hairstyle and she will be so proud.
27. Curly Half Up Hairstyle with Volume at Crown
This is an ideal hairstyle for a bridesmaid or Maid of Honour. This is a polished curly half up do with added volume.  It looks classic and at the same time, elegant.  No matter if the bride is getting married in spring, summer, autumn or winter, this is great for all seasons.  Make sure you have the lift of the crown to add to the effect and style.
28. Big, Curly Hair
Big hair looks incredible. If you are having a simple bridesmaid dress, then why not go big with your hair.  This half up hairstyle will look stunning with any classic dress and will definitely compliment the bride, whatever hairstyle she chooses.  Although it looks like the hair is completely up, it is still only half up.  The thicker your hair is, the bigger the hair will be.  If you have thinner hair, this will still look amazing.  It will give you the extra volume which will of course make your hair seem thicker and bigger!
29. Simple Curly Half Up Style
Keep it simple with this curly half up hairdo. Sometimes we are too busy thinking about the intricate hairstyles, that we forget about the simple and gorgeous styles.  Take this easy curly half up, half down 'do.  It looks as good as the other options in this article but because it's a wedding, people tend to overthink.  Why, when it looks this good?!  Try this and see for yourself.  You will be pleasantly surprised and will enjoy not having to have your hair done all morning.
30. Braided Crown + Soft Curls
Release your inner boho chic style with this half up, half down braided crown, with soft curls. This screams bridesmaid hair.  It may be boho chic outside of weddings, but who's to say you can't take a boho style over to weddings.  We adore this hairstyle and know it will suit any face shape and any dress you wear on the day.  The soft curls will add the love and romance vibe.  This style looks exceptionally amazing with highlights.
31. Jaw-Dropping, Curly Half Up Hairstyle
Girly, feminine, cute, elegant and amazing! These are the words we would choose to describe this half up, half down hairstyle.  If you were to think of the perfect half up, half down hairstyle for a bridesmaid, many people will have this image in their head.  It is a timeless style that will never age.  This is good news for brides whom will look back on the photographs in many years to come and think she made an excellent choice of hairstyles for the bridal party. It has everything all rolled in one hairstyle and will suit any wedding theme.  If you choose not to hire a hairdresser on the day, this is easy to achieve when doing it yourself.  All you need is a curler, bobby pins and hairspray.  Hairspray is a vital product that you will need, as you will want it to last all day without falling down.  If you practice this a few times before the actual wedding day, you will be a pro!  Have fun!