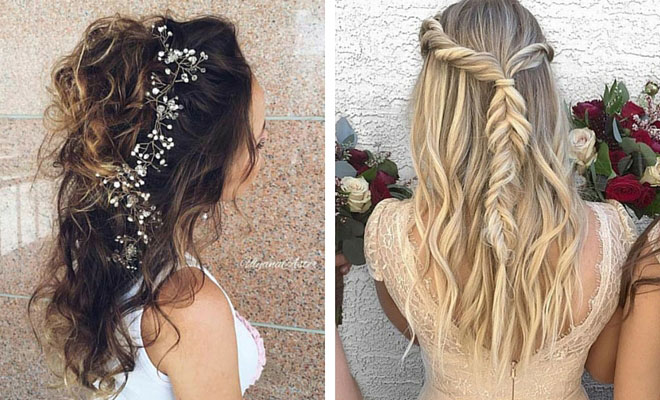 Instagram
Beauty
31 Half Up, Half Down Hairstyles for Bridesmaids
By
|
11. Messy, Braided Crown
Are you looking for a hairpiece alternative? We have the solution for you.  Have a braided crown!  It is not just a braided crown but also a messy braided crown that will look wonderful.  It will boost your hair and complement any style of dress.  With messy hair, you don't have to worry about fixing it during the day, just leave it and enjoy the wedding!
12. Teased Half Updo with Braids
Teased is also known as backcombing. Backcombing is another word that many people tend to now use.  You can see by teasing the crown, it instantly uplifts your hair, setting an elegant style.
13. Easy, Long Curly Hairstyle
Curls look romantic and special for weddings. This is so simple but looks so amazing and timeless.  Twists and curls are all that is needed for this hairstyle.  Adding the hair up section will create the natural lift.  You can see how beautifully the added clips, finish the style.
14. Braided Half Updo
Mixing different braids forms a beautiful style. These two braids work so well together.  The style is super girly and will look amazing with any outfit you decide to wear.
15. Romantic Half Up, Half Down Look
Who doesn't want a romantic hairstyle for a wedding? Weddings are all about love and happiness.  Romance is in the air and especially when you have this gorgeous hairstyle.
16. Half-Up Braided Crown for Mid Length Hair
Braided crowns will set the look. Having a braided crown will frame your face and show off your dress.  The main focus will be on your makeup and the back of your lovely braided crown hair.  This is perfect as you'll be walking down the aisle.
17. Curly, Half Up Fishtail Braid
This looks so detailed and intricate. Don't be scared thinking it looks hard to do, trust us, it looks harder than it is.  If you are having a hairstylist on the morning, show a photo of this hairstyle and they will be able to create this in no time.  If you are confident with fishtails yourself, you can also do this on the morning without a hairstylist.  This will save you some money!
18. Half Up Style for Long Hair
This style is all about loose tie. The trick with this style is when you are gathering the half up section,  don't pull tightly, tie it back with your preferred band/hairpiece etc, loosely.  This will form the delicate style you want.
19. Straight Hair + Dutch Braids
Dutch braids really stand out. If you want to attract attention, this will certainly do that.  It stands out more so with shorter hair, like the photo above.  You could also add a few flower clips to match the wedding theme colours.
20. Simple & Elegant
This is a simple and elegant hairstyle that will make you look and feel amazing. By forming a braided crown, it will act as a hair accessory for you.  This will save you money on actually buying a hairpiece.  Make sure the braid gathers underneath your raised crown for effect.