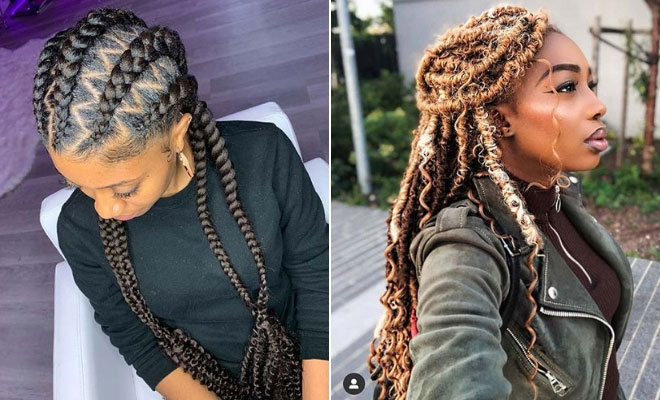 Instagram
Beauty
23 Popular Hairstyles for Black Women to Try in 2020
By
|
11. Long Braided Ponytail with Curls
Next, we have another braided ponytail. This time the hair is braided and styled high but there is also a lot of loose and curly hair too. The curls and braids look gorgeous together and they create such a trendy hairstyle. This is another easy to wear style that looks effortlessly beautiful. You can recreate this long ponytail or opt for a shorter one.
12. Half Up, Half Down Passion Twists
Half up, half down styles have become a must-have. This next hair idea is a beautiful example of the style that you could create. For this look, the hair is styled into trendy passion twists. Half are left loose and the other half are styled into a high bun. With hair like this, you get the best of both worlds – gorgeous loose hair and an updo too.
13. Boho Feed in Braids
This next hairstyle features beautiful boho braids. The hair is braided and there are gorgeous curls at the end of every braid. These braids would have been stunning as they were but the stylist has also braided some of the braids too. As you can see, this creates one larger braid. This is a gorgeous and trendy style and it will suit everyone.
14. Long and Sleek Ponytail
We love this hairstyle so much, it is one our favorites! Here we have a long and sleek ponytail. The ponytail is styled very low and hair is wrapped around the base of the ponytail too. This is just a stunning updo that will wow. It is also very versatile as it will look amazing for any occasion. Recreate this long ponytail or you can go a little shorter with the length.
15. Thin Lemonade Braids
Lemonade braids are another popular hairstyle and here is a trendy way to wear them. The hair is styled into very neat, small and sleek braids. This style does have a simple braided pattern and it looks so stylish! Braids like these will suit everyone and you can recreate this look or even try the braids in a different color. Red or blonde would look gorgeous.
16. Stunning Natural Braided Updo
Next, we have another stunning updo. This time the hair is styled into flat twists and twist outs. Then the hair is put up and it is secured with bobby pins. It is a simple and gorgeous idea. This hairstyle would be perfect for a special occasion. You can recreate this or experiment and try creating your own twisted updo.
17. Braided Ponytail with Thin Braids
The next hair idea is another gorgeous ponytail. This time the hair features very thin, long braids and they have been put into a high ponytail. We love the thin braids because they just give the ponytail a trendy and unique look. Recreate this ponytail or we think it would look amazing with ombre color such as blue or blonde.
18. Cornrow Braids with Zig Zag Parts
A great way to make your hair look unique is by using different patterns for your parts. Here we have chunky cornrow braids with zig zag parts. As you can see, the zig zags look so trendy and they really jazz up the simple braids. You can keep it simple like this or you could make the style even edgier by adding color. Silvery grey ombre would look stunning with braids like these.
19. Two Chunky Cornrow Braids
This next hairstyle is just beautiful. So, for this, we have two feed in braids that are accessorized with gorgeous shells and hair rings. It is another easy to wear hairstyle that will suit everyone. There is a tutorial for these braids on the Instagram page below so you can recreate this look yourself. Braids like these would be perfect for the summer.
20. Long Goddess Box Braids
Give your hair a glam makeover with braids like these! The hair is styled into very long braids and there are stunning loose curls too. Some braids are also accessorized with gold cuffs. This is a statement making style and it will make you stand out from the crowd. This is another style that would look amazing in a bolder color.
21. Statement Making Feed in Braids
Earlier in the post we shared a hairstyle that featured braided braids. If you loved that idea, then you need to see this one too. Here we have another version of the look. This time we have long and sleek braids. There is also a section of the braids that are styled into a larger braid. As you can see, it looks so stylish and unique. Recreate this style or you can try braided braids with a different pattern.
22. Bold Red Braided Bob
Next, we have a bold red hairstyle to show you. For this look, the hair is braided and styled into a bob. One side of the bob is longer than other which gives it trendy asymmetrical look. Not only that, but the braids are also a fiery red shade and they have accessories too. This is such a stylish hair idea and it is perfect for the ladies who like to make a statement.
23. High Braided Bun
The last hairstyle that we have to show features another bun. This bun is styled high on the head and the braids have a funky pattern both under the bun and on top of the head. It is a chic and stylish updo that would be perfect for a special occasion. You can recreate this or try a different braided pattern.
We hope you have been inspired by these beautiful hairstyles for black women!