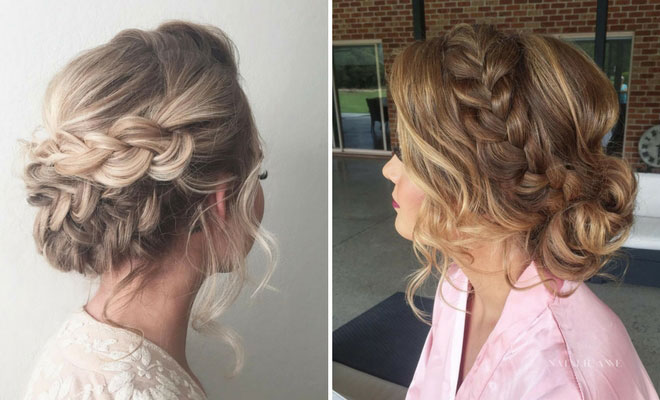 Instagram
Beauty
67 Gorgeous Prom Hairstyles for Long Hair
By
|
41. Cute Ponytail with Braids
If you like the braided ponytails, then check this out. Here we have a textured and curly ponytail and the top section of the hair is styled into two braids. As you can see, the ponytail looks so stylish with the braids and the double braids jazz up the hair. There are tutorials for these braids online. Recreate this or you can try a similar style with a sleek ponytail.
42. Bohemian Prom Hairstyle
Another hair trend that is popular for prom and other special events is boho. Boho hairstyles often feature curls, twists or braids. This hair idea is a gorgeous example of style that you could wear to the prom. The hair is long with relaxed curls and the top section has been twisted. As you can see, it is is stylish, elegant and trendy look. You can recreate this or try using braids instead of twists.
43. High Half Ponytail with Curls
Next we have another half ponytail idea. This time, the top section of the hair has been styled into a sky high ponytail and the rest of the hair is loose and beautifully curled. It is a very trendy and edgy updo that shows off your own sense of style. Try this or you can have a similar ponytail with sleek and straight hair too.
44. Elegant Ponytail with a Side Braid and Flowers
This next hairstyle is elegant, romantic and beautiful. The hair is styled into a ponytail with a side braid and the hair is also curled. This look is complete with stunning flowers. The flowers are such a gorgeous finishing touch. If you are using flowers in your hair, then try and color match them to your dress. You can also recreate the style without flowers for a subtler look.
45. Beautiful Braided Prom Hairstyle
Looking for a braided hairstyle for the prom? If so, this is for you. Here we have long and beautiful braids with a glam twist design. This is a stunning look that will suit everyone. Keep the style simple and like this or you could add some hair accessories like beads or braid cuffs. Either way, your braided hair will wow everyone!
46. Unique and Stylish Updo
The next idea is perfect for the trendsetters who love unique hairstyles. For this look, the hair has been braided and styled into an updo. The hair is also accessorized with gold wire. As you can see, the wire is so stylish and creative. If you want to stand out from the crowd then this updo is great for you. You could also color match the wire to your dress – that would be beautiful!
47. Long Side Braid Into a Ponytail
Next, we have another hairstyle with a bohemian vibe. This time the hair is styled into a long braid that is loose on the top section and tighter on the bottom section. The rest of the hair is left loose and textured. Both are tied together to create a trendy ponytail. This is a super stylish updo that is perfect for the prom.
48. Gorgeous Ponytail For The Prom
Next, we have a gorgeous hair idea. The hair is styled into high and curly ponytail. While the hair at the front has a center part with volume. It is a stunning hairstyle that has a vintage glamour vibe. Hair like this will look amazing for the prom and it will compliment any dress and makeup.
49. Amazing Floral Hair Idea
This next hairstyle is another one of our favorites! The hair is long and is styled into a chunky and relaxed braid. This look is finished off with pretty flowers. We love this updo because it looks fit for a princess. You can buy flowers for your hair online. Recreate a similar look or color match the flowers to your dress.
50. Curly Ponytail with Side Braids
If you like the ponytail hairstyles, then you need to see this next hair idea. Here we have a long ponytail with two side braids. This is a stylish and elegant updo that will suit everyone. You can try a similar look or you can use a different braid styles for the side sections. This ponytail can be created with straight hair too.