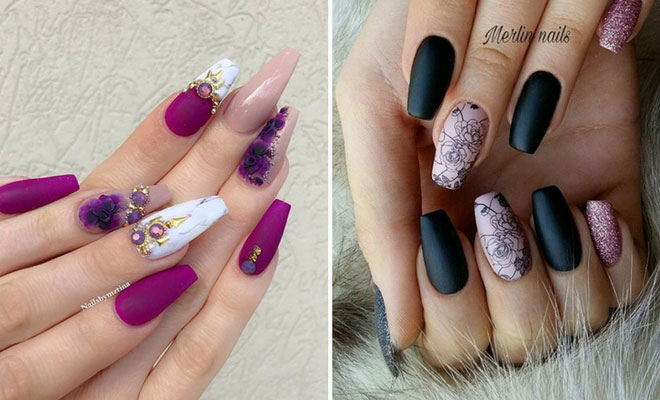 Instagram
Beauty
21 Gorgeous Floral Nail Designs for Spring
By
|
11. Pretty Flower Design
Spring is a popular time for weddings. If you have a wedding or special occasion coming up, then nails like these would be a stylish choice. The feminine pink and white colors with the flower transfer is gorgeous. With a simple design like this you can experiment with different polish shades and flowers.
12. Roses and Gold Gems
Gems are chic embellishments for nails. You don't have to go overboard with the crystals you could go simple like in this design. One gold crystal on each nail brings the different elements of polishes and patterns together. Just make sure you keep the glue handy in case one falls off.
13. Neutral Nails with Floral Blooms
Adding floral patterns on different areas of each nail creates a unique and funky design. When creating nail art like this choose a neutral base color and build on top of it. Choose some bright nail pens and get drawing cute little flowers. With so many different shades and flowers to choose from your only limit is your imagination.
14. Minimal with Accent Nail
When creating a fresh new nail design sometimes less can be more. You can create stunning designs without crystals and gems. Just a simple clear manicure with a delicate floral transfer and you're good to go. Nails like these will suit any outfit for any occasion. You can choose any spring time flower for this design.
15. Pink Flowers and Crystals
Now if crystals and statement making nails are your thing then this next design is for you. These nails feature a light pink shade with gorgeous 3D flowers. The one accent nail full of bling is gorgeous and will catch the eye when sparking in the spring sunshine!
16. Glamorously Floral
We ladies all like to add a little glamour to our outfits. These nails are just the way to do it. The purple will add a pop of color to your look and the stylish flower is the perfect finishing touch. This design will work for many shades so if you could even swap the purple for other vibrant tones or springtime pastels.
17. Chic Rose Nail Art
Roses have been a popular choice in nail art. Most of the designs are in pink or red shades but if you like to be a little different then try a design like this. The green and white are not conventional shades but work beautifully. There are nail stencils available to make it easy to recreate.
18. Cute Pink Flowers with Gold Glitter
Cute floral prints are always a fashion hit. You can take inspiration from flowery patterns to create chic nail art like this. The flowers are gorgeous and the gold glitter in the center of each one is a nice touch. Pink is a huge trend for spring to pink polishes are a great choice.
19. Multi Color Floral Pattern
Here is another way to wear white polish. This design features a color palette of pink, purple, blue, white and black. These colors work so well together and are very stylish. The flowers look like a funky graphic design, perfect for any trendsetter.
20. Pink Blooms with Glitter
The next nails on the list are feminine and beautiful. The soft pink is a spring favourite and looks stunning with the delicate flowers. This design also has a sprinkle of silver glitter making these great for a special occasion. You could experiment with different glitters or none at all for a different look.
21. Rosy Nails
Our last must have spring nail design features stunning pink roses. A nail design like this will brighten up any outfit ready for the new season. You could recreate with nail art pens or nail stickers.
We hope you have found inspiration for your spring nail designs. We have and are off to try some of these out for ourselves!