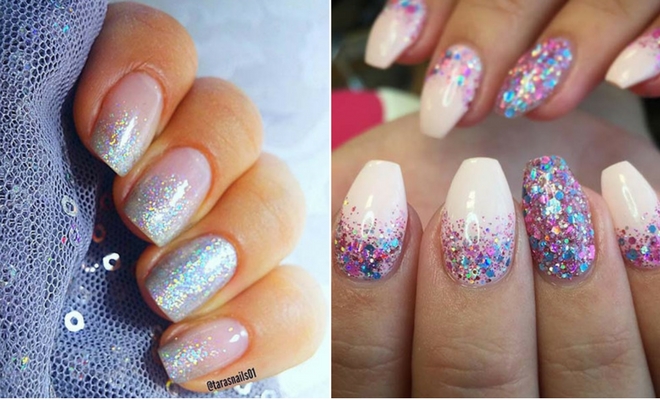 23 Gorgeous Glitter Nail Ideas for the Holidays
Add some sparkle to your nails with glitter, one of the many great things about glitter nails is the design possibilities. You could have something chic, bold, subtle or whatever you feel like. Glittery nails are a must have for 2017 so we have put together 23 of the best glitter nail ideas to get you inspired. Take a look there is something for everyone.
1. Glitter Triangle Accents
First up we have this funky design. This one features light pink nails with glittery triangle accents. Art like this is great if you want to add a subtle sparkle to your nails. It is a trendy design that could be re-created with any colors. Nails like these would be great for the holidays.
2. Matte Burgundy Nails
Almond shaped nails are our favourite, these have become a must have for 2017/2018. Combine this shape with dark matte polish colors and glitter and you have a trendy set of nails. A design like this one is just gorgeous, and most importantly, super easy to re-create. We recommend this design for a Thanksgiving dinner or a Christmas party.
3. Red Glitter Nails
A glittery manicure like this will give you a bold look perfect for the upcoming holidays. You don't have to go for full on glitter you could have a subtler design like this. The nails have a clear coat that gets sparkly towards the tip. Nail art like this will suit anyone. Products used: Zoya 'Pepper' and Butter London 'Brown Sugar'.
4. Gold Glitter Accent Nail
Give your short nails a touch of glamour with gold glitter. Many ladies go for the longer nails but here is how to have short nails in style. The manicure features a light polish and a gold glitter accent nail. You could recreate this with any polish and glitter color but gold is a great choice for holidays.
5. Chic Manicure
Mix up your usual French manicure by adding some gold sparkle. Glitter nails like these would suit any occasion but would be perfect for weddings, proms and other special events. A design like this is a chic and stylish way to wear glitter.
6. Purple Glitter Nail Art
If the brighter colors aren't your thing then you'll love these dark purple nails. This creation features glossy polish with a purple glitter accent nail. You could have this done at a salon or even have a go creating this yourself. Nails like these are trendy and will give all the girls nail envy.
7. Multi Glitter Manicure
Our next glitter pick is perfect for Christmas or New Year's Eve! These feature a light polish with pink and silver glitter. Nail art like this is bright, bold and fun. A design like this would be great on short nails to. You could re-create this with different glitter colors. Blue or purple would be a stylish alternative.
8. All Over Glitter
Love glitter? Then this nail design is for you! This all-over glitter manicure is sparkly and bold. You could create this look yourself with a glitter nail polish. You could choose any color but this is great choice for a night out or special occasion. Long or short nails would look gorgeous in glitter.
9. Glitter and Gems
Step up your sparkle game by choosing nail art with glitter and gems. This stunning creation features a light pink polish with glitter nails and crystal nails. Nails like these will wow! You could take inspiration from this and make it unique to you by choosing different colors and crystals. The possible ideas for this combination are endless.
10. Burgundy Glitter Nail Idea
Look pretty in burgundy this season with burgundy and gold glitter nails. As you can see short nails look gorgeous in a glitter polish but longer nails would look amazing too. You could create this design at home with a gold glitter polish, dark burgundy polish and some Scotch tape. This design screams holidays!
11. Funky Gold Glitter Designs
If you want something trendy and unique our next nail design is for you. This blue manicure features funky gold glitter designs on three nails. It is gorgeous art that could be re-created to suit your style. You could choose any color combination or even just choose one of the jazzy designs.
12. Silver Glitter Accent Nail
Our next glitter pick is chic and feminine. It just has a beautiful combination of light polish and silver glitter. You could choose a long manicure like this or go for shorter nails. Nail art like this would be great for a wedding or special event.
13. Pink Manicure with Glitter Tips
If you're new to glitter or would just like something subtler, then choose glitter tips like these. You can have any polish color, a pink like this or another bright shade. Then just add a sweep of glitter on the tips. Try creating it yourself for a cool diy nail project.
14. Glitter French Manicure
Here is another way to style red glitter. This multi design features red and silver French manicured nails, one glitter nail and one delicate polish design. If you like this style then have all the techniques done or you could just choose one nail style for all your nails.
15. Floral Accent Nail with Silver Glitter
Our next pick shows how you can create different glitter finishes. Some of the nails feature heavy glitter while some have a subtle sparkle. You could have both or one of the styles. The floral accent nail is also a nice touch. The possible creations and colors are endless with a multi design like this.
16. Ombre Glitter Accent Nail
Ombre nails have been a huge hit. You could create the ombre style with glitter. These black nails feature a glitter accent nail. The glitter creates an ombre effect. A design like this is great for the rock chicks or if you want a change from the bright colors. If you do want to brighten it up, then you could re-create this with any nail polish color.
17. Ombre Nail Art with Red Glitter
Give your ombre nail art an extra special touch with glitter. This stunning nail art features trendy ombre effect with red sparkly accent nails. You could have this design created with your favourite colors. Nail art like this is unique and stylish.
18. All Over Red
If you love creating your own nail designs then this if you. This manicure features a red glitter polish. All you have to do is paint your nails. You could have the polish in any color of your choice. A glitter polish is great for creating this look but could be used for other creations, such as sparkly tips and accent nails.
19. Silver Glitter
Here is another multi glitter manicure. This one features two all-over glitter nails and manicured nails with bigger sparkles. You could create this design with any colors. Silver is the perfect choice for a special occasion. It would also look gorgeous on both long and short nails.
20. Sparkly Accent Nail
Metallic nail art has been a favourite. Combine silver polish with glitter and you have one set of stylish nails. This design will suit any girl. You could mix it up and choose any polish and glitter colors. This combo would be great for a wedding, prom, date night and more.
21. Shimmering Manicure
Our next pick shimmers and sparkles. A manicure like this is just gorgeous. You could create this design yourself at home with a pretty glitter polish. This design is sparkly and subtle and will give everyone nail envy. We love this glittery look.
22. Ombre and Glitter
We have seen how glitter can create an ombre look. Now here is how to style glitter with an ombre design. These stunning nails feature nude and white ombre nails with two different sparkly nails. This combination is funky and stylish. You could even try and create this yourself, there are plenty of tutorials available online.
23. Trendy Glitter and Gold
Our last pick features a gorgeous glitter and gold accent nail. The unique design really jazzes up the nude color manicure. Nail art like this would look amazing on long or short nails. You could create this with any color and you could swap the stripe for silver. This is a fun look that will suit everyone.
We hope you love these glitter nails as much as we do. We can't wait to try out some glitter nail polishes!