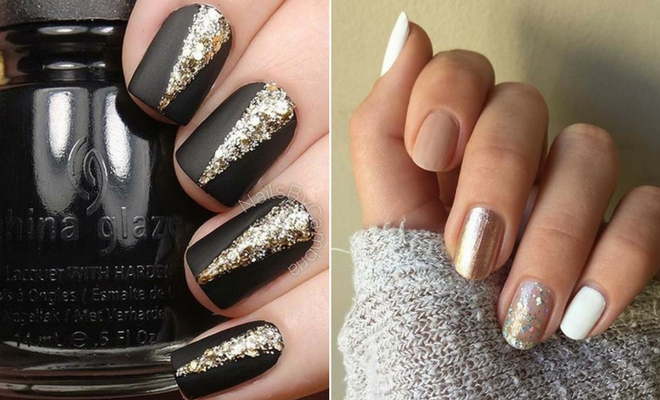 Instagram
Beauty
41 Glamorous NYE Nail Ideas You Need to See
By
|
11. Pretty Pink Glitter Nails
If you prefer subtler nails, then this nail design is for you. The nails are in a long oval shape and have a soft pink nail color with subtle silver glitter over the top. Nails like these would suit any lady and any nail length. Not only that, but you could wear these nails after NYE too.
12. Trendy Metallic Nails
Metallic nails are perfect for any party, especially an NYE party. The nails will catch the light and will add some trendy glitz to your look. You can get metallic nails in any color you like. Gold would be very glam also. A design like this will suit any nail length and shape.
13. Simple Black Glitter Nails
Want a chic and sparkly look? Then these nails are for you. The design is simple – it is a black nail polish with silver glitter on the top. To create a similar look at home, just paint your nails in black and then put a glitter coat over the top. Nails like these are super stylish and will suit everyone.
14. Silver Glitter Nails
If you liked the glitter French manicure from earlier in the post, then you may like this idea too. It is a similar idea, but the nails are a different shape and a different color. The nails are lighter, and the glitter is more delicate. This is perfect for someone who wants pretty and sparkly nails for NYE.
15. Gold Glitter Nails
Prefer nails that are bolder? Then these nails are for you! These nails are completely covered in gold and will shine bright. You could recreate these or in any other color, but gold is super glam. Glitter like this will look great on any nail length.
16. Stylish Black Nail Idea
Our next nail idea features glitter nails and nails with a funky design. All the nails are painted black with two shimmering nails and one of the nails has a chevron style design. We love this nail because the design is clear which breaks up the black and gives it a chic look. You could recreate this whole look or just go for one. We recommend the chevron style!
17. Chrome Nails
We featured a nail design earlier in the post that had a purple/blue chrome effect. This next nail idea is a different take on the mermaid chrome. These nails are in stiletto shape with a "mermaid" chrome. The chrome effect has streaks of green, blue, pink and purple. We love these nails they will wow at any event.
18. Chic Black and Gold Glitter Design
Next, we have a stunning black and gold nail design to show you. The nails are painted matte black and have a gold glitter triangle shape on them. We love this color combo and think the unique shape gives them a super stylish look. You could recreate these in any color, black and silver would be gorgeous too.
19. Pink and Glitter Nail Design
Pink nails always look super cute. This nail idea features a light pink with two silver glitter accent nails. This is a pretty and elegant design. You could go for a similar manicure with just the pink color or add some glitter as it is NYE. Either way, pink will always be a hit. You could have any nail length and shape with this simple design too.
20.  Grey and Glitter Nails
Grey is a color that looks trendy all year round. It also suits any occasion from work to a night out. This grey manicure has had an NYE makeover as subtle silver glitter has been added. A manicure like this is great for anyone who wants to look special without going too over the top. You could add different color glitter but silver and grey compliment each other well.