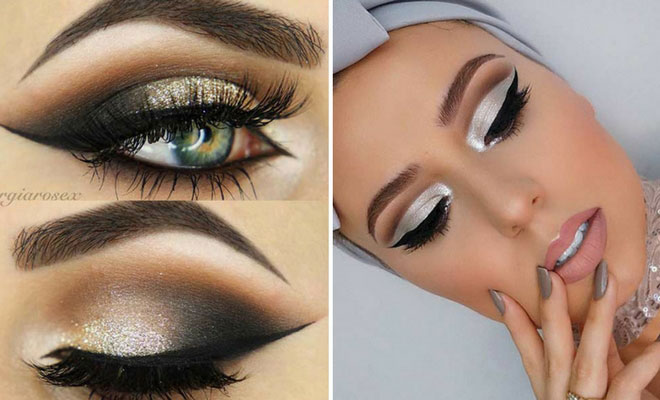 Instagram
Beauty
45 Glamorous Makeup Ideas for New Year's Eve
By
|
11. Gold Glitter Cut Crease
When looking at wearing glitter, make sure you're matching your makeup to the occasion. We know that you want to look your best at all times, but your Grandma probably won't appreciate your gold glitter cut crease half as much as your gal-pals will. At the same time, wearing glitter can be too much for a daytime look, so perhaps keep your makeup muted throughout the day, and add that glitter sparkle for the evening.
Products used: Morphe 35W Palette, theBalm Schwing liquid liner, Urban Decay Midnight Cowboy glitter liner and Lilly Ghalichi Mykonos lashes.
12. Elegant Eye Makeup for Blue Eyes
Glitter without any kind of primer or glitter glue is a really bad idea, especially around the eyes. Loose glitter is often the worst culprit for this, and it won't be long before you find yourself with a touch of glitter in your eye, which makes your eyes run, and then your mascara will be all down your face. What a total disaster! You can always use a touch of setting spray on the applicator brush you're using to apply the glitter, which will also help to keep it in place on your eyes. Alternatively, cheat a little with a glitter eyeliner instead. No one would ever know the difference!
Products used: Makeup Geek eyeshadow in Bedrock, ABH eyeshadows in Noir, Deep Brown, Fawn and Warm Taupe, Dose of Colors eyedeal duo in Pixie Dust, Sigma Line Ace Liner in Legend, and Huda Beauty Farah lashes.
13. Classic Look – Gold Eyes & Red Lips
If you don't like loose glitter powder, but you still want to sparkle with these glamorous makeup ideas for New Year's Eve, opt for a glitter gel rather than a powder. Alternatively, mix some eyelash glue (the tiniest bit) with some glitter, and you'll have the same kind of effect. When you go to bed at night, the glue will peel away from your face, and the glitter will peel right off with it! No more glittery pillow cases!
Eyes: Too Faced Stardust Palette (Millenial, Chandelier, The Strip, Pink Pearl and Golden Nugget), huda Beauty Scarlett lashes. 
Lips: Gerard Cosmetics lipstick in Fire Engine.
14. Dark Gold
You can mix and match your glamorous makeup ideas for New Year's Eve, choosing colours and shades that match your outfit. On the other hand, you can say 'screw the rules!', and totally spice things up. This gold eye makeup, for example, could easily be worn with a number of festive clothing shades – black, gold, red, green, purple, need we go on?
Products used: Morphe Brushes 35W Palette, theBalm liquid eyeliner, e.l.f. Cosmetics liquid eyeliner in Copper.
15. Grey & Silver Combo
And for when you're not feeling gold, how about silver? Mixing a dark grey with a lighter silver shimmer or glitter powder will give you a stunning look just like this one. And the sparkle effect makes it one of the perfect glamorous makeup ideas for New Year's Eve! You may find silver a slightly easier shade to wear, especially if you're new to the world of metallics. It's easier to smoke your silver up into a smokey-eye, and therefore is perfect for many different occasions – NYE being just one of them!
Products used: NARS NARSissist  Palette Pigment (lid), Peaches&Cream shadow in Disco, House of Lashes in Noir Fairy.
16. Step by Step Tutorial
In case you were wondering what the easiest way was to get a beautiful and easy makeup look for New Year's Eve, how about this little tutorial? You can replace the shades and tones they use here with whatever shades and colours YOU want, but following the same idea – darker shades in the socket, lighter shades towards the inner corner, and you'll look fabulous and more alert all at the same time!
Products used: Jeffree Star Cosmetics Beauty Killer palette.
17. Silver Eyes + Dark Lips
It's generally commonplace to leave your eyes relatively neutral when you have big, statement lips, but this look has been given a bit of sparkle treatment. It's still relatively neutral, in gold, nude and beige-like tones, but the addition of that sparkle stops it from being too daytime.
Eyes: Sigma Brilliant and Spellbinding palette, Wicked gel eyeliner and Huda Beauty Carmen lashes.
Lips: ABH lip gloss in Venom.
18. Glitter Cut Crease
How steady is your hand? With the right liquid glitter eyeliner, or even some glitter glue and loose powder if you've brave enough, you could create glamorous makeup ideas for New Year's Eve like this one. It's basically another layer of eyeliner, copying the natural flow and shape of the black eyeliner, but lining the socket instead, just at the line here the dark and light shades would blend together.
Products used: Too Faced Chocolate Bon Bon palette in Almond Truffle, Satin Sheets and Divinity, theBalm Meet Matt(e) Trimony palette in Matt Reed, Urban Decay Heavy Metal Glitter in Glam Rock, and House of Lashes Iconic lashes. 
19. Dramatic Eyes + Nude Lips
And when you have big statement eyes, it's always a good idea to keep your lips neutral, especially if you're experimenting with big and bold looks for the first time. You don't want to go too overboard, mostly because you won't feel confident, but also because it'll prevent you from trying the looks again. Pick one feature on your face – eyes or lips, and go for the big statement makeup on just one of them. When you pick one, and leave the other relatively nude or neutral, you're making your entire look much easier to wear. You can go bigger and bolder on the eyes, for example, when the lips are slightly more played down.
20. Glitter Liner + Pink Lips
Remember we said about that glitter eyeliner in the cut crease? Well, here's a slightly different way of wearing it – adding another layer to your regular eyeliner look. It's just the addition of an extra line of liner – it's above the black liner that you'd naturally do on a day to day basis. Yu could do the black liner thinner than you usually would to compensate for this tiny silver liner-layer, or you can make it bigger and bolder. It's entirely up to you.
Eyes: Jouer Cosmetics Creme Eyeshadow Crayon in Avant Garde, Master Palette by Mario, Rxycosmetics glitter liner in Sliver Dust.
Lips: Jouer Cosmetics Long-Wear Lip Crème Liquid Lipstick in Cassis.