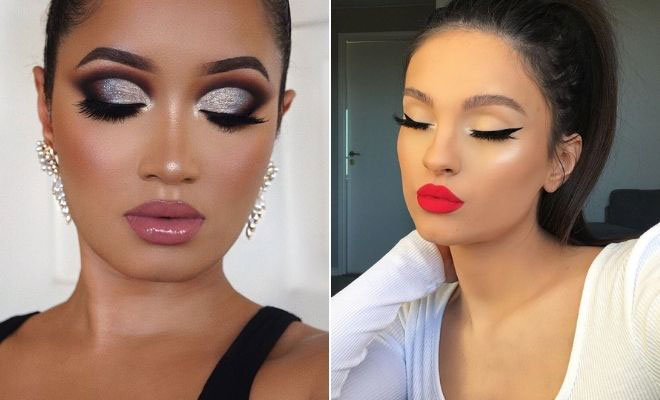 Instagram
Beauty
23 Glam Makeup Looks to Wear for the Holidays in 2020
By
|
11. Classic Eyeliner with Red Lips
Maybe you prefer more classic, chic and glam looks? If so, check this out. The makeup artist has used nude eye shadow complete with a black liner flick and matte red lips. This looks effortlessly gorgeous and it will look amazing for a Christmas party. It is so versatile and suits all eye colors.
Products used: Sam Marcel Cosmetics Liquid Lipstick in Roux & Luxious Liquid Liner.
12. Bold Eye Makeup
Next, we have bold and dramatic eyes! As you can see, the makeup artist has created smokey eyes with metallic gold and silver. The lower lash line also has a gorgeous black flick. This is a stunning makeup idea and it is perfect for those who want to really show off their eyes.
13. Gold and Smokey Eyes
If you like the gold and smokey look, then you need to see these eyes. As you can see, the outer corner of the eye is dark grey while the cut crease is brown. The whole look is jazzed up with sparkly gold eyeshadow in the inner corner as well as on the eyelid. The makeup is complete with false lashes and black liner. This a gorgeous idea and it will look great with nude, pink or red lip colors.
14. Glam Eyes with Glossy Lips
The next idea is glam but very easy to wear. This makeup artist has used soft shades on the eyes with black liner and lashes. The look is complete with a nude and glossy lip color. Makeup like this will suit everyone and it can be worn for any occasion. So, it is a versatile look that you should know.
15. Vivid Lip Color
Next, we have another bold and vivid lip color to show you. As you can see, the lips are a spicy red shade which will look glam for a night out or party. The lip color is paired with dark brown and glittery eyeshadows and long lashes. This is a gorgeous look and it is great for the holidays.
16. Soft Pink Eyes with Black Liner
If you love bold black liner flicks, then you need to see this. Here we have glitzy eyeshadow complete with the black liner flick. It is a stunning and easy to wear look. You can also follow this guide to get the perfect makeup look! So, no more struggling to get it just right.
Products used: Milani Cosmetics Eye Tech Extreme Liquid Liner Vinyl, Jeffree Star Blood Lust Palette, Benefit Kabrow 06, Milk Makeup Kush Mascara and Bold Face Makeup Reputation Lashes.
17. Dark Gold Eyes with Nude Lips
This next look is another easy to wear idea that is effortlessly glam. As you can see, the artist has created dark gold eyes and she has completed the look with matte nude lip color. This is a beautiful makeup idea and it will suit any occasion, from a more casual day to a night out.
18. Sparkly Pink Eyes with Bold Lashes
Look pretty in pink with this next makeup idea. The eyelids feature sparkly pink eyeshadow complete with eyeliner and long and bold lashes. This makeup will be stunning for blue-eyed women. You can pair this with nude and pink lip colors. Something like this would be great for Christmas as well.
Products used: ABH Dip Brow Dark Brown, Sigma Beauty Warm Neutrals Palette, Monogram Ace Eyeliner and Eyeris Beauty Lashes in Athena.
19. Stylish and Dramatic Liner with Red Lips
If you want to try something new and dramatic, then this is for you. Here we have classic black liner with red lip color but there is a twist. The makeup artist has also added an eyeliner flick on the lower lash line! We love this more unique look and it is perfect for those who want to be trendy and glam.
Products used: Fenty Beauty Pro Filtr Foundation and Concealer, Too Faced Sweetie Pie Bronzer, Dose of Colors Desi Perkins X Katy Fire Highlighter and Huda Beauty Boy Collector Demi Matte.
20. Fiery Eyes
Spice up your look with glam and fiery makeup like this. As you can see, the makeup artist has used red and orange tones with black liner, long lashes and a pop of dark gold glitter. This is a stunning makeup idea and it is perfect for the fall and winter. Pair with nude, orange or red lip color.
Products used: Be Bella Cosmetics Go Pro Palette Vol. 2 Palette, Benefit Goof Proof Brow Pencil in 4, Urban Decay Cosmetics Razor Sharp Eyeliner and Sweet Heart Lashes in Amber.
21. Glittery Eyes with Pink Lips
If you love the pink lip colors, then you need to see this. Here we have sparkly eye makeup complete with hot pink lip color. We love this because the pink is fun and vibrant while the eyes are glittery and glam. Makeup like this is perfect for brown-eyed women.
Products used: Huda Beauty Power Bullet Lipstick in Bachelorette
22. Makeup with Warm Nude Tones
Have brown eyes? Well this makeup is perfect for you. The makeup artist has used a blend of warm eyeshadows on her eyes complete with liner and long lashes. She is also wearing matte lip color. This is a stunning look and it really makes her dark eyes stand out. We love this one!
Products used: Kylie Cosmetics Kybrow Ebony, Gerard Cosmetics Clean Canvas Eye Base, Melt Cosmetics Rust Palette & Burnish Gel liner, ABH Lash Brag Mascara, Tatti Lashes 10/10 lashes, Dose of Colors Meet your hue foundation 122, Too Faced BTW Concealer Warm Beige, ABH Banana Loose Powder, Fenty Beauty Bronzer Island Ting, Jouer Cosmetics Blush Duo Passion, Morphe Highlighter Spark and Melt Cosmetics Lipliner in French Kiss & Liquid Lipsticks in Ginger & Golden.
23. Black and Silver Smokey Eyes for NYE
The last makeup idea is super glam. Here we have dark smokey eyes with shimmery silver shadow and super long false lashes! The look is complete with soft pink, glossy lips. We love this because the look is so glam and unique and is perfect for the holiday season. Makeup like this great for the occasions where you want to wow.
Products used: Dose of Colors Smokey Soiree Eyeshadow palette, Huda Beauty Faux Filter Foundation, Flutter Lashes Inc Captivating lashes.
We hope you have found a super glam makeup look to try for the holiday season! We know we did.