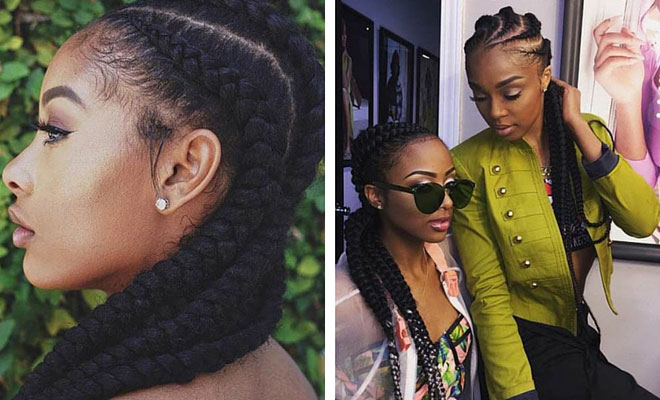 Instagram
Beauty
51 Best Ghana Braids Hairstyles
By
|
21. Pop of Caramel
We like the little strips of caramel you can see in these Ghana braids, a very slight and simple addition but one that changes the whole dimension of the style. We like that the colour flash doesn't go right the way to the end of the braids – another look you might consider?
22. Blonde Ghana Braids
Beyonce recently rocked the heck out of blonde Ghana braids in recent commercials, and coming down to her butt we must admit they do look damn fierce. These ones are slightly larger than the slimmer lovelies Queen Bee rocked but we still think they're awesome . How about you?
23. Beautiful Chunky Braids
If your hair is in dire need of a trim, or it's been damaged from over-colouring, over-styling, or even sun damage, braided styles such as these Ghana braids are a really great idea. The braids themselves will last for a fair while if you take care of them properly, and because of that, your own natural hair is given a well-deserved break, allowing it to be rejuvenated beneath.
24. Stunning Protective Style
Another great style that can be worn right through the ages, these Ghana braids are brilliantly worn adorned with various hair accessories. Traditionally, scarves are used to cover the hair, not only to make it look good but also to keep it protected, especially when sleeping. There are a number of other hair accessories you should take a peek at however, and just a few of the ones we would definitely recommend for your next Ghana braids hairstyles are hair beads and jewellery. They really stand out and we love them.
25. Thick and Thin Ghana Cornrows
A mix of thick and thin Ghana braids make for a great and unique hairstyle, a way to wear them that will really stand out from the crowd. It's also a great way of dealing with the situation when you're not sure what kind of look you're going for, and to get make sure every part of your scalp is covered, as such. Sometimes you may have a problem with the thinner baby hairs at the edge of the hairline and these small braids help to deal with that problem.
26. Simple and Neat Design
Depending on how well you take care of them, these Ghana braids will usually last somewhere in the region of two to four weeks, the length determinate on how well you take care of them. There are a number of reasons why they might not last quite as long and one of the biggest is that frizziness you often get when you DON'T sleep with a protective silky scarf over your head. Otherwise your hair is rubbing against the harsh material of your pillow case all night, pulling it in all directions which will inevitably ruin the style.
27. Eye-Catching Style
If you want to attempt Ghana braids hairstyles at home yourself, you can do and you can even do it with your own natural hair if it is long enough. Alternatively, Rasta Fri hair has been recommended by many women who rock this fabulous weave, and this is one of the cheapest and easiest types of hair to get your hands on.
28. Light Brown Ghana Braids
With a slightly off centre starting point, there's something very structurally beautiful about these Ghana braids, a slightly different take on the tradition straight-back style. It's a very simple yet great way of bringing a different finished look to the whole style and we won't lie, we think it's pretty genius ourselves.
29. Yay or Nay?
Although often compared to cornrows, the two looks are actually quite different, despite looking the same to the untrained eye. Ghana braids hairstyles start with thinner segments to the start of the braids, leading to a more natural approach. Cornrows, on the other hand, have thicker starts and tend to be the same thickness all the way down rather than fluctuating from thin to thick to thin again at the ends.
30. Side-Swept Ghana Braids
Focusing on that off-centre starting point again, this one offers a very deep starting point, right over to one side almost to the ear. If you love Ghana braids and want to wear them a little differently than usual (without changing too much), this is definitely the right way to go about it.