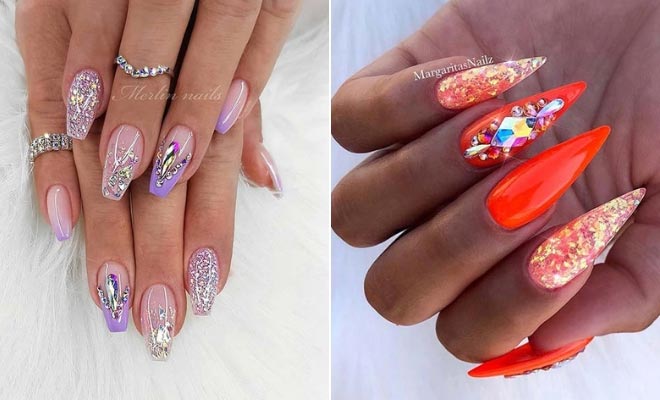 Instagram
Beauty
23 Best Gel Nail Designs to Copy in 2019
By
|
11. Glitter Ombre Gel Nails
Next, we have a beautiful blue nail idea. Some of the nails are blue glitter, one nail is bold blue and the rest are white, blue and glitter ombre. This is a gorgeous look that is perfect for the ladies who want stylish and sparkly nails. A mani like this would be great for the holiday season too!
12. Glam, Matte Gel Nails
Our next gel nail idea is another glam look. This manicure features matte nails with two accent designs. One of the accent nails has gold embellishments and gems, while the other nail has beautiful ombre. This nail idea is perfect for the chic ladies who like their nails to be on trend with a little sparkle.
13. Cute Floral Gel Nail Design
Floral nails always look amazing and there are many different designs that you can create. Here we have a super stylish floral design. Some of the nails are a beautiful light pink, one nail has a glam, gold zigzag pattern and the last nail has a pretty floral design. You can create zigzags with nail tape and buy flower stickers online to recreate the look yourself.
14. Stylish Gel Coffin Nails
Love dark nails? Then this gel nail idea is for you. Here we have a gorgeous manicure that features a brown shade, purple tone and glitter. Nails like these would be amazing for nights out and these are perfect for the fall and winter. We love this nail look!
15. French Ombre and Glitter
This next mani is one of our favorites! These nails are French ombre and glitter. French ombre is a chic and stylish look that uses the classic French manicure colors but with the ombre technique. As you can see, it creates subtle and elegant nail art. You can create an ombre look with a sponge, there are tutorials online to help. For the glitter nails just use a glitter polish.
16. Matte Grey Gel Nail Design
Next, we have glam nails that would be perfect for a wedding or for the holiday season. These nails are a beautiful grey shade with accent designs. One nail has sparkling crystals and two of the nails have an elegant white design. This is stunning look that will give everyone nail envy.
17. Black and Pink Glitter Ombre Nails
Our next gel nail idea is a stylish black and glitter look. The nails are glossy black with gorgeous pink sparkles. The design creates an ombre look and the finished result is glam and statement making. Try the pink glitter or try a different color as black will compliment any glitter color beautifully.
18. Pretty Gel Nails with Rhinestones
Give your nails a glamorous makeover with a mani like this! There are many different designs featured here. These include: ombre, gems, shards and glitter. This is a stunning and glitzy idea that is perfect for a night out or party. Recreate the whole look or try maybe two of the designs.
19. Light Pink Gel Nails with Stars
Add a touch of magic to your nails with a design like our next one. These nails are a beautiful, light pink with one accent nail on each hand. The accent design features gorgeous gems with 3D stars. This is a pretty and elegant look that will suit everyone. It is easy to recreate to just use a similar pink shade on your nails, then apply the stars. You can by stars online.
20. Trendy Patterned Nails
Looking for trendy nail art? Then this is for you! Here we have a stunning nail idea that was created with gel colors. The nails are so artistic and creative, they look like a work of art. We love this look and it is perfect for all you stylish ladies.
21. Dark Green and Glitter
Next, we have this trendy green idea. The nails are a dark army green with glitter nails. Some of the glitter nails are also green and the other nail looks like it is rose gold. This is such a stylish combination! Green shade like this one will go with almost any other color. It is a cool look and you can even try just green nails without the glitter for a subtler set of nails.
22. Bold Orange Gel Nail Idea
Love bold nails that show off your fun and stylish side? If so, these nails are for you. Here we have bright orange gel nails. One nail is just orange, two nails are orange with crystals and the last two are glittery. This is a statement making design perfect for the ladies who like to stand out from the crowd. Try and recreate the whole look or just the orange nails. Orange shades like this one are perfect for the summer.
23. Metallic, Glossy and Glitter Nails
The last gel nail idea we have to show you is chic and trendy look. Some of the nails are metallic, one is glossy and two have glitter designs. We love this mani because the nails are different but the colors compliment each other beautifully. Nails like these will suit everyone and will glam up your look.
We hope you have found a beautiful gel nail design to try!