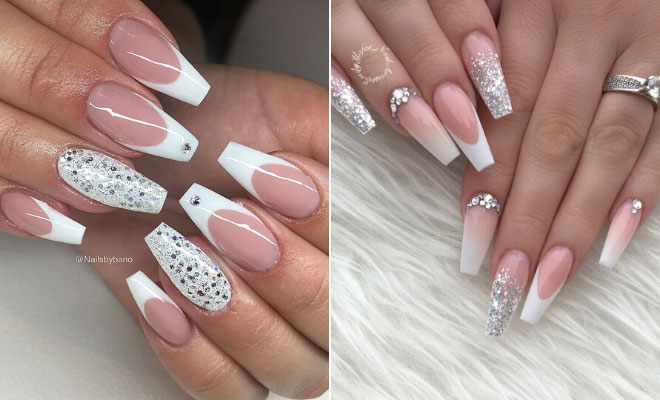 Instagram
Beauty
23 Elegant French Tip Coffin Nails You Need to See
By
|
11. French V Tips with Rhinestones
Next, we have another French v tip look but this time the nails are also sparkly! For this mani, most of the nails have the nude and white art but three nails in total are different. The three nails are nude with different rhinestone designs. This is a super glam mani and you can recreate a similar look with classic French tips.
12. French Tips with Glitter Art
If you liked the French ombre idea that we shared earlier, then you need to see these nails. As you can see, some nails are nude with white tips. There is also a pop of silver glitter. While the rest of the nails feature the soft French ombre. It is a beautiful nail design and you can try this look or use the straight across tips with glitter if you prefer.
13. Super Long French Tip Coffin Nails
The next nail idea is simple and super glam! Here we have long coffin nails with nude color and larger french tips. This is another classic, chic and easy to wear look. Nails like these will suit everyone and they can be dressed up or down to suit any occasion. We think this would be a great bridal mani for the big day.
14. Clear Nails with White Tips
Next, we have a trendy version of French tips. This time the long coffin nails are light and translucent with thin white tips. It is a unique and glam design that really makes a statement. Something like this is great for the ladies who want to try new nail art without going too over the top. Recreate these nails or try a more nude or pink base color.
15. French Tips with Hearts
Give your nails a cute makeover with this next nail design. The nails are long with large white tips. There is also one trendy clear nail with silver hearts. We love the silver hearts, they look so pretty. This mani would be great for the prom, Valentine's Day or weddings. You can buy silver heart sequins online or you can hand-paint the hearts.
16. White and Gold Coffin Nails
Gold also looks amazing with French tips. Don't just take our word for it, check this out. Some nails are white, one has French tips with gold glitter and the last nail is white with gold glitter ombre. It is such a pretty and stunning look. The gold glitter adds a dose of glamour. Recreate this or use any glitter color. The glitter French tips can be put on all nails.
17. White and Glitter Tips
The next nail idea is another sparkly one. This time most of the nails have a classic French tip design. However, two nails use silver glitter instead of white color. It is such a glam idea and it jazzes up the chic nails without being too over the top. You can recreate this or use a different glitter color.
18. White Coffin Nails with Gold
Next, we have another gold and sparkly look. This time some nails have the French tips but with a gold glitter stripe down the center. Another nail is covered in gold rhinestones and some nails are all white. This mani shows another amazing way to wear the gold and white color palette. Gold rhinestones can be bought online and stuck on with nail glue.
19. White and Rhinestone French Tip Coffin Nails
The next nail idea shows another way to wear trendy v tips. For this look, some nails have the v tips in the classic French mani colors. However, the rest of the nails are nude with rhinestone tips. We love this combo of chic and glitzy. You can recreate this look or try the same design but with straight across tips instead of the v.
20. Pretty Coffin Nail Design
Looking for something more unique and elegant? If so, this could be perfect for you. Here we have long coffin nails. All of them have nude base and white v tips. There are also two accent nails with rhinestones. Wear this design for a special occasion.
21. Short Coffin Nails with Rhinestones
This next mani features short coffin nails with French tips. All of the nails are the same except for one. The accent nail has a cute rhinestone design. This mani is stylish and easy to wear. You can use any colored rhinestones for the accent nail. This design would also look amazing with longer or even shorter coffin nails.
22. French Tip Coffin Nails with Thin Tips
Next, we have trendy and modern version of French tips. The nails are nude with thin white tips. As you can, see the thinner tips look so edgy and stylish. This is a gorgeous and simple design that does make a statement. If you want to try something a little different, then this is perfect for you.
23. French Tips and Marble
The last nail idea is stylish and features must-have nail art. So, the nails all have the classic French tips except for one. The accent nail is white with trendy marble art. We love the marble art, it looks so glam. You can find easy to follow marble art tutorials online. Any color marble art can be used, a flash of gold on the marble will look amazing.
We hope you have found a beautiful French tip design to try!