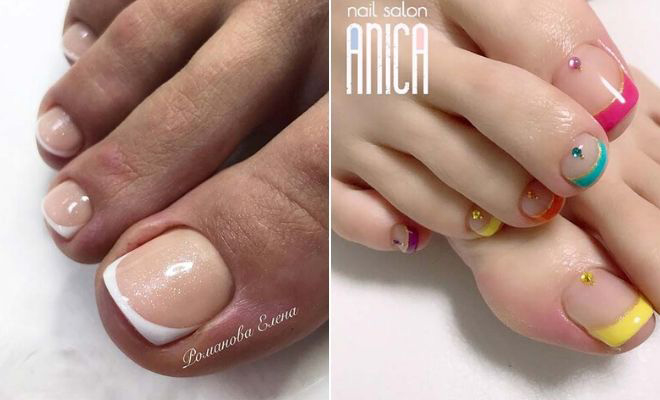 Instagram
Beauty
21 Elegant French Pedicure Ideas to Try at Home or at Salon
By
|
11. Dazzling French Pedi
Next, we have a dazzling design to show you. So, for this we have the classic French tips and three of the nails are adorned with rhinestones. It is a glam and stunning idea that will look amazing on everyone. You can buy small rhinestones online in any color and stick them on with nail glue.
12. Chic Shiny French Tips
The next nail idea is so chic and stylish. This French pedicure uses a nude color that has a subtle chrome style effect. The color has a metallic sheen and one nail is adorned with tiny rhinestones. This is a trendy and glam version of the classic design and it is another one of our favorites.
13. Modern French Tip Design
We love this pedicure! Here we have a modern and trendsetting version. So, for this all of the nails are white except for one. There is also an accent nail with nude color and French tips, but the accent nail also has a white section on the cuticle. This is such a stylish and simple idea that really jazzes up the design. Recreate this or use that chic art on all nails.
14. Soft Pink Toes with White Tips
Another base color you can try is soft pink and here is how to wear it beautifully. All of the nails are a soft and blush pink with classic bright white tips. It just creates a different look to the more neutral nude tones. Again, this is another very easy to wear design and it will suit everyone and any occasion.
15. Pretty Rose Idea
This next French pedicure is another one of our favorites! This time all of the nails are nude with the beautiful white tips. Two of the nails are also adorned with floral art. One nail features an elegant white rose while the other nails have a leafy pattern. It is a stunning idea and it would be perfect for a bride. You can hand-paint art like this with a thin brush or buy nail stencils.
16. French Pedi with Subtle Sparkle
Love the designs with subtle sparkle? If so, check this out. Here we have another classic look but the big toe nail is also decorated with rhinestones. The rhinestones are small and low-key but they still glam up the simple and chic design. Nails like these can be worn every day or for the more special events.
17. Cute Yellow Tips
Earlier in the post we featured a yellow nail idea and if you liked that, then you need to see this one too. Here we have a different version. All of the nails are in a nude tone that almost color matches the skin and each one has a bright yellow tip. It is a fun and stylish design that will add a pop of color to your look. Recreate this or use a different bold color instead of yellow.
18. Trendy French Pedicure Idea
We love this next idea as well! Here we have a trendy and glam French pedicure. All of the nails are painted white except for one. The accent nail is nude with a French tip while the cuticle features a purple and pink design with rhinestones. It is a trendy, unique and modern pedi that will look amazing on everyone.
19. Glam French Pedi
Next, we have another glam design to show you. This time all of the nails have the classic and elegant design. The big toe is also adorned with six clear rhinestones placed along the cuticle. It is a dazzling, sparkling and beautiful design that will look amazing in the summer.
20. Matching Mani Pedi
Don't just stop at your feet, why not have a French tip manicure too?! You can have a matching one like this. So, both the hands and feet have those chic French tips. Matching nails like these are great for weddings and vacations as they are easy to wear but elegant. French tip mani and pedi will suit every outfit and that's probably why we love them so much!
21. Sparkly French Tips
The last nail idea that we have to show you is sparkly and elegant. So, the nails are a light nude color with white tips and the look is complete with silver glitter. This is a chic and sparkly design and it is just beautiful and easy to wear. You can recreate this or for a bolder pedi use a different glitter color. Any color will compliment the nude and white.
We hope you love these French pedicures and have found a design to try!