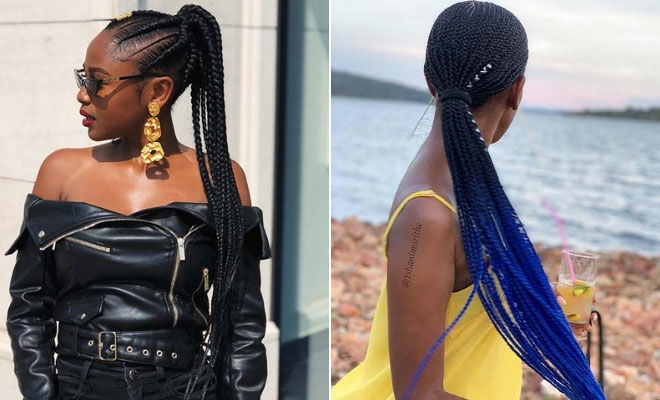 Instagram
Beauty
23 Dope Ways to Wear a Feed in Braids Ponytail
By
|
11. Blue Ombre Braided Ponytail
The next hair idea features another ombre ponytail. This time the hair is black and then changes into a vivid blue color. The blue looks so bold and striking with the darker root color. Hair like this perfect for those who like to make a statement. Recreate this or if you are feeling daring have all of the braids in a stunning blue shade like this.
12. Thick and Thin Feed In Braids
Different braided patterns can also make your hair look unique too. Here is a great example. This ponytail is long and braided. As you can see, there is a pattern that features thin and thick braids on the head. These different thicknesses make the simple style trendier and more unusual. Try a similar ponytail to this for an effortlessly stylish look.
13. Braids with a Pop of Blonde
Next, we have another long ponytail with a trendy pattern but this one has added color too! For this look, the hair is beautifully braided and there is a bright blonde shade weaved into some of the braids. This is a subtler way to wear color so it is perfect for those who want to try something new without being too over the top. It is a pretty and easy to wear style that will suit everyone.
14. Braided Ponytail with a Swirl Pattern
Love the stylish braided patterns? If so, you need to check this out. Here we have a high and long braided ponytail with added color. This one also has a cute swirl pattern on the side of the head. We love this because it looks beautiful, stylish and unique. Recreate the look or you can add more swirls. Either way, your hair will be amazing.
15. Chunky Feed In Ponytail with Curls
When deciding what hairstyle to have you may be torn between braids and curls. Why choose? Why not have both? You could create something like this! This hairstyle features a high ponytail with chunky feed in braids. The hair for the actual ponytail is braided and has loose curls too. So, you get the best of both worlds. It is a gorgeous combination and a similar ponytail will really glam up your look.
16. Easy to Wear Braided Ponytail
The next hair idea is simple, stylish and easy to wear. For this look, the hair on the head is braided into a beautiful pattern and the braids are all the same thicknesses. There are also some loose curls in the ponytail and there is a gold accessory which finishes off the style. It is a gorgeous version of the ponytail and it will suit everyone. Not only that, but it can be glammed up or down to suit any occasion.
17. Statement Making Braided Hairstyle
If you really want to give your hair a glam makeover, then this idea is perfect for you. Here we have a statement making braided ponytail. The hair is styled into very thin braids and they have been braided again to create the ponytail. There is also a wrap of braids around the head and some gold accessories. This hairstyle will wow everyone and it will make you stand out from the crowd in style.
18. Half Up, Half Down Ponytail
Not of all your braids have to be styled into a ponytail, you could try something like this. Half of the braids are left loose and the other half are styled up into a high ponytail. As you can see. the result is so cute and pretty. This is a fun and easy to wear style. Keep it simple like this or make it bolder by adding some color or accessories.
19. Sky High Ponytail with Colorful Braids
Another way that you can make your ponytail look amazing and trendy is by styling it very high. This is a great example. Here we have a sky high ponytail that is styled right on the top of the head. The braids themselves are a stylish mix of colors. We love this ponytail, it is absolutely stunning. Recreate this or try a sky high ponytail in a different color.
20. Feed In Braid Ponytail with Curly Weave
Love the ponytails with braids and loose curls? If so, this could be a great style for you. This ponytail is styled low with a unique braided pattern. The hair for the ponytail is left loose and curly. It is a beautiful and trendy hair idea. We think this would look amazing in a color like blonde or red as well.
21. Accessorized Feed In Braid Ponytail
Next, we have another accessorized look to show you. This time the hair is styled into a trendy ponytail with loose side braids. The loose braids are decorated with beads and one braid in the ponytail is decorated with a cord too. We love the bead and cord combination, it is so chic. You can use any hair accessories when recreating a similar look.
22. High Ponytail with Curls
The next hair idea is trendy and beautiful. Here we have a sky high ponytail that is styled with braids and curls. This style looks effortlessly gorgeous and it will suit everyone. A braided ponytail like this is versatile and can be worn for any occasion. Recreate this or try a similar ponytail with a shorter length. That would look cute.
23. Long and Thin Ombre Braids
Last on our list of braided ponytails is this stylish ombre look. The hair has a simple and trendy braided pattern with a long ombre colored ponytail. We love the braids around the base of the ponytail too. You can try a similar hairstyle to this or you can try the same ponytail but with different colored ombre. Choose natural colors for a subtler look or vivid ones for a bolder style.
We hope you have found a new feed in braids ponytail style to try!
Here's a YouTube tutorial by Beautycanbraid that might help you if you're new to feed in braiding!