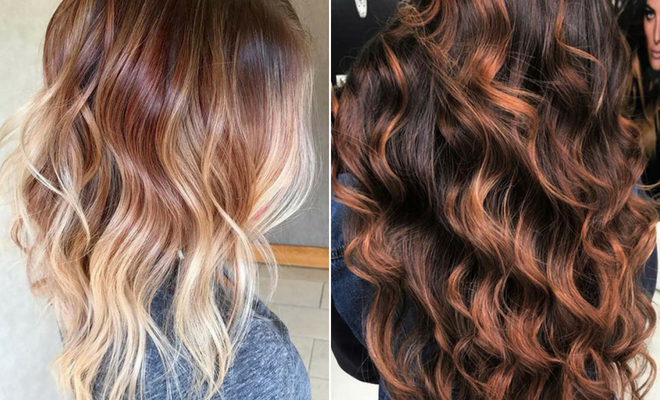 Instagram
Beauty
43 Best Fall Hair Colors & Ideas for 2019
By
|
11. Rose Gold Balayage
Our next hair idea is called rose gold balayage. The hair is very dark at the top with soft rose gold tone running through it. A rose gold color like this is perfect if you don't like bold and vibrant shades. This would be a stylish hairstyle for anyone this fall.
12. Honey Blonde Ombre
Looking for an ombre idea? Then this idea could be for you. Here we have dark hair that blends into a warm, honey blonde. Hair color like this is a great idea for any ladies who want a dramatic change to their hair for the new season. You can use similar colors like featured or go lighter or darker.
13. Fiery Red Hair with Blonde Highlights
Next, we have another fiery fall look. The hair has red, ginger and blonde tones running through it. It is a stunning statement style that will get you noticed. You can recreate the highlighted look or you can choose one color for all of the hair.
14. Caramel Blonde Highlights
When coloring the hair, you don't have to choose lots of bold highlights, you can opt for a subtler look. Here we have caramel blonde highlights that have been added throughout the hair. The highlights are quite thin and are delicate. This gives the hair a lift but keeps it chic and natural looking. You can use thinner highlights for any hair color.
15. Burgundy to Blonde Colormelt
Want a trendy fall hair idea? Then this next pick could be for you. The hair starts dark at the top and blends into copper and blonde tones. This is a gorgeous hairstyle that will stylishly update your look. Hair like this will suit anyone with any hair length.
16. Light Burgundy Balayage
Our next idea is a burgundy balayage. The hair is a dark purple tone with burgundy highlights running through it. We love the purple tones in this hair idea. This is a great color choice for the ladies who want a bold color change but don't want the classic fall red tones.
17. Peachy Fall Hair Color Idea
Pastel tones are usually associated with the spring. This next hair color idea shows how you can wear pastels in the fall. The hair is a warm brown shade that gradually blends into a pastel peach. Pastel peach is stylish and suits the fall season perfectly.
18. Golden Blonde Balayage
Golden blonde is a classic color that will never go out of style. It suits any season and hair style. With that said, our next hair idea is a golden blonde blend. You can see that it compliments the brown root color perfectly. This color will also work with red hair too.
19. Light Copper to Platinum Blonde
Next, we have a platinum blonde hair idea. The hair starts brown, then blends to copper and then finally to a very light blonde. Without the red tones this would look very icy and cool however the red warms it up a bit. This color combo is perfect for the fall season.
20. Dark Red to Copper
Our next fall hair idea is dark red to copper. We love this idea because the red shade at the root is beautiful and the coppery tones are vibrant. Hair like this is a great choice for the ladies who want a bold new look. It would suit anyone.