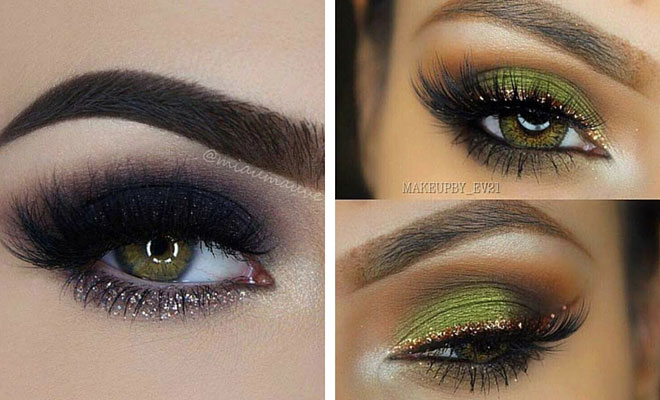 Instagram
Beauty
31 Pretty Eye Makeup Looks for Green Eyes
By
|
21. Neutral Eye Makeup Look
If you're feeling a bare neutral vibe, go heavy with the eyelashes and have a champagne shade on your eyelids. It's almost bordering on silver. This is a classic and simple look, which will look amazing with any outfit.
22. Coppery Red Eye Makeup Look
Mixing copper and red will give you a lovely deep shimmer shade. This will infuse your lovely green eyes. Apply you eyeliner to your tear duct area and go soft for underneath your eyes.
23. Brown Winged Liner
Using brown eyeliner rather than black gives you a softer and warmer appearance. If you end up loving the brown eyeliner, then try brown mascara. They look amazing together. As brown is an earth tone, it will make your green eyes look crazy-beautiful.
Products used: Sigma Beauty Line Ace Liquid Eyeliner in Monogram.
24. Black Smokey Eye + Mauve Lips
Wearing heavy, black smokey makeup that set off your green eyes will only need a nude colour lipstick. Mauve shades look stunning and will complement your smokey eyes.
Eyeshadows: Anastasia Beverly Hills; Lips: Anastasia Beverly Hills "Dusty Rose"
25. Gold Glitter Look
When you want to shine, you don't have to add any other colour to gold. Gold takes your eyes to another level so be sure to try this classic colour for a chic and elegant look.
26. Glam Cut Crease
Do you want to look and feel glamorous? Use both gold and brown eyeshadows and remember to use your spoon to get your curve. It's easy when you know how!
27. Champagne & Orange Makeup Look
Champagne isn't just a drink honey, it's a striking eyeshadow colour too. You can see from these pictures, how good champagne and orange tones look together. The finished colour looks similar to a light copper colour, which we already know complements your eyes. Next time you're makeup shopping, you can go straight up to the counter and say "Have you got any champagne and orange eyeshadows please!" This will make you sound like a pro!
28. Dark Green Smokey Eye
To create the smokey eyes, make sure you keep blending. Many people tend to blend for a second and then wonder why they haven't got the smokey eyed look. This is a perfect example on how dark green smokey eyes should look. You can always add white eyeliner to your waterline to broaden the look of smaller eyes.
Products used: ABH "Bone" and "Moss" & Morphe Brushes "350 Palette".
29. Dark Gold & Brown Smokey Eye
When it comes to gold, any shade will suffice. All gold tones look amazing and when it's blended with a brown smokey effect, it looks breathtaking. Don't be afraid to go for light, medium or dark copper, the more you have in your makeup bag, the better. You can have a different copper style every weekend.
30. Bright Look for Spring
Spring is here and soon it'll be summer so make the most of it by having a gorgeous bright look this season. This gorgeous purple shade will instantly brighten up you face. Team it with a few flowers in your hair to make your eyes come alive. Bright colours are meant to be fun and experimented with in the spring and summer months. Having a face full of colours can really brighten up your mood as well as you face. Lets face it, before we know it, it will be winter again and we'll be back to darker shades, so get your bright colours out girls and rock your vibrant tones and colours.
31. Pink Glitter Look
Every girl loves a bit of glitter, especially if it's pink! Go for the glitzy and girly look with this pink glitter eyeshadow. These photos show just how dramatic you can make your sexy green eyes look. Take your black eye pencil and draw near your tear duct, apply your false lashes and use a softer colour pencil underneath your eye so all the focus if pointing towards your eyelashes and glitter. With these beautiful eyes, you will want to party all night long.