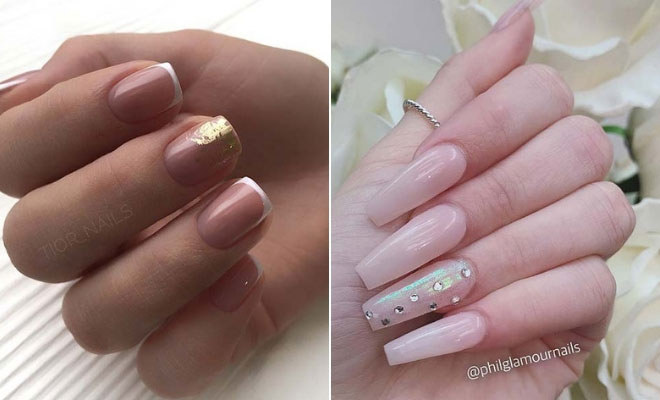 Instagram
Beauty
23 Elegant Nail Ideas for Special Occasions
By
|
11. Purple and Glitter Elegant Nails
Love the glitter nails? Then this elegant nail idea is for you. Some of the nails are white, one nail is covered in silver glitter and the last nail is purple with a glitter design. This is a bright, sparkly and stunning look. Nails like these would be perfect for a special occasion or just on the days where you want to be glitzy and glamorous.
12. Light Nails with Rhinestones
Next, we have another elegant nail design with rhinestones. The nails are a soft shade with two crystal accent nails. You can recreate the whole design but just a similar color would look beautiful on its own without the gems. A design like this will look stunning on any nail length and shape. Try to keep the nails a little longer though if using crystals.
13. Glam Grey Nail Idea
Another elegant nail color you can try is grey. Grey is chic, stylish and it compliments other nail colors and art beautifully. These nails feature dark grey, multi tone grey and silver glitter. As you can see, the grey looks stunning and it suits the glitter. You can recreate this design or try your own trendy grey combination.
14. Matte and Glossy Red Nails
Add a pop of color to your look with this next nail idea. The nails are a beautiful red shade with one accent nail. For the accent nail, the red color is matte and there is a sparkly rhinestone design too. This is a vibrant manicure that is chic and classy. Try this look with any red shade and if you prefer you can have all glossy nails. You can also create any rhinestone design you like too.
15. French Tips with Gold
Our next elegant nail idea shows another gorgeous way to glam up your French manicure. This one features short nude nails with thin white tips. On the middle finger, there is a beautiful gold design. As you can see, it is a simple accent design but it really makes a statement. You can create accent art like this and choose any pattern and color . We love this idea because it shows how amazing a French manicure looks with short nails too.
16. Beautiful Lavender Nails
Next, we have a lovely lavender look! The nails are a stiletto shape and are painted in a light, lavender shade. This is a pretty pastel color and it would be perfect for the spring, summer and special events like weddings. Purple will look amazing on all nail lengths and shapes. You will easily find a similar purple color online so you can recreate this elegant nail idea yourself at home.
17. Rose Gold Nail Design
Love the glitter nail ideas? Then this next design is for you! These nails feature light pink, pink glitter and rose gold chrome. This is a stunning look and it combines two of the must-have nail trends. It is pretty and cute manicure that would be perfect for days where you want to feel glam or special events like date night. You can recreate this design with or without the chrome.
18. Elegant Nail Design for Short Nails
Our next elegant nail idea is another cuticle design. For this one, the nails are a light, nude shade with crystals along the cuticle. This is such a simple and stylish look. All you will need to do is paint the nails in a nude tone. Apply a topcoat and while it is still a little wet, place the gems on the nails. You can also apply crystals with nail glue too. Try blue gems or any other color you like.
19. Beautiful Pink and Gold Nails
If you love bold nails with sparkle, then these are for you. The nails are light pink with gold embellishments and glitter. A manicure like this gives you the best of both worlds. You get the statement making nails while the colors keep it elegant and pretty. These nails are glam and would be perfect for a party or other fun occasion.
20. Elegant Ombre Nails
Next, we have an elegant ombre design. The nails are pink and white which creates a French ombre look. It is a stylish combination of the French manicure and ombre. This is a beautiful, classy and modern nail idea. You can keep it simple like this or add in some gems or glitter too.
21. Bright Red Nails with Glitter
Earlier we featured a bright red look. If you liked that idea, then you may like this one too. The nails are a vibrant red shade with one glitter accent nail. This is a simple and elegant design. Recreate with a red polish and glitter polish. You can choose any glitter color but gold or silver will look chic.
22. Black Nails with an Elegant Gold Design
Our next design features more matte black! Most of the nails are black and there are two accent nails. The accent design has a frosted look with matte black and a gold glitter pattern. It is a such a unique and elegant idea. This is perfect for the ladies who want to look chic but show off their individual style too.
23. Pretty Pink and Glitter
The last elegant nail idea we have to show you is this pretty pink look. These nails feature glossy pink, light pink and pink glitter. It is just a beautiful nail idea that will add a splash of color and sparkle to your look. It also shows how you can create three different nail designs with one color. Recreate the pink manicure or use a similar design with a color of your choice. Keep the color light though to keep it chic.
We hope you have found an elegant nail idea to try!