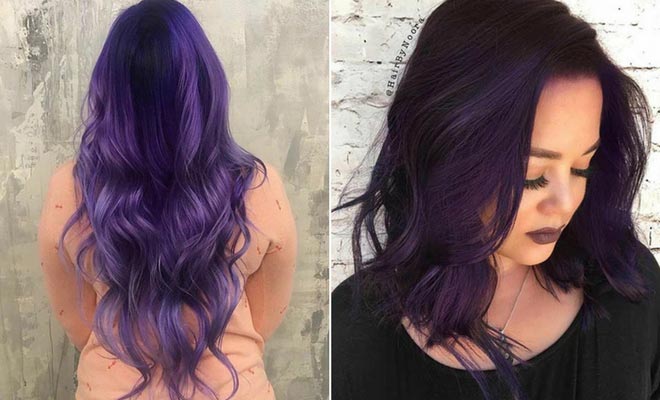 Instagram
Beauty
21 Bold and Trendy Dark Purple Hair Color Ideas
By
|
11. Subtle Purple Highlights
Subtle purple highlights are a great way of adding that pop of color to your look, while still keeping things on the down-low … Enough to keep your job if hair color is a problem anyway. The top of the hair has been left very natural with this brunette look, and the ends have been colored using an ombre balayage effect. Different shades of lilac, purple, and a dark plum color have all been used in the creation of this stunning look.
12. Short Dark Purple Hair
The purple highlights really bring those curls to life on this short look, and this is a great example of how to wear any color when you have shorter locks, not just dark purple. Highlights have been added here, with the underneath left naturally dark and brunette. It's like a pop of peekaboo color, and we love it.
13. Smoked Purple and Lavender
The best way to get a really bright colour is to first bleach your hair, and then add a toner to make it a whiter, less brassy shade of bleach blonde. Once you've achieved that neutral base, any color that you apply to the top of it will be brighter than what it would have been if you'd added it to your bleached yellow locks. There are plenty of toners on the market, and another great tool to use is a silver shampoo. This is usually a dark blue / purple color anyway, and helps to remove any brassy hues. That's essential for getting a really good coverage from your purple color.
14. Dark Purple Balayage Highlights
If you're a natural brunette, rather than heading for lighter, brighter pops of color, opt for something warmer in the purple region instead. It'll be much easier on your hair, and it'll also be easier on your skin tone too. If you go too dark, too rich, or too icy for that matter, you'll need to change your makeup palette entirely. The colours you wore before won't go with your new 'do, and you may find that buying brand new cosmetic colors will start to cost a fortune. Make sure you're picking the right shade beforehand.
15. Berry Ombre
Out of bright and light purples, and dark and warmer tones, the latter are most definitely the easier of the two to achieve. The cooler, icier and lighter shades, such as pastel lilacs and violets, will often require much more in the shape of pre-lightening treatments. They will also require the most upkeep too. Red undertones need to be removed entirely with brighter and lighter shades first. That's hard work if you don't know what you're doing, or your hair isn't in great condition to start with.
16. Shoulder Length Style
Fading of your dark purple hair color ideas is inevitable. There we said it. And we're sorry for saying it too, but you should definitely be aware of that before you part with your hard earned cash. There are plenty of ways you can slow down the fade of that beautiful shade, and this will include not regularly washing your hair, switching your hair products for safer, sulfate-free options. Also, switching from warm water to cool water when washing your hair can help to fight the fade.
17. Short, Curly & Purple
Short and curly is great hair if you can pull it off, it's cute and girlie all at once, especially when you throw these purple and pink blends of color into the mix. If you don't have your hair curlers to hand, don't panic. You can achieve beautiful bouncing waves with your straighteners if you flick them out in the right direction. You may never need more than your hair straighteners ever again!
18. Jam Velvet
When you've got a lot of color to show off, what better way than with a braided design that's intricately mixed to show off every tone and shade? Braids are totally in right now, and the Kardashians prove that fact. When you combine two of this season's biggest trends – dark purple locks with those fabulous braids, you have an absolute recipe for success.
19. Long, Grape Purple Hair
There are so many tones and shades of dark purple to choose from. We're a big fan of this long grape-purple hair, aptly named because it looks a little bit like the color of a grape. Funny that! Even with darker tones like this that look one-shade all over, there are plenty of mixtures of colors – light and dark are used to add volume where before you may have had thin hair. If you can't grow thicker hair, why not fake it with light trickery and illusions?
20. Purple Highlights on Dark Hair
If you want to achieve beautiful purple locks like this, you'll need to ask your hairstylist for purple highlights on dark hair. Or you could just show them this picture, of course! By adding highlights you're able to change the entire look of your hair, and you can do this without going for an all-over color, which can often be too daunting for some women. By using highlights to transform your look, you can add more and more as you wish to, or let them fade out to change your look completely once again.
21. Grape Purple
Here's a very clever tip that will help you with your dark purple color ideas fade-out at the end of it all too…
When you're ready to change your look once again and you fancy fading out the purple, use a silver shampoo. As the purple fades, it will fade to a more lilac / pastel finish, much easier to fade out. There are color-remover products out there, and some of them we have personally used and had great success with, but they're not overly friendly on your hair, and leaving it naturally to fade out is always the better option.
So now you have 21 beautiful dark purple hair color ideas, which one has inspired you to go for the change? It's that kind of year where these darker shades are very much on trend, so maybe it's about time you rocked it?