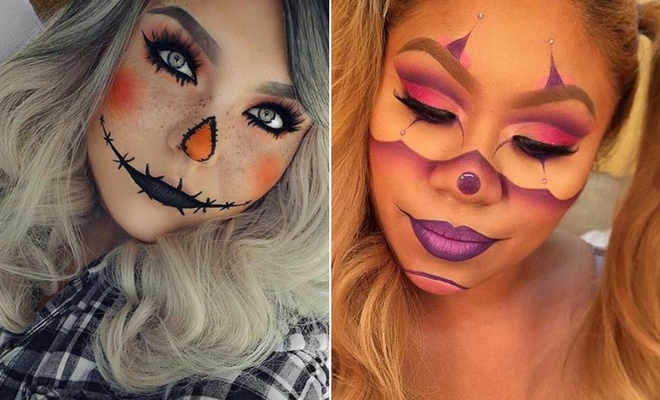 Instagram
Beauty
63 Cute Makeup Ideas for Halloween 2020
By
|
11. Pretty Poison Ivy
Fan of comics? Then this next makeup idea is for you! This look features a Poison Ivy design. Poison Ivy would be a perfect Halloween costume for the girls that want to dress up but not in a scary way, as she is a super villain but she is cute to.
12. Spider Woman
Halloween is the perfect time to be bold with your makeup. It is a chance to dress up and have fun. Our next pick was inspired Spider Woman. It shows that you can have a Halloween look but also look gorgeous to. This eye makeup is stunning and with the added cobwebs you will have one stylish Halloween look.
13. Beautiful Bunny
If you're looking for cute makeup and costume ideas, then look no further. Nothing is cuter than a bunny. This bunny uses a white and pink color palette making it look feminine and beautiful. You could recreate something like this or go a bit darker and have black bunny ears with darker makeup. This is a fun look that will suit everyone.
14. Fierce Feline
Next, we have another fierce feline makeup idea. This one uses stunning eye makeup that will really make the eyes stand out. We love this makeup look because it will make you look ready for Halloween but will make you look pretty to.
15. Vibrant Sequin Skull Makeup
If you like the skull designs, then this next pick could be for you. This light and vibrant skill design has been jazzed up with sequins. We know that skulls aren't cute but with this color palette and sparkly sequins we think that skulls just got cuter. It is a unique and creative look that will make you stand out from the crowd this Halloween.
16. Vibrant and Cute Halloween Makeup
Our next pick is vibrant and statement making. It has elements of cute with a hint of Halloween. The eye makeup is bright and funky and the addition of spiders and webs make it perfect for Halloween. We also love the sparkling gems. This makeup would be perfect for a party.
17. Harley Quinn Makeup
Harley Quinn is a very popular costume choice. If you love the Harley Quinn idea why not go for something a little creative like this one. This makeup was inspired by the classic Harley Quinn and the Harley from Suicide Squad. This way you get the best of both. It is an awesome Halloween idea.
18. Beautiful Garden Fairy
Like fairies? Then this next fairy makeup idea could be for you. It features very soft colors with the addition of gems. Something like this is super cute, is quite simple to recreate and could be done in any color. You could even add some flowers in your hair. It could be a low-cost cute Halloween makeup idea that will make you look pretty at any party.
19. Wolf Makeup
Wolves have been featured in many stories and movies, so it is no surprise that wolves are popular Halloween costume choices. You do not have to go all out scary werewolf you could go for a cuter version like this one. It is a fun idea that will make you stand out from the crowd. It looks more Red Riding Hood than the classic full moon werewolf.
20. Frankenstein Makeup
Frankenstein is an iconic Halloween character. Our next pick proves that Frankenstein makeup can look cute! Even though she is dressed as a green monster she still looks great! The beautiful eye makeup and lip color turn Frankenstein from scary monster to Halloween glamour.