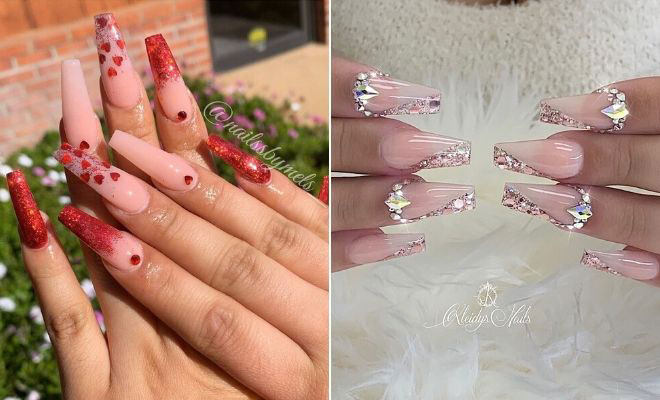 Instagram
Beauty
21 Cute Coffin Nails You'll Fall in Love With
By
|
11. Multi Color Matte Nails
If you can't decide which stylish color to try next, then why not have a different color on each nail?! You can create something like this. Here we have long coffin nails and each one is painted in a different bright matte shade. As you can see, it is such a striking and statement making look. You can recreate something similar or use five different colors of your choice. These gel colors are available on the Instagram page below.
12. Beautiful Pink Nail Design
Next, we have another stunning pink mani to show you. Some nails are just light pink and the others are the same but they have pink tips. We love this because the pink tips are different shades. A mani like this is perfect for those who want to add a pop of color to their look. Create a similar version to this or you can try the design in a different color. Purple shades would look amazing.
13. Pretty Nail Design with Rhinestones
Speaking of pink, next we have a pretty light pink design to show you. For this look, the nails are a light shade and each nail has a diagonal line on each corner. The diagonal section is also painted in glittery pink color. We love the pink tones and the trendy nail art. It is a fun and easy to wear look that will suit everyone. You can recreate this mani with two similar nail colors and nail tape.
14. Cute Yellow Coffin Nails with Sunflowers
These cute coffin nails are another one of our favorite looks! Each nail is nude to yellow ombre and there are two accent nails on each hand. The accent nails are adorned with an adorable 3D sunflower! We love the color combination, it is so pretty. You can buy 3D flowers for your nails online and you can try this mani in a different color. This look is perfect for the spring!
15. Ombre Nail Design
This next nail design is so stylish and it has a magical vibe too! These nails have a frosted look and some feature pink ombre and the others have pink and blue ombre. Each nail is also decorated with shards. It is a beautiful and unique look. We love this design and think it will look amazing on everyone.
16. Colorful Triangle Nail Art
Earlier in the post we shared glitter nail art that had a diagonal line. If you loved that idea, then you need to check out these nails too. Here we have a similar look. All of the nails are nude and each one has that line. However, each triangle section is painted in vibrant shade! The bold colors really stand out against the nude. It is a fun and trendy look. This is also perfect for those who want to try brighter colors in a subtler way.
17. Sparkly Ombre
Next, we have a sparkly ombre look to show you. The coffin nails are all light pink with glittery ombre. It is very pretty and glam design. Nails like these will be perfect for special events and parties. You can even try wearing different glitter colors such as silver and gold. Those colors would be great for the holiday season.
18. Nude Coffin Nails with White Tips
Like the nail designs with trendy tips? If so, this is perfect for you. Here we have nude nails and each one has a stylish white tip design. This another set of nails that use classic and chic French mani colors with modern art. A design like this can be worn for any occasion and you can even jazz it up with rhinestones. We love this look!
19. Fun Coffin Nail Idea
The next nail idea is fun, sparkly and bright. Each nail has a different design that includes rhinestones, ombre and glitter too. It is just a unique and statement making mani that will suit everyone. Something similar can be created on long or short coffin nails. Recreate the whole look or just one of the designs.
20. Rainbow Nail Design
If you like gradient nails, then you need to see this design. This mani features a rainbow gradient. So, one hand has a pink to orange color change and the other is blue to yellow. When the hands are together, it creates a rainbow effect. It is a fun and bright mani that will make you stand out from the crowd in style. Try a similar look or try a rainbow with even more colors on each hand.
21. Unique and Bright Nail Art
The last nail design is bright and unique. Some nails are vibrant pink with yellow tips and the others are decorated with colorful nail art. It is such a stylish and fun look. You can recreate something similar or try just the pink with the tips. The accent nail art will take time but with nail tape and practice, you can easily recreate the look. This design screams summer!
We hope you have been inspired by these cute coffin nails!