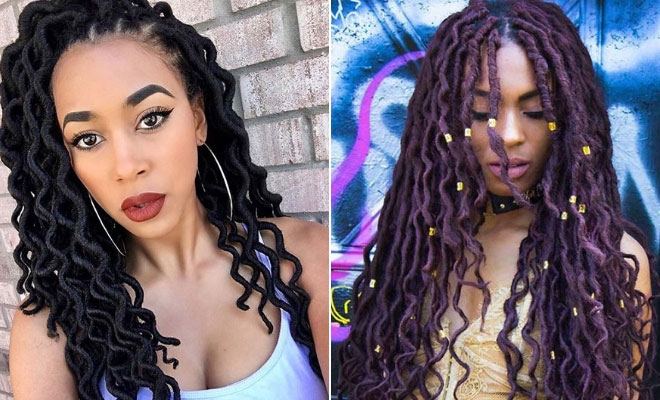 Instagram
Beauty
23 Chic Ways to Wear and Style Curly Faux Locs
By
|
11. Simple and Stylish Hair Idea
Looking for a hairstyle that is stylish and easy to wear? Then this is for you. Here we have long faux locs with curly ends. The hair is simply swept back and it looks so chic. Hair like this will suit everyone and you can recreate this or you can have similar locs in a shorter length.
12. Blue and Green Faux Locs
Our next hairstyle will add a pop of color to your look. Here we have long faux locs, most of them are black but some are blue and green. By adding a few locs in a different color you create a trendy and unique hairstyle. Try blue and green like this or wear a color of your choice. Hair like this is great for the ladies that want to try different colors without being too bold. A pack of these boho highlights can be bought on the Instagram page down below.
13. Faux Loc High Bun
Earlier in the post we featured a glam bun. If you loved that hairstyle, then you need to check out this next look. Here we have another faux loc bun but this one is styled sky high. The locs used are chunky to which really gives the bun volume. A hairstyle like this is great for the days when you want to wow and impress but also keep your locs away from your face.
14. Medium Length Curly Faux Locs
Next, we have a chic and pretty hairstyle. These locs are loosely curled and the length sits just below the shoulders. The hair is parted on the side too. This is such a stylish and easy to wear look and it will suit everyone. Loose curls will give you a beachy and relaxed look but you can also choose tighter curls too.
15. Long Faux Locs with Cords
Another cool way you can accessorize is with cords. Here is a trendy example of how to wear them! Here we have black, curly faux locs with a few brown locs added in to. Some of the locs are also accessorized with cords and hair cuffs. Two of the cords are light and there is a purple cord too. It is a stylish look and it will be perfect for someone who wants a unique hairstyle. You can recreate with any cords.
16. Auburn Faux Locs
If you love the vibrant and stylish colors then you need to check out this next look. These faux locs are a stunning auburn shade and have been accessorized with gold hair cuffs. This shade is just amazing and it will make you stand out from the crowd! Try locs like this or go for a brighter look, either way, it will look fabulous.
17. Stacked Bob
We featured a long bob earlier in the post, next we have another must-have bob look. This one is shorter and is a stacked style. A stacked bob is where the hair is shorter at the back and longer at the front. This is such a stylish and chic look. It will suit everyone and it is a great idea for the ladies that want to try a modern, short style.
18. Caramel Blonde Locs
There are so many different shades of blonde to try from bright platinum blonde, to warm caramel tones. Here we have a stunning example of how to wear caramel blonde. These locs are long, chunky and are in a stylish caramel blonde color. The hair has also been accessorized too. This is such a trendy hairstyle and you can try a blonde shade like this with any loc style.
19. Curly Crochet Faux Locs
This next idea is one of our favorites! Here we have long locs with beautiful curls. This is such a glam hairstyle and it will wow everyone who sees it. It is super stylish and easy to wear look! From work to a night on the town, this hair will keep you looking trendy. Try long locs like these or you can go shorter too.
20. Bold Half-Up Bun
Earlier in the post we featured a half-up bun. This next idea is another version of the gorgeous style. Here we beautiful, curly faux locs where half are left loose and half are styled into a bun. The bun is full of volume and it is very bold. It is a stunning look that will suit everyone. Recreate the colors to or try the bun in any faux loc color.
21. Side Swept Locs
The way you wear your hair can make a difference to the overall look. An example of this is wearing your faux locs on one side. This hairstyle features locs that are on one side. As you can see, this creates such a chic and stylish look. The hair has trendy gold cuffs too. This is a glam style and it is easy to wear too.
22. Boho Faux Loc Hairstyle
The summer is coming so why not try a boho hairstyle? Around the summer season, the bohemian trend always makes a comeback and this hairstyle would be perfect. There are a mix of locs and curls, the hair looks textured and relaxed too. This is a beachy look and is perfect for the summer.
23. Trendy, Curly Faux Locs
Last on our list of stunning faux loc looks is they trendy hairstyle. The locs are curly, long, simple and stylish. Anyone can wear beautiful locs like these and you can recreate this long look or try shorter ones too. We love this hair idea because it is so effortlessly chic.
We hope you have found a curly faux loc hairstyle to try!