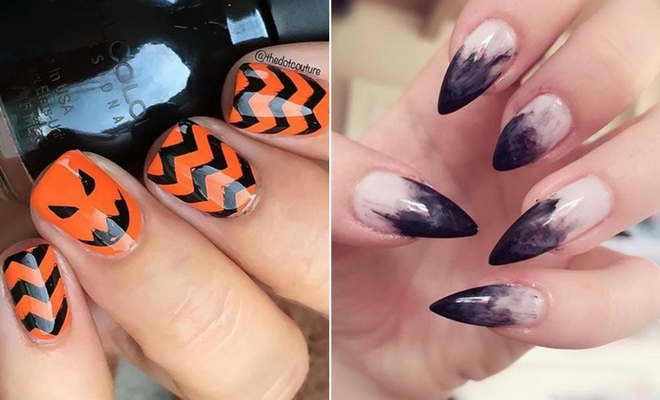 Instagram
Beauty
21 Creepy and Creative Halloween Nail Designs
By
|
11. Stylish Black Manicure With Sparkly Accent Nail
If you want to join in the fun of Halloween but still want a stylish manicure then this next pick could be for you. This one features long black nails with a black glitter accent nail. Nails like this will also look great with costumes to. These would look great with witch and vampire costumes.
12. Cute Cobweb Nail Design
Spiders and cobwebs are great choices for Halloween. Designs like these can be created at home or can be created by a professional. These nails combine a warm Halloween shade with black webs and spiders. The finished result is spooky and stylish.
13. Blood Drip Nails
Next up we have some gruesome blood drip nails. You could wear these to celebrate the occasion or you could wear these with a Halloween costume. Blood drip nails would look perfect with a zombie costume. There are plenty of blood drip design tutorials online to help you create the look at home.
14. Colorful Pumpkin Nail Designs
Our design was inspired by pumpkin faces. These nails are black with scary and vibrant pumpkin face art. The nails were created with Funky Fingers Polish in Dark Knight and Shinespark polishes in Peekaboo, Fresh Fuchsia, Sunglasses Required and Scorcher. You could recreate all the designs or just one.
15. Black and White Halloween Nail Designs
The next Halloween design is perfect for the ladies with short nails. These nails are painted white with black designs over the top. There is a mixture of dots, ghosts, bats and more. Nails like this can easily be created at home. You could also add in some other colors.
16. The Raven Nails
Are you a fan of Edgar Allen Poe? Then you will love this next nail design. The nails are painted with the supernatural poem the Raven. We love this unique look. You could recreate a design like this in any color. If you want a simpler look you could also just have the Raven nail.
17. Black and Orange Pumpkin
Nothing says Halloween like pumpkins! These nails have a pumpkin face accent nail with a funky black and orange design on all the other nails. It is a vibrant design that is perfect for anyone who loves Halloween. You could have just the pumpkins or the striped design.
18. Cute Glitter Ghost Nails
Give your nails a spooky look this Halloween with ghost nails like these. Each nail is painted in a glitter polish with lots of white ghosts over the top. You can easily create nails like these at home as you can purchase ghost nail stickers. You could recreate these in any color.
19. Black and Red Blood Drip Nails
Like the blood drip nail ideas? Then you might like these to. These nails have bigger blood drips in a mixture of black and red. Nails like these are funky and spooky. There are many tutorials online to help you create the blood drip design.
20. Spooky Halloween Nail Designs
Our next pick features a Halloween manicure that will wow. These long nails feature a variety of dark and creepy Halloween designs. You could recreate all the art or just one design. You could use this as inspiration to create your own nails. We love these spooky nails!
21. Fun Halloween Nail Designs
Last on our list are these tricks or treat nails. These feature a pumpkin design, spider art and trick or treat nail. The design combines some of the classic Halloween images to create a fun manicure. You could recreate these at home. Try all the design or just one.
We hope you found inspiration from our Halloween nail designs!