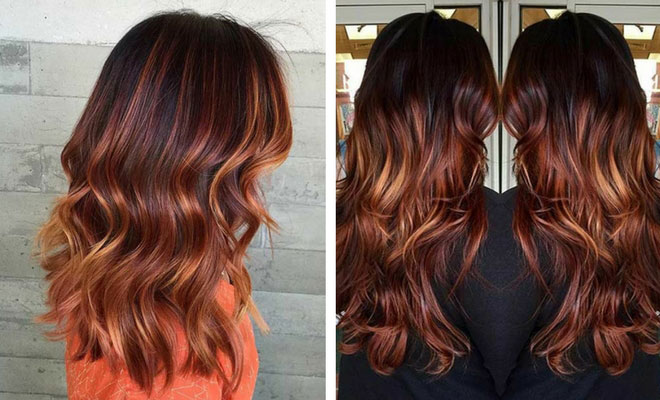 Instagram
Beauty
25 Copper Balayage Hair Ideas for Fall
By
|
11. Soft Copper Ombre Hair
Soft copper ombre hair will show your delicate side. It's bold enough to stand out from the crowd yet soft to show off your character and fun side.
12. Dark Copper Balayage Hair
If you are looking for a subtle balayage highlights, you could always go for dark copper. This will add a touch of colour but in a subtle, elegant way.
13. Dark Copper Roots + Golden Blonde Highlights
Shine bright with dark copper roots and golden blonde highlights. This is a gorgeous style that will make you feel great and sexy.  Perfect for adding colour to your hair and ideal for all the busy girls out there.
14. Red Copper Colourmelt
Look how the two colours blend together. This is the perfect colourmelt.  The colours intertwined into one another in a subtle yet effective way.
15. Red Copper to Blonde Ombre Hair
When thinking of red copper may tend to think orange but this is actually more on the red/pink side. Red copper is a lighter red and works perfectly with blonde.
16. Rich Copper Tones
Everyone wants a healthy shine to his or her hair. You can see the shine with these rich copper tones.  They are simple divine.
17. Dark Hair with Copper Balayage Highlights
Just here and here please. Yes, with balayage you can near enough tell your hairdresser where to apply your colour.  When your colourist is colouring your hair, they will be freestyling and this will mean they can apply wherever you want colour.  This is an excellent example; you can see the colour is added to the first layers then the hair tips.
18. Copper & Blonde Combo
Many of us know what colour hair suits our skin tone. If you know that copper tones look great on you, you can still have blonde hair too.  You can always play around with your hair tips and with balayage – it's a great way to add as much (and as little) colour as you wish.
19. Copper Hair with Golden Blonde Highlights
Graze your hair ends with a little golden blonde. Copper and golden blonde will make you stand out from the crowd.  It is a bolder choice to opt for but if you are used to having darker hair, why not switch it up a little by having lighter hair.
20. Rustic Copper Highlights
Warm rustic copper highlights offer a rich blend of colours. This is an eye-catching hairstyle that is extremely flattering and low maintenance.