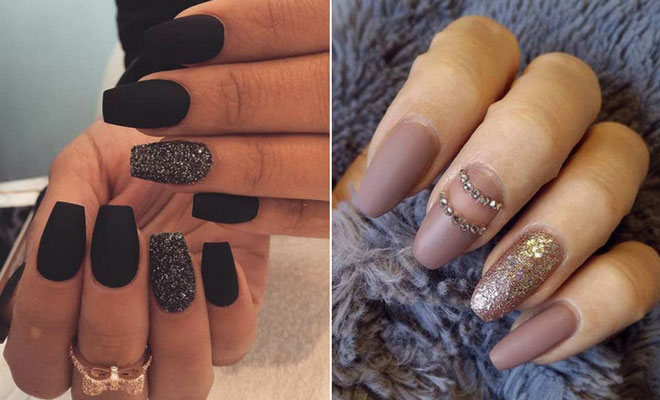 Instagram
Beauty
45 Cool Matte Nail Designs to Copy in 2019
By
|
21. Cool Matte Nail Design
We think these nails are pretty epic, and definitely one to remember for the future. There's the matte purple, but slightly shimmery, shade to start with, and then the matte black triangular section in the centre. We'd probably start with that – get your black done, and then cover the nail with tape (the parts that you don't want purple) before applying that shade over the top. Finish things off with a sprinkling of glitter in the middle, and what do you have? Matte nail designs for fall and winter that everyone will love!
22. Edgy Black Nails
We've explored the idea of using gloss and matte before, but this one is a little different. Rather than just having a matte nail with a glossy tip, for example, an intricate design has been played in. You can barely see it when it's not in the light, but it's there, and it's just enough to make your matte black nails a little something else.
23. Matte Burgundy and Glitter Fall Nails
And while we're on the subject of patterns, how do you feel about these matte burgundy and glitter fall nails? We love the swirled pattern on these, and we definitely think it's a look we'd like to try out for ourselves. What do you think? Are you a big fan of the swirl?
24. Matte Green and Gold Nail Design
How do you feel about green and gold? It's a combination you might not have thought of, but this almost khaki-green shade works really well in this matte finish, especially when combined with those gold tones. The rhinestone embellishments cover the negative space on these nails, so we'd probably leave those out, but you must admit they add a certain special sparkle to the occasion?
25. Matte Black & Negative Space Nails
And while we're on the subject of negative space nails too, these matte black and negative space nails are something else, aren't they? Modern, funky, unique … They're definitely nails that'll stand out, and isn't that what you want from your matte nail designs for 2019?
26. Orange and Red Nails with Botanical Accent Art
Brighten up your look with cute nails like these. Here we have short matte nails and some are orange and some are red. There are two accent nails to with a leafy botanical design. You can hand-paint art like this or get a similar look with a stencil. Nails like these will be perfect for the fall.
27. Bold Purple Nails
Another beautiful color you should try on your nails is purple. There are so many different shades to choose from and the one used on these nails is stunning! This is a dark and vivid purple color and it will suit any occasion and any outfit. Wear it simply or you can jazz it up with gold embellishments like featured. One of the nails has a gold gem and as you can see, it really glams up the nails. You can by these embellishments online and stick them on with nail glue.
28. Matte Red Nails with Cut Out Cuticle Design
If you are looking for unique nail art, then you need to see this next idea. These nails are all matte red but there is a small cut out design on each nail. So, around the cuticle, a small area of the nail has no color. It is a simple but statement making look. You can create a similar design yourself.  Use tape to cover the area that you do not want to be colored and paint everywhere else, then just use a matte topcoat.
29. Glam Matte Black and Glitter
Next, we have glam nail idea to show you. Three of these nails are matte black and there are two accent designs. One of the accent nails is covered in glitter while the other is black with gold glitter. It is a super stylish manicure that would be perfect for any occasion. You can recreate the look with a black polish, gold glitter polish and a matte topcoat.
30. Bright Pastel Nail Idea
Add a pop of pastel color to your look with nails like these. We love pastel shades because they are bright, beautiful and are perfect for the spring and summer. Here is a gorgeous nail idea that shows how to wear pastels in style. Three of the nails are plain pastel and two of the nails feature trendy nail art. You can recreate this or choose simple colors without the accent art. Any colors can be used.