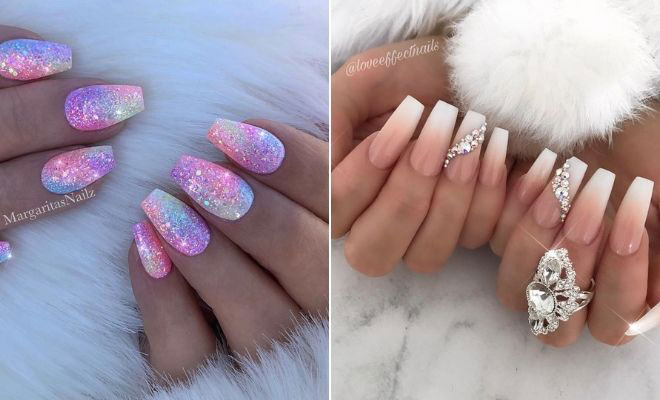 Instagram
Beauty
43 Crazy-Gorgeous Nail Ideas for Coffin Shaped Nails
By
|
21. Neon Green Ombre Nails
Love ombre? Then you need to check out this nail design. The nails start very light and then blend to neon green. It is a trendy ombre nail design, perfect for summer. You can create ombre art with a sponge. Just paint the colors of your choice onto the sponge and then dab on your nails. There are in-depth tutorials online. We love ombre art on coffin nails it is such a stylish combination.
22. Pretty Purple Coffin Nail Idea
The next nail idea we want to share is another purple look. This design features different purple shades, one pink nail and a glitter accent nail too. It is such a pretty manicure and is perfect for anyone who loves purple or bright nail designs. Recreate this look or choose one purple shade for all nails. Of course, you can always opt for another, more subtler nail color.
23. Sparkly Short Coffin Nails
Next on our list is this colorful nail idea. Not all coffin nails have to be long, you can go for a shorter version just like this. As you can see, the nails have that coffin shape but they aren't very long. You can have any design created on shorter nails and you can even try this bold, sparkly look! The shorter nails are perfect for the ladies on the go or for those that can't wear very long nail.
24. Beautiful Matte Blue Nails
Next, we have a summery nail idea to show you. Here we have long coffin nails that are a beautiful turquoise blue shade. The nails are also matte which gives them a trendy look. A color like this is bright and fun which is perfect for the summer. Keep it simple like this or you can add gems or glitter to jazz up your nails.
25. Coffin Nails with Pastel V Tips
Like trendy nail art? Then v tips are for you! With v tips the design is similar to a French manicure but instead of straight line across, the tips are in a v shape. The nails below are a gorgeous example of v tip art. All of the nails are a nude color and each one has a different pastel colored tip. You can recreate the pastel nails for a unique and summery design or you can choose the classic nude and white.
26. Elegant Pink Chrome Nails
Chrome is another trendy nail look and here is how to wear it in style! These nails are all covered in stunning, light pink chrome. The pink is a rosy color and it looks so elegant and stylish. Nails like these will suit everyone and would be perfect for a special occasion. These coffin nails are on the shorter side, but they still look chic.
27. Trendy Blue Nails with Gold Details
Next, we have another beautiful blue nail idea to show you. Here we have coffin nails that are painted a stunning shade of light blue. All of the nails are glossy and all of them have gold nail art. The gold and blue compliment each other perfectly and the gold also glams up the nails. Try the gold look or you can opt for a blue and silver combo. Either way, your nails will look gorgeous!
28. Colorful Ombre Glitter Nails
Love glitter nails? Then take a look at this manicure. These nails are long, coffin shaped and colorful. The nails are finished off with a coat of sparkling glitter. We love the combination of the colorful nails and glitter. It is such a chic, stylish and unique idea. Try similar nails to these or you can have any ombre nails with glitter top coat.
29. Pretty Orange Coffin Nail Idea
If you like the color orange and bold nail designs, then this is the idea for you. Here we have gorgeous coffin nails and some of the nails are glossy orange and the rest are matte orange. The orange shades are stunning and statement making. This would be the perfect mani for the summer because it is vibrant, glam and fun.
30. Stylish Snake Print Nails
Animal prints are very popular for nail designs. Usually leopard print or zebra print is chosen but have you thought about trying snake nail art?! If you haven't, then you will want to try it after seeing our next pick. Some nails are pink, some are black and the rest have the coolest snake skin design. You can use a stencil to create the snake look or you can use nail stickers. Take a walk on the wild side and give this mani a try!