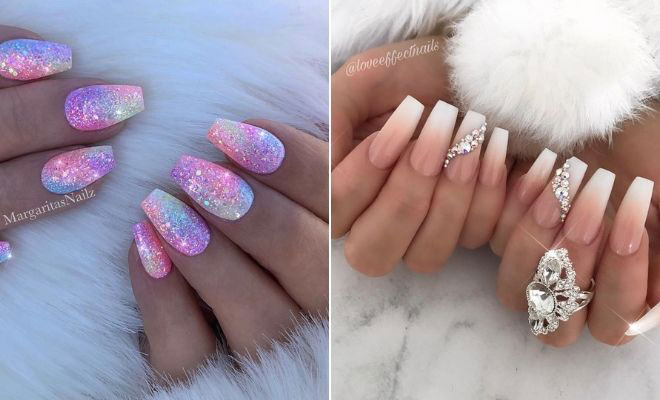 Instagram
Beauty
23 Crazy-Gorgeous Nail Ideas for Coffin Shaped Nails
By
|
11. Light Nails with Sparkly Accent Nail
Next, we have another design that features glass nail art. All of the nails except for one are painted in light pink color. The accent nail is clear and sparkly. What we really love about this manicure is the dangling nail charm. It is so cute and stylish! Recreate the whole look or you can try just the pink nails with the charm.
12. Cute Pink and Blue Nail Design
A cute color combination you should try is pink and blue. This next manicure is a beautiful example. Some nails are either pink or blue and the others feature the two colors together. As you can see, the bright shades just compliment each other perfectly. Two nails are also decorated with gems which glams up the design. Try the pink and blue or choose your own combo of light colors.
13. Peach Nail Design
Another stylish nail idea that you can try is chrome. Chrome will give your nails a futuristic and trendy look. It is available in any color too, so you can add chrome to any nail design. Here is a gorgeous way to wear chrome. Some of the nails are painted in a peach color, one nail is white and the rest of the nails are peach chrome. We love this design and think it will look gorgeous for the summer.
14. Colorful Stripes
Our next idea is colorful, unique and super stylish. All of the nails are painted in a light, nude shade. Each one is decorated with a vibrant stripe. It is such a simple but statement making idea! You can try a similar design with five different colors like this or choose one color for the stripes. The stripes can be created with nail tape or a stencil to give you a clean, precise and straight line.
15. Nude and Glitter Coffin Nail Design
Love nails with lots of sparkle? Then you need to check out this nail idea! The nails have a nude and sparkly gold color palette. Each of the nails also has a different design which includes glitter, french manicure and rhinestones. It is a stunning look that would be perfect for a special occasion like a wedding.
16. Festival Nail Idea
Next, we have a cool and trendy nail idea to show you. Most of the nails are matte black and there are two accent designs. One is colorful with all different patterns and the other looks like paint splatters. It is a fun, stylish and colorful look that will be perfect for the summer and festivals.
17. Neon Yellow and Glitter Coffin Nails
The next idea we have to show you is another vibrant yellow look. These nails are painted in a bright yellow shade with two silver glitter accent nails. Try just the yellow for a simple and summery look, or keep the glitter for a more glam manicure. Either way, it will be gorgeous!
18. Light Pink Chrome Nails
Prefer to wear girly colors? Then you should try something like this! Here we have long coffin shaped nails that are painted in a light pink chrome shade. We love this look, it is one of our favorites! A manicure like this will be stunning for the summer. You can buy similar chrome colors online.
19. Elegant Coffin Nails
Our next idea features an elegant nude design. For this look, two of the  nails are painted nude and there are two sparkly gold nails. A dark nude nail is adorned with some small rhinestones. This is a pretty manicure that would be perfect for the summer. It would also suit a trendy bride for the wedding day too!
20. Elegant Matte Nails
Next, we have a gorgeous nail design with lots of crystals! The nails are painted in either light purple or pink and each nail is decorated with rhinestones. There is also one sparkly accent nail too. It is a glam look and it will suit everyone. Recreate the whole design or try just one color with gems. You can buy crystals like these online and stick them on with nail glue.
21. Neon Green Ombre Nails
Love ombre? Then you need to check out this nail design. The nails start very light and then blend to neon green. It is a trendy ombre nail design, perfect for summer. You can create ombre art with a sponge. Just paint the colors of your choice onto the sponge and then dab on your nails. There are in-depth tutorials online. We love ombre art on coffin nails it is such a stylish combination.
22. Pretty Purple Coffin Nail Idea
The next nail idea we want to share is another purple look. This design features different purple shades, one pink nail and a glitter accent nail too. It is such a pretty manicure and is perfect for anyone who loves purple or bright nail designs. Recreate this look or choose one purple shade for all nails. Of course, you can always opt for another, more subtler nail color.
23. Sparkly Short Coffin Nails
Lastly, we would like to end our list with a fun and colorful nail idea.
Not all coffin nails have to be long. You can go for a shorter version just like this. As you can see, the nails have that coffin shape but they aren't very long. You can have any design created on shorter nails and you can even try this bold, sparkly look! The shorter nails are perfect for the ladies on the go or for those that can't wear very long nail.
We hope you have found a stunning design to try on your coffin shaped nails!