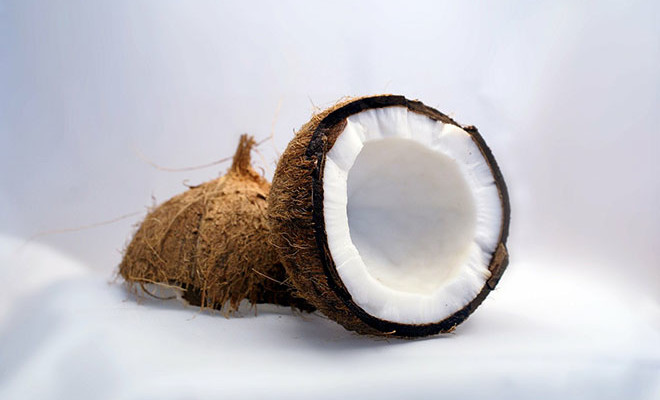 Beauty
Coconut Oil Hair Mask
By
|
Improper hair care, sun damage, chemical treatments and straighteners changes the physical characteristics of hair. Damaged hair is fragile and unhealthy looking. If you don't take care of your hair, and continue to damage it, you may eventually see thinning or bald hair spots.
If your hair is damaged, you probably can't achieve long and healthy hair. With damage in the way, our hair is breaking off and it's not able to grow properly. If you're growing your hair for months and you don't see results, your should start taking care of your damaged hair.
Luckily for your hair, there is one natural oil that can fix and prevent hair damage – coconut oil. It will become your BFF! Keep reading to find out hair health benefits of coconut oil and how you can use it.
 Coconut Oil and Ways to Use It
It turns out that coconut oil is the solution to many of our life's big and little problems. We can use it for our body health, skin, dental and hair care and cooking. This miracle oil contains iron and vitamins E and K.
Other ways to use coconut oil in your everyday life:
– lip balsam
– body scrub
– makeup remover
– skin moisturizer
– makeup brushes cleaner
– massage oil
– soothe sunburns
– coconut oil + baking soda = toothpaste
– mouthwash
– lubricant
– heal insect bites
– boost your levels of cholesterol
In India, coconut oil has been used from generation to generation as a skin care product, new born baby massage oil, cooking and hair care.
 How to use Coconut Oil Hair Mask?
If you hair is dry, rub coconut oil into dry hair, put a plastic bag or a shower cap and leave for few hours or overnight.
Having problems with itchy and dry scalp? Daily massage coconut oil into your scalp to achieve healthy scalp and healthy hair.
Coconut oil can be used as a fight with split ends. Use it as a conditioner and rub it into the ends of your hair.
You burned your hair with hair straightener? Immediately apply coconut oil! It will take away initial hot burning feeling.
 7  Coconut Oil Hair Benefits
1. Coconut oil treatment prevents combing damage of various hair types (1)
2. It stimulates hair growth.
3. Among sunflower oil and mineral oil, coconut oil is the only oil that reduces protein loss for both undamaged and damaged hair. Study used it as a pre-wash and post-wash grooming product. Coconut oil is able to penetrate inside the hair shaft because of its low molecular weight and straight linear chain. (2)
4. Coconut oil is has a positive benefit on tensile properties of hair. (3)
5. It can help in fighting against dandruff.
6. This oil can be used as moisturizer – it will add softness, shine and luster to your hair.
7. Coconut oil prevents split ends and hair breakage.
8. Coconut oil kills lice and penetrates roots.
 Coconut Oil Hair Mask's on YouTube
You will need: coconut oil, honey and egg.
For this hair mask you'll need: coconut oil (organic extra virgin), egg and rosemary oil.
3.  Coconut Oil Strengthening Mask
You'll need two things: coconut oil and egg.
If you only have a coconut oil, this tutorial is for you! You only need one ingredient.
For more coconut oil hair masks check our other article about homemade hair masks for awesome hair.