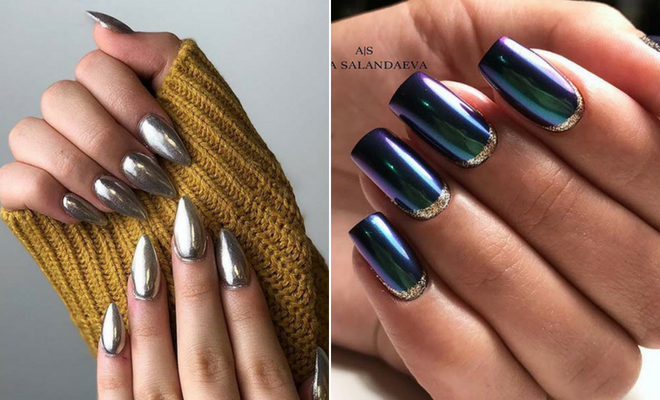 Instagram
Beauty
45 Cool Ways to Rock Chrome Nails in 2021
By
|
11. Clear Coffin Nails with Gold Chrome
You can jazz up the simplest of nail designs with chrome. Here we have long clear nails with a chrome design on the top. We love this idea because the nails look artistic and unique. You can recreate this look or use gold or rose gold chrome.
12. Glam, Gold Chrome Nails
Looking for a glamorous nail design idea? Then this next pick is for you. These nails feature gold chrome and a pop of gold glitter. The glitter compliments the chrome perfectly and both create a super stylish look. You can use rose gold or maybe use gold and silver. Maybe combine two different colors for a mixed metal look.
13. Simple Chrome Nails
If lots of glitter, chrome and gems is not your thing, this next idea may be for you. Here we have nails that feature a light and soft silver chrome. The chrome used here is not as bold as some of the others featured. Nails like this are perfect for anyone who wants a stylish but subtle look.
14. Red Ombre Chrome Nails
Earlier in the post we featured a gold chrome ombre idea. If you like the ombre idea, then you may like this one too. These coffin shaped nails have red chrome tips that blend into a lighter color. We love these nails because they are statement making and bold. Red is great for the summer, vacations and special events like parties.
15. Elegant Chrome and Pink Stiletto Nails
Our next nail idea is perfect for anyone who wants a pretty and elegant manicure. These nails have been painted in a soft and light pink with a silver chrome. Nails like this will look amazing in any nail shape and length. You can recreate the look or experiment with different polish colors and chrome shades to create a similar look but in your favorite colors.
16. Funky Chrome Nail Design
You don't have to cover the whole nail in chrome, you can use it as a feature or pattern too. These nails have been painted in a blue shade with a chrome print over the top. We love this look because the chrome has created a unique pattern. This design also has a glitter accent nail which you can recreate or leave out. Patterns in chrome will look gorgeous with any polish underneath.
17. Light Pink Chrome Nails
When choosing chrome for nails you have a variety of colors to choose from. If the classic gold, silver and rose gold is not what you are looking for or if you want to try a different color, this design is for you. These nails feature soft pink nails with light pink chrome accent nails. The light pink is very chic, pretty and elegant. A design like this will work best on longer coffin nails.
18. Chrome Almond Nails with Rhinestones
You don't have to choose one chrome color either, why not have two? These next nails feature two different chrome shades. Most of the nails are the same but one accent nail is a different color, it also has a gem design too. You can choose pretty tones like these or bolder shades. Try to keep the colors similar to each other for a chic and coordinated look.
19. Multi Tone Chrome Nails
Next, we have a stunning chrome nail idea. These nails feature chrome that has multi tones. We can see purple, gold and other shades. We love this chrome look because it is different from the one tone chromes that we often see. Nails like these are perfect for someone who wants a unique, stylish and eye-catching manicure.
20. White & Gold Chrome Nail Design
Our next idea uses a few different techniques and colors. Some of the nails are gold chrome, two have an ombre design and gems while the last nail is white. The combination of different colors and crystals creates a stunning manicure. You can recreate a similar look or just use some of the features to create your own design.