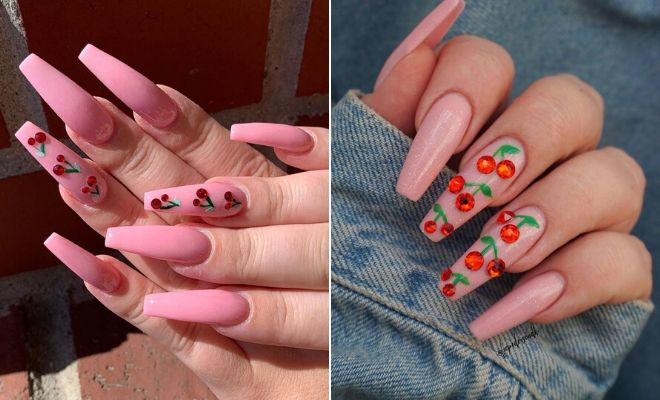 Instagram
Beauty
23 Ways to Wear Cherry Nails This Spring and Summer
By
|
11. Long Nails with Cherry Rhinestones
Earlier in the post we featured nude nails white tips. If you loved that idea, then you need to see these nails too. Here is another version. This time the nails are nude with larger and more classic tips. Each nail is also covered in cherries. It is a fun and bold mani that will look amazing on anyone. Recreate this or you can try the same nails but have the cherries as an accent design.
12. French Ombre Stiletto Nails
Ombre is another popular nail trend that isn't going anywhere anytime soon. Here is a pretty version with cherries. These nails have nude and white ombre which creates French ombre. One nail is also decorated with cherries. It is a chic and stylish mani that is easy to wear. You can try a similar design or put cherries on all nails. Different ombre colors can be used too. You can find ombre nail tutorials online.
13. Red Nails with a Cherry Accent Nail
As cherries are known for their bold red color, you can wear cherry art with red nail colors. This mani is a stylish example. All of the nails except for one are painted in a rich and glossy red shade, while the accent nail is light with rhinestone cherries. As you can see, the cherries compliment the red beautifully. This is a bold and bright mani that will suit all nail lengths and shapes.
14. Chic Mani Idea for Summer
Next, we have another fun nail idea for short nail. This time the nails are nude with chic colorful tips. Three of the nails are also decorated with small cherries. It is an easy to wear design and it is a subtle and trendy way to wear cherries. You can hand-paint small cherries with a thin brush. Recreate this or you can opt for white tips for a more elegant look.
15. Glitzy Red and Nude Nails
The next nail idea features more cute cherries with red nail color. The nails are long and coffin shaped. Most of the nails are nude and one is red. Two nails are also decorated with rhinestone cherries. It is a stylish and pretty idea. Try a similar mani or you can have all red nails with the nude and cherry design on one nail for accent art.
16. Sparkly Nails with Bold Nail Art
If you like bold nail art, then this is perfect for you. These nails are all pink and sparkly. Two nails also feature red rhinestone cherries. As the rhinestones are large, the cherries really make a statement. This is a fun mani that will be great for the spring and summer. You can see how the nail art was created and read the products used on the nail artist's page which you can access by clicking the link below.
17. Cute Pink Nails with Cherries
Next, we have another pink mani with cute cherries. This time all of the nails are long and are a light pink shade. Two of the nails are decorated with rhinestone cherries and a few small, silver ones. It is a pretty design with sparkle. You can recreate the cherries with a thin nail brush and similar colors. Recreate this look or put the cherries on all nails.
18. Red, White and Green Design
Love to wear bold colors? If so, this mani could be perfect for you. Two nails are red, one is green and one is white with a cherry pattern. This is a fun, bright and cute design. You can easily recreate the look yourself. All you will need are similar nail colors, a dotting tool and a thin brush.
19. Red Nails with Bold Cherry Art
This next nail idea is another one of our favorites! This time we have bold cherry art that has a cartoon look. Some of the nails are also glossy and red with a rhinestone design. We love the classic red with the glitzy rhinestones and unique cherry art. It is a pretty mani that will suit everyone.
20. Nude Nails with Pink Tips and Cherries
When choosing nude nail colors with tips, you are not limited to white tips. You can try other colors such as pink. As you can see, on the image below, the nails are nude with bright pink tips. The pink is a fun and statement making alternative to white. There is also cherry art which looks great with pink tips and the whole look screams summer. Recreate this or opt for red tips to match the cherries.
21. Matte Design with Red Glitter
Next, we have another sparky look to show you. Most of the nails are light pink and are either decorated with cherries or rhinestones. One nail is also covered in red glitter. The red glitter looks amazing with the cherries. You can try a similar look or you can have a cherry accent nail with all glitter nails. Maybe even use glitter for the cherries, so you can have sparkly cherries.
22. White Nails with Glam Cherry Design
Glam up your nails with a design like this one. All of the nails are white and are mid length. Some nails are plain and two are decorated with rhinestones. One nail features one cherry and the other nail has two cherries and clear rhinestones too. It is a pretty, easy to wear, and glitzy mani.
23. Jelly Nails with Cherries
The last nail idea that we have to show you is amazing! Here we have long coffin nails. Half the nail is nude and the other half is clear. The nails are also decorated with cute and small cherries and pink glitter. We love the jelly nail design as it is so trendy! This mani is perfect for the ladies who are looking for a new and unique design.
We hope you have found a cute cherry nail design to try!