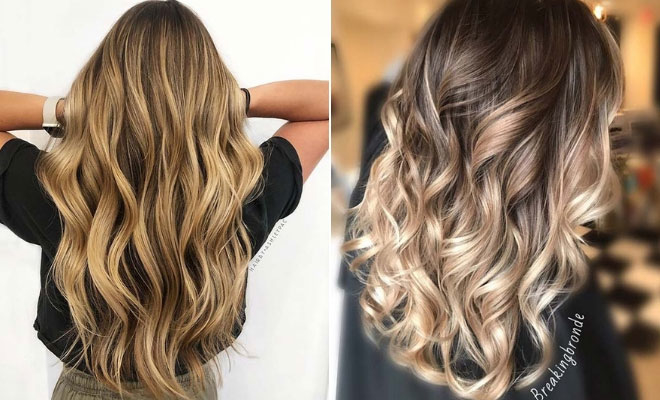 Instagram
Beauty
23 Brown and Blonde Hair Ideas to Copy Now
By
|
11. Dark Brown Hair with Sandy Blonde Highlights
Another gorgeous shade of blonde is sandy blonde. Next, we have a chic way to wear it. The hair is very long and dark with a lot of added blonde. As you can see, the blonde really lifts that brown root color. Hair like this is a must-have for the summer and you can even style into beach waves!
12. Stylish Textured Bob
If you love the brown and blonde bobs, then you need to see this next idea. Here we have a stylish textured bob. The root color is a beautiful and lighter shade of brown with a golden blonde over the top. We love everything about this from the cut, to the textured style and the blonde looks stunning too. This is perfect for the ladies with hair that has felt boring and drab so it needs a dramatic change.
13. Brown Hair with Golden and Platinum Blonde Color
Next, we have a hairstyle that features more than one blonde color. This is one of our favorites! The hair is dark brown at the root and then the hair changes into a few blonde tones. Midway the colors are golden with a hint of caramel and further down the hair turns platinum. The color combo is stunning and it really makes a statement. Recreate this or just try the platinum blonde, that would look amazing.
14. Light Blonde Ombre
The next hair idea features more ombre. This time the hair is a warmer brown shade which then blends into a light blonde. It is another beautiful color idea that is easy to wear. Color like this is lower maintenance as it will grow out easily if you change your mind or want to try different shade.
15. Long Brown Hair with Thin Blonde Highlights
A lot of the blonde hairstyles will feature lots of color or thicker highlights. If you wanted, you could also have thinner highlights. Here is a stylish example. The hair is very dark brown with added light blonde highlights. You can really see the thinner sections of color around her face. It is a stunning idea and thin highlights can be used to create subtler blonde styles too.
16. Brown and Blonde Braids
Next, we have a cute color and style to show you. For this look, a bright and golden tone of blonde is added to the hair. The hair is then styled into two braids and a ponytail. We love the braids because you can see the brown and blonde tones are weaved together beautifully. The style and color would be perfect for the summer. Try this or you could go for a lighter blonde.
17. Bright Blonde Hair with Brown Root Color
If you want blonde color that is bold, then this is the way to do it. The hair is a lighter brown tone at the root and then most of the hair is colored in a bright blonde shade. As the majority of the hair is blonde, it really makes a statement. Recreate this or try the blonde and brown color on a shorter cut, that would look gorgeous.
18. Caramel and Light Blonde
Love caramel blonde? If so, you need to see this next idea. Here we have a multi tone style. The hair has different shades of brown and also includes light and caramel blonde too. It is a beautiful style and the lighter blonde at the front of the hair is very bold and stylish. This is a cute and trendy look that will suit everyone.
19. Golden Blonde Waves
This next hair idea is just stunning! For this look, the hair is very long and most of the brown color is covered by a gorgeous golden blonde. The shade used is just stunning and it is giving us serious hair envy! As the hair is bright, it will be perfect for the spring and summer. The golden blonde is quite warm which also suits the fall and winter. It is a beautiful color that will never go out of style.
20. Dark Brown and Bright Blonde Bun
Next, we have another cute style and color to show you. The hair is styled into a high bun which really shows off the brown and blonde color combo. Most of the hair on the top section is blonde so the brown root color really shows through when the hair is up. It is a chic and easy to wear blonde and the style is a must-have too.
21. Brown Hair with Subtle and Warm Blonde
Looking for a subtler blonde idea? If so, this is perfect for you! Here we have very dark hair with light brown shades. Warm blonde tones have also been added to such as caramel and honey. The color change is still quite bold because the root color is so dark but on a lighter brown, this would be a very low-key look. This is perfect for those who want a more natural blonde style.
22. Icy Blonde
Let's cool things down with icy blonde like this! The hair has a beautiful brown root color which peaks through the blonde. Most of the top sections of hair have been colored in a icy blonde tone. We love this blonde shade because it is so stylish and statement making. This is a trendy look for the fall and the winter.
23. Beachy Blonde Highlights
The last brown and blonde hair idea that we have to show you has a beachy vibe. For this look, the hair is dark with added sun-kissed blonde. Again, multiple blonde shades have been used to give the hair that more natural and summery look. The blonde looks amazing with the textured waves and this is a must-have for the summer.
We hope you loved these brown and blonde hair ideas!