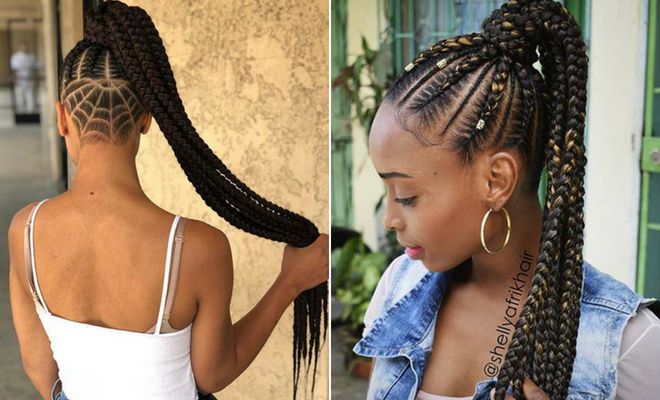 Instagram
Beauty
63 Best Braided Ponytail Hairstyles for 2020
By
|
21. Long Braids into a Ponytail
If you love the long ponytails, then you may like our next hairstyle idea. This ponytail is super long and is styled with medium thickness braids. There is also loose braids at the sides and the look is completed with cords and beads. One of our favorite features is the very thin center braid with the braid rings. This is the perfect ponytail for a stylish queen!
22. Braided Ponytail with Color
Next, we have a thin and thick braid ponytail with subtle blonde running through it. This is a beautiful ponytail idea. Recreate the blonde look or maybe try the braids with different colors. Red would be a great choice, if you want to be bolder, consider blue or purple.
23. Long, Wrap Around Ponytail
Last on our list is this long wrap around ponytail. For this style the hair has been braided with thin and thick braids and the thin ones start in the opposite direction. The braids have also been wrapped around the start of the ponytail which gives it a trendy look. Recreate with or without the cords.
24. Glam Curly Ponytail
Next, we have a glam ponytail to show you! A section of the hair is sleek and swept back while the rest of the hair on the head features a stylish multi braid pattern. The actual ponytail is high and the hair is loose and beautifully curly. Hair like this will wow and it will look amazing on anyone!
25. Vibrant Orange Braids
Thinking about trying a bolder and more statement making hairstyle? Then this could be just what you are looking for! Here we have a high braided ponytail with a trendy braided pattern and loose braids at the sides. What really makes these braids stand out is the vibrant orange color. Orange is such a stylish color and it is perfect for the summer. Be daring and try something new! Recreate this or you can try orange braids with another ponytail.
26. Long Braided Ponytail
This next idea features one of our favorite hairstyles! Here we have a stunning, long braided ponytail. The actual braids on the head are styled into a neat, sleek and chic pattern. All of the braids meet into a low ponytail with a super long length. Long braids like these will make you stand out from the crowd in style! You can recreate this or you can try braids that are a little shorter too.
27. High Ponytail with Chunky Braids
Looking for a super stylish and easy to wear braided ponytail? Then take a look at this! This ponytail is styled very high and there is a trendy multi braid pattern on the head. As you can see, this hairstyle looks gorgeous and it will make you look amazing for any occasion. A ponytail like this will suit everyone. It would also look beautiful in a color like red.
28. Trendy Fish Tail Braid Ponytail
Next, we have a ponytail that is perfect for the trendsetting ladies! The hair on the head features a pattern with different braid thicknesses and there is a high ponytail that is styled into a fishtail braid. We love the long fishtail braid because it is so stylish. The look also features chic gold hair rings. A ponytail like this would be perfect for the times where you want your hair to impress.
29. Super Glam Braids
The next idea that we have to show you is one of the most glamorous hairstyles ever! For this look, the hair at the front of the head is braided into a beautiful swirl and the rest has simple braids that are styled into a ponytail. The hair is finished off with gorgeous, gold accessories. Gold accessories like these will jazz up your hair and instantly make your hair look more dazzling and glitzy.
30. Sleek and Stylish Ponytail
You don't have to go all out with the braids, you can choose a ponytail with a subtler braided pattern like this. All of the hair is sleek and it is styled into a stunning, long ponytail. There is a section of the hair on the head that is styled into three braids to. As you can see, the braids look very stylish even though there is only a few of them. This is a trendy and easy to wear hairstyle that will suit everyone.