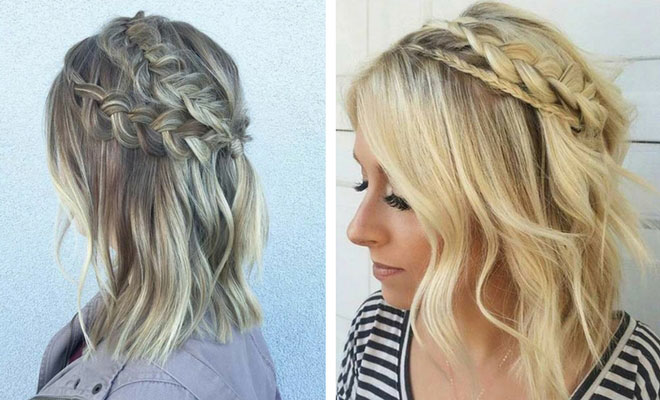 17 Chic Braided Hairstyles for Medium Length Hair
If you have medium length hair, it can be tricky looking for braided style ideas on the internet.  Many articles are for long or short hair but hardly ever about medium length hair.  That is why we have written this article.  It is all for the medium length girls out there!
Summer is here and we all want to spruce up our hair with some funky braided designs.  Braids are an essential hairstyle for summer and will immediately get you in the summer mood.
We know how it feels to run out of hairstyling ideas.  We all need hair inspiration at some point so we have come up with 17 chic braided hairstyles for all of you that have medium length hair.
1. Messy Fishtail Braids Half Up
Two trending styles in one, what more could you ask for? Messy hair has been trending and so has fishtails.  We all love to have messy hair.  For anyone that's new to messy hair, it's controlled messy hair not just messy hair.  The 'just got out of bed' look is a favourite of ours.  This style is easy to create.  Start by grabbing the top hair section for your fishtail and braid away.
2. Loose and Messy French Braid Style
If fishtails aren't your thing, go for a French braid. Loose and messy are a match made in heaven.  They create a gorgeous and girly hairstyle that many girls love.  It goes with any outfit and even bridesmaids are opting for messy hairstyles.
3. Side Dutch Braid
This style is perfect for any occasion. It is fun, neat and girly.  You can add the curls to the ends of your hair to add that extra lift.
4. Dutch Braid into a Top Knot
We are loving this style. This is so easy to do and it looks fab!  Grab the middle section and start on your Dutch braid.  Just before you tie it, make the end of the Dutch braid into a top knot.  This is a great style for the fashionistas out there!
5. Side Braid Into a Ponytail
Not feeling any of the styles so far? Then opt for a ponytail style. This is stunning and once you have tried this, the boring ponytail will be long forgotten.
6. Easy Braided Hairstyle
Mixing braids will show off your hair. Mixing the style and size of the braids is even better.  Smaller braids compliment bigger braids like the photo above.  You don't need to worry about the positioning of the braids, just grab a section and start braiding.
7. Dutch Braided Crown Hairstyle
Who needs hair accessories? All you need is your hair to create this gorgeous masterpiece.  A Dutch braided crown will be the centre of attention so all you need to worry about is what colour lipstick you will wear.
8. Chunky Dutch Braid
Go for a chunky Dutch braid. This will make you stand out from the crowd!  It looks stunning on medium length hair and once you try it, you will never stop styling your hair like this.
9. Two Fishtail Braids
If you have mastered the fishtail braids, go for two. Show off your skills by having not one fishtail but two!
10. Easy Fishtail Braid Look
This is a stunning loose fishtail braid. It's easy to do and looks great.