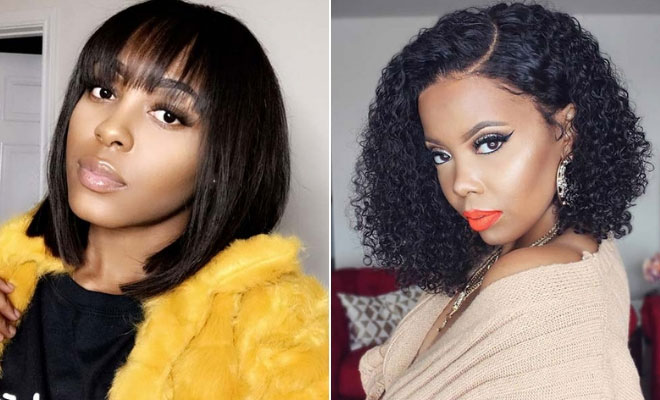 Instagram
Beauty
23 Popular Bob Weave Hairstyles for Black Women
By
|
11. Gorgeous Dark Burgundy Bob
Next, we have a beautiful bob that is a dark burgundy shade. The color is very subtle and you can just see the burgundy tones. A dark color like this will suit everyone and it is perfect for the ladies who want to try a new color without being too bold. Of course, if you do want a more statement making color, then you can go for a lighter and brighter shade of burgundy. You can recreate the whole style or try the color on a shorter cut.
12. Long Inverted Bob
If you love the inverted cuts where the hair is longer at the front and shorter at the back, then you need to check out this next hair idea. Here we have a long inverted bob and the hair at the front is very long. It is such a trendy and unique hairstyle. This is perfect for the ladies who like to stand out from the crowd. Try a similar hairstyle to this or try the cut in a funky color.
13. Summery Blonde Bob
Searching for a summery hairstyle? If so, this idea could be perfect for you. This look features a cute bob that sits just above the shoulders and it is a stunning light blonde shade. The hair also has a trendy wet look and similar hairstyles have been seen on celebs like Beyonce. A gorgeous bob like this will transform your look ready for the summer.
14. Sleek and Chic Hairstyle
Next, we have another chic and sleek hair idea. This is a longer bob and the hair has a length that just sits on the shoulders. It is a stunning bob that looks effortlessly stylish. A bob like this is perfect for the ladies who want an easy to wear hairstyle that keeps them looking classy for any occasion.
15. Glam Curly Bob
The next hairstyle that we have to show you is very glam! Here we have a long bob that is beautifully curled. It is just stunning and simply gorgeous. Hair like this will suit everyone and it will instantly take your look from drab to fab. Recreate this hairstyle or the hair would look stylish in a dark burgundy color too.
16. Weave Bob with Bangs
Always wanted to try bangs? Then choose a bob like this one! This bob is short and it has straight across bangs to. As you can see, the bangs look so stylish with the sleek bob. A trendy hairstyle like this will look amazing on anyone. Try a similar style to this or you can try shorter baby bangs which is another style worn by Beyonce.
17. Ombre Bob
Ombre is another hairstyle that never goes out of fashion and here is how to wear ombre in style. Here we have an asymmetric bob with blue ombre. As you can see, the blue and the asymmetric cut look so trendy together. You can check out the hair used on the page below and also see a before and after of the hair. Recreate this look or try a different colored ombre.
18. Stylish Short Weave Hairstyle
Next, we have another sleek bob. This one is quite short and it is another simple and beautiful style. The cut is also quite blunt which gives the hair a trendy look. Hair like this will suit everyone and it would be a great hairstyle for the summer. This bob would look amazing in another color.
19. Blunt Angled Bob
Maybe you like the inverted bobs but want a subtler hairstyle? If so, this hair idea could be perfect for you. Here we have have a sleek bob and it has a subtle angled cut. As you can see, even though there is not a dramatic difference in length, it still does make an impact. A bob like this will suit everyone and you could even go a little shorter.
20. Rose Gold Hair Idea
Love the bold hair ideas? If so, check this out. Here we have a light rose gold bob. As you can see, the rosy color looks stunning and statement making. A stylish cut and color like this is gorgeous and it will really brighten up your look. This style is available on the Instagram page below and there are many others available too.
21. Chic and Easy to Wear Bob
The next hair idea features another chic and easy to wear bob. This a long bob as the length of the hair just hits the shoulders. It also has a side part and it is beautifully styled. Hair like this is effortlessly elegant and it will keep you looking glam for any occasion. You can recreate this or try a shorter version too.
22. Short Bob with Bangs
Next, we have a very glam bob to show you. Here we have a short chin length bob with beautiful waves at the front. The look was created with hair from Outre Hair and you can check out a video on how to recreate the style yourself on the page below. Hair like this would be perfect for a special occasion.
23. Trendy Asymmetric Bob
The last hair idea features another trendy asymmetric bob. One side of the hair looks like a short bob and the other side is a long bob length. So, with this look you get the best of both worlds! It is a stylish, chic and easy to wear hairstyle. If you want to try this look, then you can just click the link below and go to the website.
We hope you have been inspired by these bob weave hairstyles.