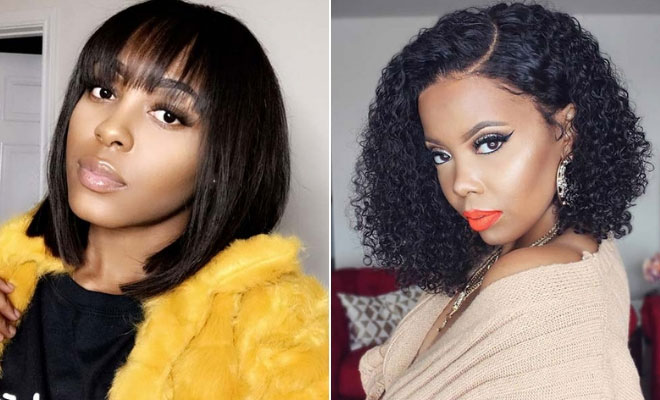 Instagram
Beauty
23 Popular Bob Weave Hairstyles for Black Women
By
|
Weaves are a great protective style that will give your natural hair a rest from styling. Not only that, but they are easy to maintain too. So, it is no surprise that weaves are a very popular choice, especially around the summer time. Another gorgeous and must-have style is the bob. Bobs are chic, stylish, suit everyone and are also perfect for the warmer weather. Today, we have combined the two and have put together 23 of the most beautiful bob weave hairstyles. There is a hairstyle for everyone and you will find different colors, cuts and more. Read on to find your next stunning style and if you didn't love bobs before, you will after this.
1. Chic Bob Weave Hairstyle
We would like to begin by showing you this chic and easy to wear bob. The hair is about chin length and it is parted on the side. It is a simple cut and it looks effortlessly stylish. Hair like this will suit everyone and it will keep you looking glam every day, for any occasion. For a bolder hairstyle, you could try the bob with a different hair color such as red.
2. Fiery Long Bob Hairstyle
Speaking of red hair, this next look is a beautiful example of a red bob. This one is more of a long bob and it has a middle part. The actual color of the hair is spicy and fiery. This is a gorgeous hairstyle and you can recreate the longer look or choose a shorter cut. You can also choose a more vivid red too, but we love this shade!
3. Short Asymmetric Bob
Asymmetric bobs have become one of the trendiest hairstyles. An asymmetric cut features hair that is longer on one side than the other. This bob has short chin length hair on one side and curly longer hair on the other. As you can see, it looks gorgeous. A hairstyle like this will look stunning on everyone and you can recreate this look or have both sides styled straight.
4. Weave Bob with Subtle Waves
Next, we have a beautiful short bob. This one has a length that sits just below the chin and it is styled with subtle waves. The waves look so trendy, chic and classy. This is an easy to wear hairstyle that will suit any occasion. It would also be a great hairstyle to try for the summer as it has a relaxed look.
5. Glamorous Golden Blonde Bob
If you have been bored with your hair and think it could do with a makeover, then try a hairstyle like this one! Here we have a glamorous long blonde bob. The hair is parted on the side and is styled with relaxed and textured curls. We love this hairstyle, it is giving us Tyra Banks vibes. This is a stunning look and you can recreate this or choose a darker blonde.
6. Elegant Hair Idea
Maybe you are looking for a more soft and elegant hairstyle. If so, this could be perfect for you. This style features a beautiful and simple bob and the length sits just above the shoulders. The hair has a middle part and some of the hair is tucked behind the ears which creates a cute and classy look. This is a versatile hairstyle and it can be worn anywhere from work to a night out.
7. Trendsetting Blunt Cut Bob
The next hairstyle is for the trendsetting ladies! Here we have another asymmetric bob but this one has a very blunt cut. We think the sharp cut looks amazing with the asymmetric style because it makes the hair look edgy, modern and stylish. You can recreate this longer bob or choose a shorter cut.
8. Vibrant Blue Hairstyle
Want a complete hair transformation? Then consider a bold and vibrant hairstyle like this one! Here we have a long bob that is a stunning and vivid blue shade. The hair is also beautifully curled. Hair like this will make you stand out from the crowd in style! Recreate this or you can try a similar blue shade on a different bob.
9. Curly Inverted Bob
Next, we have a beautiful inverted bob to show you. When hair has an inverted cut it means that the hair is shorter at the back and longer at the front. As you can see, this creates a super stylish haircut. This version of the bob is so trendy and chic. The difference in length is very bold which creates a stylish and modern look while the curls give the hair elegance.
10. Trendy and Sleek Bob
This next hairstyle is one of our favorites. Here we have a short chin length bob that has a center parting. The actual hair itself is so sleek and stylish. This is a trendy and easy to wear bob that will suit everyone. Keep it short and cute like this or you can try a longer version of the style too.