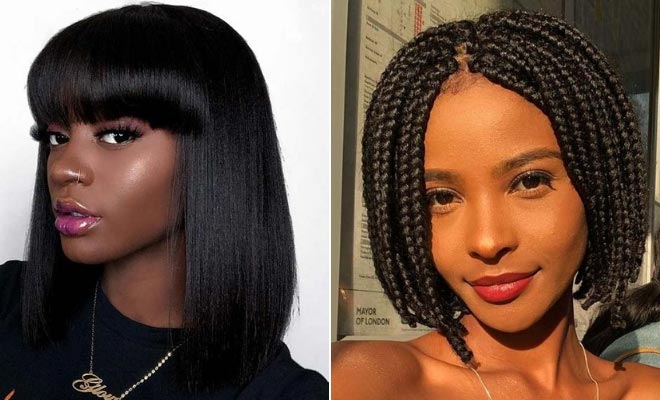 Instagram
Beauty
25 Bob Hairstyles for Black Women That are Trendy Right Now
By
|
11. Asymmetrical Blunt Cut Bob
Blunt cut bobs are modern and trendy. Here is a gorgeous example. This bob has the asymmetrical style and is sleek and straight. It is a beautiful hairstyle for the ladies who are bored with their look and want something new, fresh and stylish. Recreate this style or try a different color. Red would look amazing.
12. Bold, Red Bob Hairstyle
Next, we have another red bob. This one is brighter than the one we featured earlier and it has a coppery, bronzed tone. It is a stunning statement hair idea and it will suit anyone who is looking for a bold new hairstyle. You can recreate this red bob or try a similar red tone on a lob or asymmetric bob.
13. Chic, Classic Bob
If you are thinking about trying a bob for the first time, then this could be the hairstyle for you. This is a classic, chic bob. It does not have all the funky colors and unique cuts. This is just a beautiful, simple style that will introduce you to short hair. It is also perfect for the ladies who like the timeless bob style and want something subtle and stylish to suit everyday wear.
14. Long Bob with Bangs
Earlier in the post we featured a trendy hairstyle with bangs. Here is another gorgeous example. For this look, the hair is in a slightly shorter long bob. You can see that the bangs are wispier and more delicate. The bob has also been styled in a half-up bun. This is such a cute and pretty hairstyle. Wear a half-up bun or loose, either will be stunning!
15. Trendy Asymmetrical Pink Bob
Add a pop of pink to your look with a stylish bob like this one. This again has an asymmetric style and blunt cut. It is a modern, fun and unique hairstyle that is perfect for the ladies who want to stand out from the crowd. Choose a similar pink shade to this, or recreate a similar bob in a different bold color.
16. Beautiful, Short Bob
Next, we have a bob that will wow! This bob is very short and sits above the chin, it has a side parting and lots of volume. It is a very glamorous hairstyle that has a vintage look to it it. A bob like this would be a great choice for an event where you need to look chic, it would suit formal occasions, too.
17. Short Faux Locs Bob
Our next idea is another faux locs bob. This one is a classic bob length with beautiful locs. It is a simple and stylish look that will suit everyone. This is perfect for anyone who wants a hairstyle that is easy to wear and will not go out of style quickly. You can also have a bob like this in other colors too.
18. Cute Braided Bob
If you love the braided bob trend, then this next hair idea is for you! Here we have a super cute bob. The hair has been braided into short, chin length braids. Again, this is another simple and stylish look. You can recreate this hairstyle or choose thicker or thinner braids. Also, try accessorizing with hair cuffs to jazz up your look.
19. Burgundy Micro Braids Bob
Next, we have another color idea to show you. This bob features beautiful micro braids in burgundy shade. Burgundy is a stunning color that looks amazing on all hairstyles. It looks stylish all year round, but especially in the fall and winter. Try a braided bob like this or burgundy with straight or curly hair.
20. Black Long Bob Hairstyle
Looking for a stylish and elegant hairstyle? Then this is for you. Here we have a stunning, sleek and smooth bob. The hair has been parted on the side and is a lob length. This is a gorgeous hair idea that will look pretty for any occasion. It is a great every day style, too.
21. Trendy Bright Blonde Bob
Our next bob is another stunning blonde look. The hair is a beautiful blend of cool and warm blonde shades and is chin length. We love the blonde blend, it makes the hair look super stylish. A bob like this is perfect for the ladies who want a bright hairstyle that is trendy and statement making.
22. Asymmetrical Faux Locs Bob
Looking for a new protective style? Then you need to check out this idea. This is a long bob that features black and caramel locs. The bob is longer at the front and shorter at the back. This is a trendy hairstyle that you can recreate as it is or try locs in a different funky color.
23. Sleek Short Bob
Get a trendsetting hairstyle with a bob like this one. The bob is smooth and short with a blunt cut. A blunt cut really jazzes up the classic bob and makes the hair look modern and fresh. Recreate the bob featured for a chic look, or try a color like blonde or red for a bolder style.
24. Curly Bob Hairstyle
Prefer curly hair instead of straight? Then this bob is perfect! The hair is short and beautifully curly. We love this hairstyle because it looks pretty and beachy. Hair like this would look amazing during the summer and for vacations! This curly bob will look stunning on anyone.
25. Chic Short Bob
The last hairstyle we have to show you is this chic short bob. For this look, the hair is on a side part and is about chin length. The bob has also been styled in a trendy way with volume. A stunning  hairstyle like this will look gorgeous for a special event or party.
We hope you have found a beautiful bob hairstyle to try!