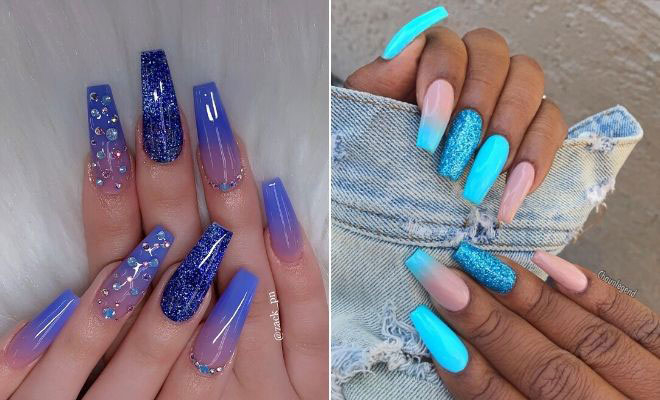 Instagram
Beauty
23 Blue Ombre Nails and Ideas We're Trying ASAP
By
|
Do you love ombre nail art just like us? If so, then stay right here because we have 23 ways to rock blue ombre nails that you need to see. Why the color blue you may ask? Well, there are so many different shades so there is a blue to suit everyone. Not only that, but blue is easy to wear and suits other colors too. If all that wasn't enough a color called classic blue has been named Pantone Color of the Year for 2020. So, blue is going to be a must-have in fashion, beauty and more. Ombre is also one of the hottest nail trends so together they create one stylish mani. What are you waiting for?! Take a look and choose a design that will put you ahead of the fashion pack!
1. Icy Blue Ombre Nails
The first blue ombre idea that we have to show you is cool and chic. For this look, the nails start nude and then blend into a stunning icy blue shade. We love this blue tone because it is so versatile, it will suit any occasion and season. Keep the look simple like this or you can jazz up the nails with some rhinestones.
2. Dark Blue Stiletto Nails
Blue is so easy to wear. There are so many different shades and blue compliments many other colors too. One of which is black. Next, we have a black and blue combo that is so statement making. So, these nails are a long stiletto shape and some have black and blue glitter ombre while some nails are just sparkly. The rich blue color looks amazing with the black. Anyone wearing these nails will wow.
3. French and Blue Ombre
This next nail idea uses two stylish ombre designs. Some of the nails have the popular and chic French ombre and some nails have a blue and nude ombre. As you can see, both ombre styles look beautiful together. You can recreate this or try using other colors. Use a lighter blue during spring and summer and darker colors during fall and winter.
4. Elegant Nail Design
Next, we have an elegant and cute nail design to show you. Two nails are simply glitter blue, one is nude with sparkly v tip and the other has the ombre effect. As you can see, the ombre looks so stylish with the other designs. Try the whole look or just the ombre and jazz up the design with some sparkly rhinestones.
5. Matte Blue Nails with an Ombre Accent Nail
Another trendy nail look that you should try if you haven't already is matte. These nails show how to wear matte color beautifully. The nails are a long coffin shape and all nails except for one are a soft and light blue. While the accent nail is blue at the tip and the color changes to silver glitter. Cute little stars are added to the design too. We love this idea because it uses stylish matte color and the must-have ombre. So, overall you have one trendsetting mani.
6. Bold Pointy Nails
If you like your nails to make a statement, then this idea is for you! Here we have long and sharp stiletto nails and each one is decorated with a bold ombre design. All of the nails are sparkly but some use classic glitter that you would usually see and the others have large sequin style sparkle. Some of the nails are also adorned with rhinestones. The bright blue color and all the bling really make the nails stand out. You can recreate this or try using a different shade of blue. Dark blue and gold would look amazing with this design.
7. Dark Blue and Nude Nail Idea
This next design is another one of our favorites! For this look, the nails are nude and then blend into dark blue color at the tip of the nail. There is also a sparkly accent nail. We love this rich and dark blue shade, it is so chic and stunning. A blue tone like this will look amazing for everyday wear and it is very elegant so will be gorgeous for nights out and more formal events.
8. Stylish Ombre Mani
Like to wear bright nail designs? If so, this could be perfect for you! Here we have fun, bold and summery nails. So, for this look, the nails start with a beautiful and light pink shade. Then about midway, the color changes to blue. The light pink and blue color combo is gorgeous! You can recreate this or maybe us pastel shades for the spring and deep, dark shades for the fall and winter.
9. Mint Blue and Pink Ombre
Next, we have another vibrant mani to show you. This time we have bold colors and sparkly glitter. Some nails have a chic nude and light blue ombre while the other nails have a bright blue and pink color combo. We love how the sparkly nails swap the colors around. So, one is blue, then pink and vice versa. It is a fun and statement making mani. Try and create a similar look or try blue and a different vivid color.
10. Blue Chrome Nails
The next nail design is so trendy and modern. For this look we have long coffin nails that start nude and then the color blends into a vibrant light blue chrome. The chrome really jazzes up the nude nail color and creates a statement making mani. You can find chrome colors in many different shades of blue. We think this design would look amazing with sharp stiletto nails too.