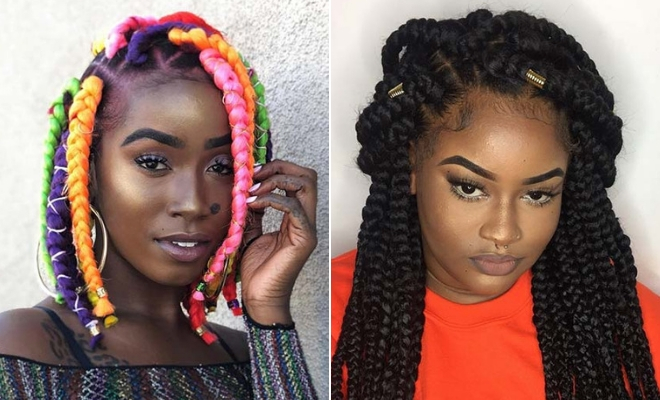 Instagram
Beauty
43 Big Box Braids Hairstyles for Black Hair
By
|
11. Blue Box Braids
Next, we another bold hair idea. These braids are a beautiful, vibrant blue. Hair like this will be a dramatic, but very trendy transformation. You can recreate this look or you can weave the blue with a natural color to tone down the look a little bit. This will give you ombre hair. Either way, this color will wow.
12. Chic Big Box Braids
Love the half-up hairstyles? Then this idea is for you! Here we have a chic style to show you. The box braids have a parting and are swept into a half-up look. This is a beautiful hairdo. It is perfect for the ladies who need to look professional or for those who need an elegant hairstyle.
13. Black and Caramel Blonde Braids
Our next idea features another blonde look. Here we have dark hair that has a warm caramel blonde running through it. We love this idea because it shows how amazing the warmer blondes look when styled into braids. Hair like this is perfect for the trendsetters.
14. Stylish Big Box Braids
Want a stylish new braided look? Then this next pick is for you. This hair is so chic! The box braids are chunky and long, there are also cords and braid cuffs too. A hairstyle like this will show off your personal style, as you can add your own accessories.
15. Black and Red Box Braids
If you love the hair ideas with trendy colors, you will like these box braids. These braids have a warm, red tone running through them. We think the way the natural and vibrant color is weaved together is so gorgeous. You can recreate this look or try a brighter red tone.
16. Trendy Big Box Braids
Be a trendsetter and try out next hair idea. The hair has been braided into a funky box braid style. We love this look because it is unique and stylish. The braids featured here are long but you can have a shorter option. A vibrant color would look amazing for a style like this too.
17. Vibrant Half Braid Idea
If you do not want all your braids to be a vibrant color, you can try a hairstyle like this. The hair has box braids in a natural color on the top and has bright color on the braids underneath. This makes the hair bold but not too dramatic. It is perfect for the ladies who want to try a new color without being too over the top.
18. Side Swept Braids
Our next idea proves that sometimes less is more. This hairstyle does not have bold colors or accessories, just sleek and stylish big box braids. Hair like this is perfect for the ladies who need a style that will look suitable at work but look chic for a night on the town too. We love this look!
19. Beautiful Big Box Braids
Next, we have a stunning box braid style to show you. These long box braids have been styled onto the side and feature a stylish braid cuff. This hairstyle will wow everyone that sees it. It is a braided style that demands attention. You can recreate this look, or maybe opt for shorter braids.
20. Big Box Braids Bob
Love the braided bobs? Then this hairstyle is for you! Here we have a braided bob that features cuffs and cords. There are also burgundy braids underneath too. All these elements create a trendy hairstyle. Recreate a similar look to this, or try silver accessories or a different braid color for the underneath.