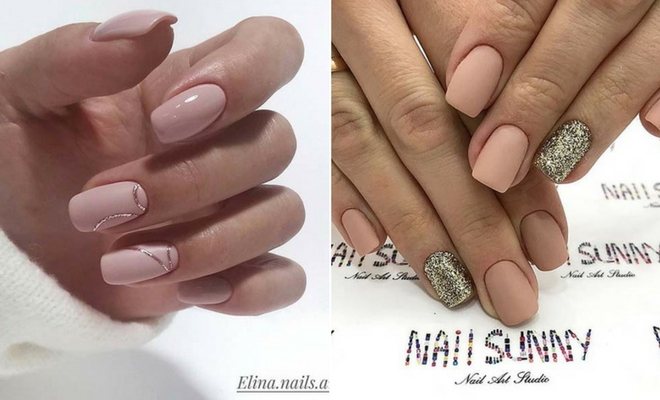 Instagram
Beauty
23 Beautiful Prom Nails for Your Big Night
By
|
11. Trendy Prom Nails with Gems
Here is another manicure with a trendy cuticle design. The nails have been painted in a light color with gems around the cuticle. These nails are glamorous and will suit any prom look. You could recreate a similar look with any color polish on your nails.
12. Black and Gold Nail Idea
Black is a chic color so why not add it to your nails? This nail idea features light nails with a rose gold glitter accent nail and black accent nail. All the colors and styles complement each other beautifully. A manicure like this would be a stylish choice for anyone.
13. Glittering Pink Nails
Look pretty in pink for prom with nails like these! The nails have been painted in a very light pink with two shimmer accent nails. You could recreate a similar look and just choose one of the accent designs. Maybe try other colors to. Nail art like this will suit all nail lengths.
14. Statement Prom Nails
If you want to make a statement with your manicure, then this is the way to do it. There are multiple designs that are very stylish resulting in a trendy manicure. The nails have marbling, glitter, gems and more. For your nails you could just use one of the designs or maybe two. You can also experiment with different colors.
15. Gold Glitter Accent Nails
You don't have to go all out, you could go for a subtle design like this one. The nails are painted in a neutral shade with a gold glitter accent nail. By using a light tone, you are creating a more natural look, the glitter is perfect for the special occasion. You could also use rose gold or silver glitter.
16. Prom Nails with Gems
Sparkling gems are perfect for a prom manicure. You can create so many beautiful designs with crystals. These next nails have a gorgeous accent nail with a unique gem design. You can experiment with gems and create some many amazing looks. This is a great example of using sparkles on your nails.
17. Rose Gold Glitter French Manicure
Our next idea is for the ladies who love a French manicure. This French manicure has got a design twist that is perfect for the prom. Instead of the classic white tips the nails have rose gold glitter tips. By using glitter, you are giving the classic manicure a makeover. You could use any glitter color, silver or gold would be beautiful to.
18. Pretty Pink Nails and Silver Glitter
Next, we have a pink and glitter idea. The nails have been painted with a very light pink, but one nail is covered in silver glitter and one has a sprinkle of glitter. We love this look because it is pretty, and the glitter gives it some sparkle. A design like this will suit all nail lengths.
19. Stylish Purple Marbled Nails
If you like the marbled nails, then this next idea is for you. The nails feature a funky white and purple marble effect. The other nails are painted dark purple with a silver glitter accent nail. To recreate the look, you could change the color scheme to suit your own style. Maybe even match it to your dress.
20. Prom Nails with Sparkle
Earlier in the post we featured a light ombre manicure. This one has the beautiful ombre, but it has some sparkling gems. The gems just give the ombre look an extra special finishing touch. You could recreate the ombre look with any colors to.
21. Elegant Silver Glitter Nails
Our next prom nail idea features a natural nail polish with a light sprinkle of glitter over the top. This is a beautiful look that will suit anyone with any nail length. You can recreate this look with other glitter colors to. Maybe try silver and gold for a trendy mixed metal look.
22. Chic Nails with Rose Gold
Rose gold is a very popular color choice, especially for special occasions. Not only do these next nails have rose gold but also have a marbled effect. The two styles suit each perfectly. You can create a marble and rose gold design on each nail or add some other colors to like the manicure featured.
23. Iridescent and Rose Gold Nails
Last on our list are these iridescent nails. Iridescent nails have a color on them that changes when you look at them in different angles. This idea features color changing nails and has combined them with rose gold and pink. We love this stunning and creative design!
We hope you have found inspiration for your prom nails!