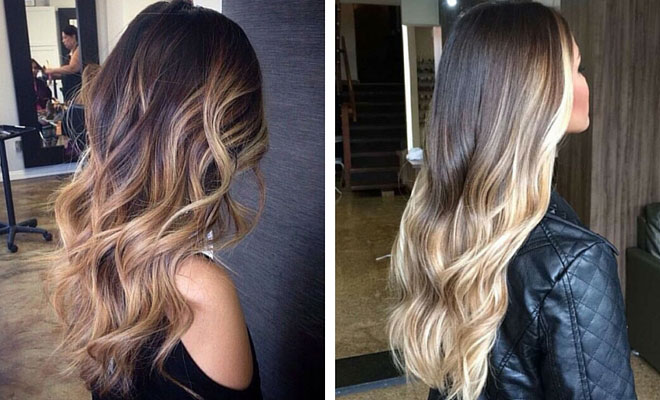 Instagram
Beauty
31 Balayage Hair Ideas for Summer
By
|
11. Blonde Balayage Ombre
We love this ombre balayage mix of brown to blonde, and we also think it reminds us a little of tortoiseshell. We've shown you a lot of wavy and curly looks but this one shows you how cool these balayage hair ideas for summer can look when you straighten them too.
12. Soft & Subtle Chocolate Balayage Hair
If you want hair that looks good enough to eat, this chocolate mix is super awesome, a beautiful blend of different tones of a darker brown rather than the lighter brown and blonde mix of balayage tones you're used to seeing. You could even opt for this subtler blend right through into autumn and winter, going darker from lighter in the summer.
13. Honey Blonde Balayage Highlights & Auburn Hair
If you play your cards right, your balayage look for summer could last for six months with just the occasional trim necessary to stop it from looking ratty at the ends. This is the perfect look for a new mother perhaps – someone who doesn't have lots of time on her hands to make salon appointments every six to eight weeks, but even you do have all the time in the world, all the celebs are rocking it so we want it too.
14. Caramel & Blonde Balayage Highlights + Lob Cut
Another classic example of short balayage hair ideas for summer done right, this caramel and blonde balayage highlights and bob cut work together perfectly, almost an ombre but a little more scattered and unstructured than that, adding to that completely natural (yet definitely unnatural) finish. You'll want a cut that's about shoulder length, keeping the longer lengths at the front so you can make the most of that colour blend. If you want to make the most of your colour, always have more of it (and blending) at the front. Just because you have shorter hair doesn't mean you can't still have a little fun with it.
15. Light Brown & Golden Balayage Lowlights
The lighter tones have been kept to the very top layers of hair in this summer hair idea, darker roots still but a third, in-between shade used throughout the bulk of the underneath of the hair. By doing this, you're causing minimal damage to your hair, only requiring strong bleaching and lightening in very specific and smaller segments of your hair, also making it easier to grow or fade out too for the next look.
16. Vanilla Blonde Balayage Ombre
If you have a jam-packed schedule and have no more free time than just the right amount of time for a quick wash, and blow-dry, this is a great one. The curls are easily achieved with a curling wand and pigtails – you only want the ends to be curly after all. Get your hairdresser to throw in some beautiful vanilla blonde highlights too to complete the look.
17. Copper, Rose Gold Balayage Hair
Another hot look for this summer, and for when blondes and brunettes really aren't your thing, is this pinky-red beauty – copper and rose gold balayage hair, an ombre but beautifully blended so you can barely see where one shade ends and the next one begins. Length really works on your side with a look like this, and you have the movement and freedom to really work together those multi-tones. It's such a beautiful look, and one that's a little different for all the right reasons.
18. Dark Root + Soft, Blonde Balayage Highlights
Soft and sun-kissed is just one of the effects you can achieve with these balayage hair ideas for summer. This kind of look is super awesome for a vacation or trip away – nothing too high-maintenance that you spend more time doing your own hair than enjoying your holiday, but still stunning enough that you'll be turning heads for all the right reasons. Using lighter and darker tones together like this makes it look as if your hair has already been licked by the sun's rays. It's like having that quick tan before you get your bikini on. You don't want to wait for the sun to kiss your hair or your body!
19. Auburn and Blonde Balayage Hair
Auburn helps to bring a tint of red to the mix, perfect for those red hot summer days (and nights) you're hoping is coming your way. Blonde is like the hair of summer, streaked lighter by the sun, reminding us of the beautiful white sandy beaches we wish we were sunbathing on. Together you have a look that was simply made for summer, and one we're definitely adding to our lust-list.
20. Beige Blonde Balayage
Beige is definitely not bland, not when it comes to these stunning shades of beige blonde. There is a lot of light length here, the darker shades restricted to just the roots, showing you that sometimes, dark roots aren't such a bad thing. If you attempt this at home with a DIY kit, remember to add your balayage high and lowlights to the areas you intend to later curl. If you make a few errors, the curls help to hide it. There's a helpful freebie tip for you!